2023 Mothers Day Gift Guide
With Mothers Day around the corner, Onin.London wanted to share our favourite gifts this year, that'll have your mothers smiling ear to ear! We have all price ranges covered, so we're sure you'll find something mum will love!!
Beauty
Evolve Organic Beauty
We love  Evolve Organic Beauty  and couldn't look further than this gorgeous  set…  Featuring the Rose Quartz Facial Polish 30ml, Rosehip Miracle Oil 30ml and Rose Quartz Gua Sha, this set will have your mum feeling pampered in no time. The set is £48 but worth £61 giving you the gift of a 21% saving!
https://www.evolvebeauty.co.uk/collections/mothers-day-presents/products/love-your-skin
Aveila
We love this Aviela Nourishing Hand and Foot set. This kit contains: 1 X Shea Hand Butter 50ml to repair and nourish dry skin and 1 X Shea Foot Butter 60ml to nurture and restore dry feet. It's currently on sale too for £30 so bargain!
https://www.avielaskincare.com/collections/kits/products/shea-hand-butter-shea see-foot-butter-kit
What's better than a mother and daughter pampering session… The Pamper Box – Comme Des Jumelles comes with the full size body and hand cream "Comme une Caresse" and the Double Act cleanser and hydrating mask 'Magic Gelée". For mothers day the set will have 20% off the RRP and will be £68.
https://commedesjumelles.com/product/pamper-box-cleanser-mask-body-cream/
Manifesto
Moroccan Oil
SANCTUARY SPA
Cosrx
Ardell
Upcircle
We love Upcircle products which is why we're featuring three of their products in this guide!
Mallows Beauty
If your mum loves Tik Tok, you'd know that Laura founded Mallows Beauty following her own battles with self-image, acne, and anxiety. And the products have gone TikTok viral. Mallow's cult-loved product, the Pineapple and Mango Enzyme Mask (which Laura used to clear her acne), has continuously flown off the shelves and received thousands of five-star reviews! Mallows has since continued to see brand success – creating authentic connections with its customers on a daily basis. They continue to pride themselves on being a "beauty brand, based on real babes, real skin and real bodies. Stocking skincare, nails, body scrubs, bath bombs, and more." The best product for the Valentine's Day season is the cult lovers Candyfloss Unicorn shave butter. The must-have product is packed full of nourishing organic shea butter & grapeseed oil to give an ultra-close shave. Lather it on and shave away! Not only does it combat ingrowns & leave you silky smooth, but it is also super moisturising, smells divine and makes skin glow! We love the price too £13.95

Fashion
Kind Bags
Kind Bag has a new dreamy collaboration with British artist Kit Agar, part of the brand's series championing female artists. Kit's mesmerising prints have been carefully chosen for their calming hues and uplifting energy. The eco-friendly bags are made 100% from recycled plastic bottles originally destined for landfill or the ocean and come in beautiful prints to choose from: Dream (pink), Elsbeth (navy) and Sunbeam (cream)RSP £11 – available from kindbag.co and independent retailers nationwide
https://www.kindbag.co/collections/kit-agar-collection-reusable-bags
Lyna London
 LYNA London, the on trend jewellery brand that comes with an affordable price tag with products from just £18. An ideal gift for Mothers Day, this British brand has a passion for providing customers with stylish, contemporary jewellery that is affordable and can be worn with pride. Our favourites include the Fizzy Fun Tennis Bracelet (pictured above). Priced at only £17 it's a great gift for mum or for yourself!

https://lynalondon.com/collections/best-sellers-1/products/luoteemi-new-6mm-irregular-cubic-zircon-adjustable-bracelet-multi-tennis-bracelets?variant=40954719895721
Hair crystals
These beautiful handmade headbands are made with Love, happiness and many blessings. Our favourite is the Rose Quartz. This gem creates calming and soothing energy. It promotes self-love and helps overcome feelings of not being 'good' enough, self-criticism and resentment.  Facilitates heart-healing openings to emotional connection on all levels; focusing on energy of self-love; inner peace, tranquility, healing and embraces the one true currency of life, LOVE! So perfect for your mother or loved ones in life.
Rose Quartz Crystal Headband – Crystal of unconditional LOVE! £16.50 https://www.haircrystals.co.uk
Skull Candy
With Mother's Day fast approaching, it's time to show your Mum, Grandma or someone special just how great they are..without breaking the bank. Whether she's a music lover, fitness fan or a style icon, Skullcandy offers a pair of headphones for every type of Mum.
Under £100 – Hesh Evo  (£89.99)
Under £70 – Push Active (£69.99)
Under £50 – Dorito x Skullcandy Dime 2 (£39.99)
Food
Joe & Seph's Popcorn
Treat your mum or chosen loved one to a pamper night in! Joe & Seph's Pamper Night Gift Box is filled with the most luxurious gourmet goodies sure to help them relax and recharge during their next night in! Hand packed with love in Joe & Seph's signature gold gift box.
Pamper Night Gift Box. Price £25. Purchase 
https://www.joeandsephs.co.uk/gifts/gift-box-pamper-night
Whittard Chelsea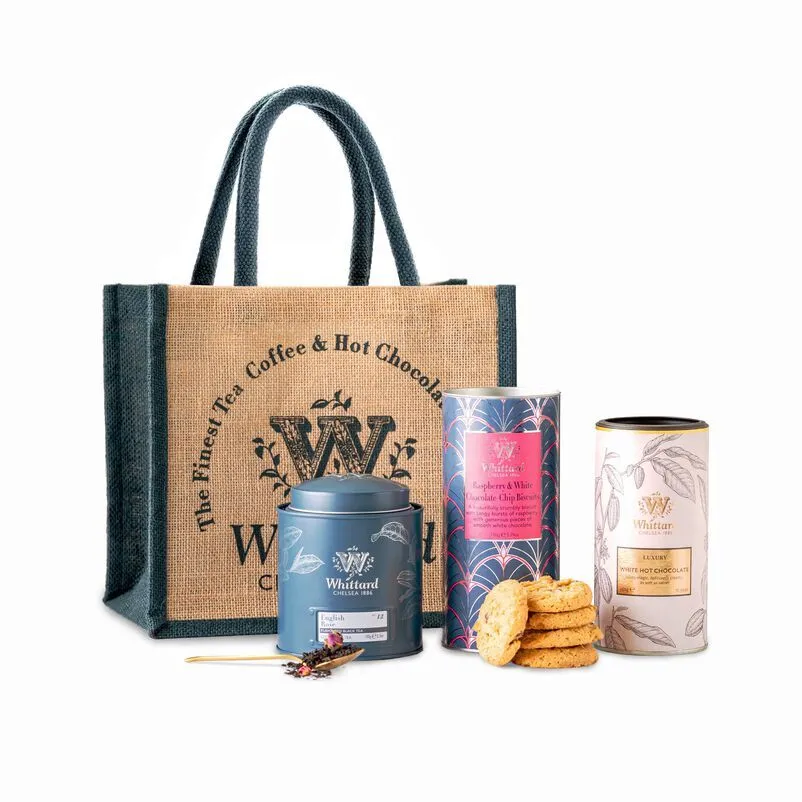 With a free jute bag, Whittard Chelsea allows you to tailor the rest to your mum's taste. Choose one of their luxuriously crumbly artisanal biscuits, then add two hot drinks of your choice; select from a range of indulgent hot chocolates, special tea blends or delicious coffees to create a personalised present she will absolutely adore. And at £30! We love the price. 
https://www.whittard.co.uk/all/mother's-day-personalised-gift-set-BNDMD.html
Floozie cookies 
Floozie cookies – the delicious, plant-based stuffed cookies – make the perfect gift this Mother's Day. Send your mother, grandma, or favourite female figure a box of six scrumptious cookies that arrive in the cutest pink packaging.
Choose from 7 different flavours of cookies with a new special flavour featuring every month. From Peanut Butter & Jam, to Cinnamon Crunch, or Chocolate Chunk, all the cookies are 100% vegan. And with Floozie Cookies recently launching nationwide delivery, it is super easy to give the gift of cookies. A 6 cookie gift set is £17.50
BeeHype
BeeHype launched in July 2019 and today, you can find their delicious craft honey in over 100 farm shops, delis and independents across the UK and even in New York and Kuwait. The brand owners were also nominated for the "Young Entrepreneurs of the Year" by the Great British Entrepreneur Awards, which we think is pretty cool. We love their It's Nuts and Jammin' honey and they're perfect to elevate mum's breakfast in bed and brunches. Priced at £9.95 each, it's a small price to pay for top quality honey that'll have the whole family begging for more.
Top tip… we love both these honeys on baked Camembert. They're a game changer. Make sure you check out their other flavours too!

Lakrids By Bülow
If looking to impress, this beautifully presented LOVE SELECTION BOX contains six flavours of LAKRIDS BY BÜLOW's chocolate coated liquorice, from fruity and fresh to sweet and salty, guaranteed to go down a (very sweet) treat. The heart-shaped selection is perfect for gifting those with a soft spot for liquorice, and if you hold the same sentiment, it is also made for sharing! Featuring a range of classic favourites and brand new limited editions including 'MILKSHAKE', available only within the LOVE SELECTION BOX, it is guaranteed to complement all cravings, whether gifting a grandmother, mother-in-law or aunt, RRP £42.00 for 435g.
Mash Direct
Even if you are not usually a natural chef, you can still be sure to impress you mum as you will have a delicious brunch spread ready in a matter of minutes that tastes just like home-cooked food as all of MashDirect's products are produced on their family farm in Northern Ireland. The brunch hamper priced at £20 contains the below:
Carrot & Parsnip Fries 2 x 300g

 – gently seasonsed, ready for you to crisp up and enjoy

Chilli Baby Bakes 2 x 370g

 – skin on baby potatoes seasoned with a chilli marinade and topped with a cripsy crumb

Crispy Vegetable Bakes (1 x 2 pack)

 – chunks of potato, broccoli, carrot, cauliflower, cabbage and parsnip coated in a crispy golden crumb

Potato Cakes 250g (2 x 2 pack)

 – freshly baked cakes of diced potatoes, scallions and cheese with a hint of ground black pepper

Potato Rosti 180g (2 x 2 pack)

 – potatoes gently shredded with onion lightly fried, ready for you to crisp up and enjoy

Sweet Potato Fries 2 x 250g

 – chunky cut fries
Keto8
This Indulgence Hamper priced at £42.80 is the perfect gift for someone who is on a keto/low carb diet but craving treats. The Keto Indulgence Hamper includes:  
1 Raw Brownie, 40g

1 Caramel Slice, 40g

1 Energy Bite, 40g 

1 Raw Cacao Morsels, 120g

1 Raw Almond Morsels, 120g

1 Blondie Loaf, 200g

1 Victoria Sponge, 200g 

1 Keto Brownie Loaf, 200g

2 Chee*y Kale Crisps, 30g
https://8foods.co.uk/collections/gifts-hampers
Badiani
This Mother's Day, treat the incredible mother-figure in your life to a beautiful artisanal flower-shaped gelato cake from Badiani, award-winning Italian gelateria. Each cake is a masterpiece, expertly handcrafted in London and comes in two irresistible flavours: a rich and decadent dark chocolate and a heavenly white chocolate, both with Badiani's signature Buontalenti gelato base and adorned with beautiful edible flowers. 
These delectable works of art cost £45, serve 8-10 people and will be available at all nine of Badiani's boutiques in London as well as online for nationwide delivery from 6th March. Visit: badiani1932.com to order. 
Drinks
Bathtub Gin Rose & Cardamom
Bathtub Gin has often featured in our gift guides and theres a reason! It's so good! We love their newest flavour of Rose & Cardamom. It's an exquisitely aromatic flavour combination; the sweet floral notes of rose mingle headily with cardamoms delicate spice. The pairing is found often in middle Eastern and Indian cookery and are key ingredients in ancient love spells. Perfect to show mum how much you love her, this Mother's Day!
Price – £36.95
Stockist –Masterofmalt.com
Oxford Rye Whisky
Oxford Rye Whisky, Easy Ryder, at just £55 a bottle, is a great gift for those wanting to enjoy an easy drink. A blend of nine unique casks, including American Oak of varying toasts, chars, sizes and cooperages, and Moscatel Roxo for its sweet, fresh flavours, the resulting whisky is creamy with notes of pastry, chocolate, refreshing spice and a pronounced savoury character. So if your mum is a whisky drinker… this is perfect!
https://www.theoxfordartisandistillery.com/oxford-rye-whisky-easy-ryder
For the cocktail makers: Soho Street Cocktails 
These at-home cocktails make the perfect gift.. all mum has to do is shake, pour and serve! Soho Street Cocktails is a brand revolutionising the ready-to-drink cocktail market. These craft cocktails have been handcrafted with a 'taste-first' approach, made with high-quality ingredients and no artificial flavours or colourings. The current Soho Street Cocktails range includes a Pornstar Martini, Espresso Martini, Strawberry Daiquiri, Cosmopolitan and a Piña Colada, which all come in quantities of 1.5 litres and range from 9.5-12% ABV.
£28.99 Master of Malt
Brookies Slow Gin
For those looking for something different: Brookie's 'Slow' Gin. Brookie's Gin's distillery, the Cape Byron Distillery, is located within the spectacular confines of the Byron Bay Region of New South Wales in Australia and is surrounded by a lush sub-tropical rainforest – a natural pantry for the ingredients of their products. Brookie's Byron Slow Gin draws its influence from the traditional English 'sloe' gin style, substituting sloe berries for a unique, native rainforest fruit, the Davidson Plum. The Davidson Plums are steeped in Brookie's Dry Gin and macerated over 6 months. They are then blended with Mount Warning Spring water and bottled at 26% ABV. £34.24 
Eight Lands
Mother's Day is fast approaching and Eight Lands have the perfect gift to celebrate: Eight Lands organic Vodka or Gin, presented in a sleek gift box with two stemless Riedel glasses. 
Eight Lands Vodka and Gin are created from the finest, impeccably sourced organic ingredients. Eight Lands organic Vodka and Gin are gluten-free, vegan and free from additives, suggesting a multi-award winning taste and character distilled with patience and passion. Priced at £69.
https://www.eight-lands.com/shop
Moët & Chandon
Whitebox Cocktails is shaking up the ready-to-serve cocktail market once again with the new Whisky Highball. We love the brand's latest innovation offers drinkers a refreshing and unique take on the classic Highball serve.
Born in Scotland, perfected in Japan, the Whisky Highball is a classic cocktail, expertly revamped by the award-winning team of bartenders behind Whitebox Cocktails. To create this bold and refreshing drink, Whitebox first blend their own whisky using 100% malted barley from the Highland region, before enhancing the flavour with a touch of peach and tea to add a fine crisp finish.
The Whisky Highball (8% ABV / Vegan / Gluten-Free) is available to purchase in packs of twelve, priced at £60, from whiteboxcocktails.com. Single 330ml cans ( RRP: £5.50 per can) are also available at independent bottle shops and delis nationwide, including Clapton Craft, Eat 17, Forest Wines, Gnarly Vines, Shop Cuvée, and Slurp.
Silent Pool Rose Expression
A floral favourite, English gin brand Silent Pool's Rose Expression gin is both light and elegant with smooth, herbaceous notes of vetiver and cardamom which mingle beautifully on the palate. Made using locally grown rose petals, Rose Expression is a refined Silent Pool recipe which allows the floral flavour notes to take centre stage.
Silent Pool Rose Expression Gin can be purchased by the bottle (70cl) for £42.50 fromSilent Pool Distillers. 

Chapel Down
The bestselling Brut NV from award-winning English Sparkling Winemakers, Chapel Down, is the perfect gift to honour the best. Enjoy Mother's Day over some bubbles from the comfort of your own home, where the warm aromas of red apple and hints of strawberry sweeten the occasion. This liquid works as an aperitif and pairs perfectly with variations of fish like salmon. Available in a gift box as a present, it is the perfect tipple to sip and share on this special day. 
The Chapel Down Brut NV is available to purchase as a bottle (75cl) for £28.00, as magnums for £62.00 and as jeroboams for £129.00 respectively.
Sinzero
If mum isn't drinking this Mother's Day, but you still want to celebrate and make her feel special, why not try a non-alcoholic wine? Sinzero is newly launched in the UK and the first non-alcoholic wine from Chile. The range includes three delicious wines, so whether mum is a fan of red, white or bubbles, there is something to suit – and all are available now from DryDrinker.com now.
58 and Co
Ari By Ariana Grande Eau De Parfum 30ml Spray
Multi-Platinum Recording Artist Ariana Grande Introduces Her First Fragrance, ARI by Ariana Grande. ARI by Ariana Grande is a genuine and intimate statement by Grande through scent, embodying her unique character and style. Hints of unexpected playfulness appear throughout the fragrance story, reminding fans to embrace their flaws and celebrate their differences. Playful, timeless and confident, the luscious new fragrance – a Floral Fruity Gourmand – opens with sparkling fruits and an ultra-feminine florally, passionately spun with musks, woods, and an addictive hint of marshmallow. We think mums will love this one!
https://www.beautybase.com/ari-by-ariana-grande-eau-de-parfum-30ml-spray-p32978
Melted Flames
Boostology