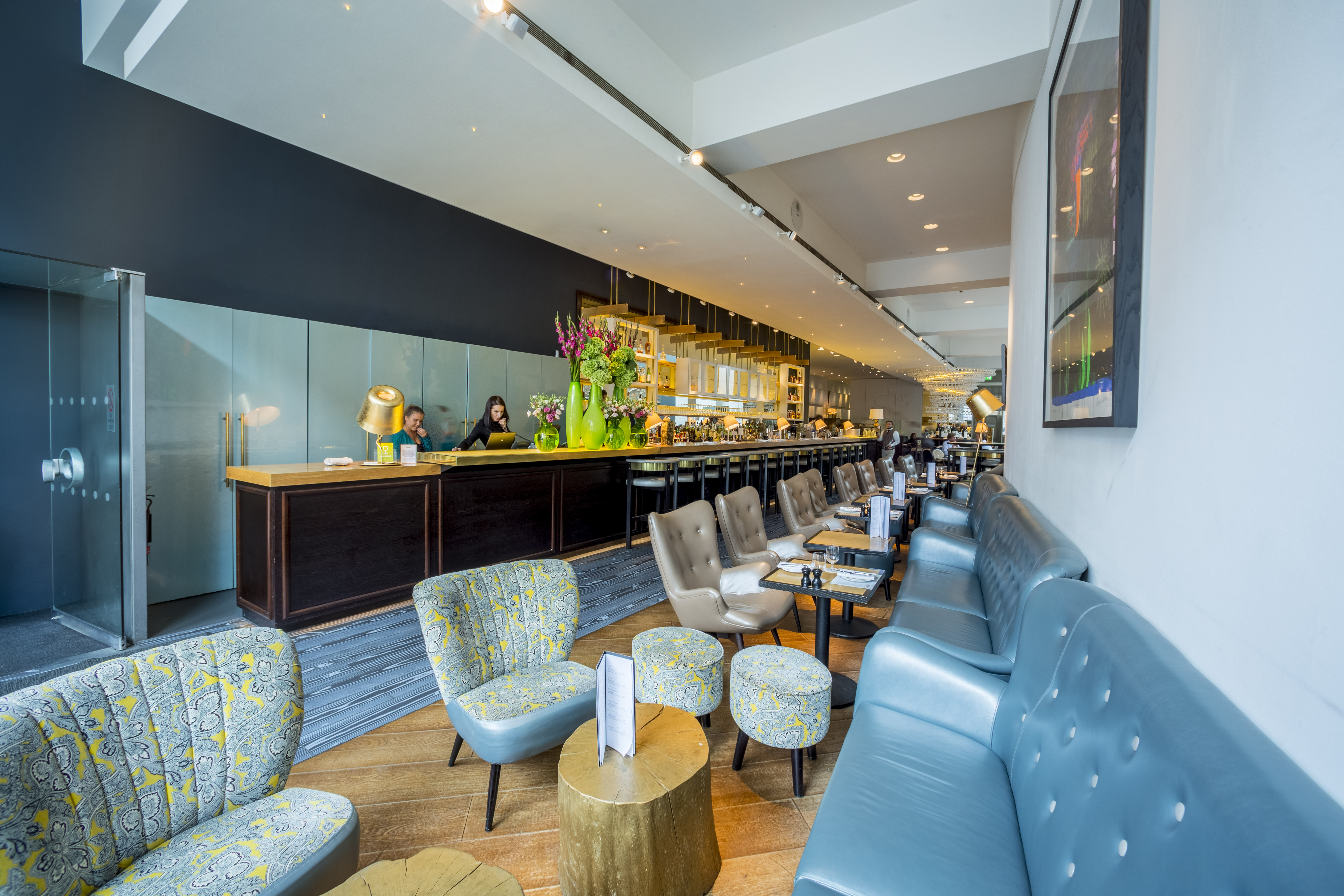 Avenue in St James is an impressive addition to the D&D London's lineup of top quality and luxurious restaurants. Having been to quite a few before, we knew the Avenue would continue the tradition of top quality service and delicious food in a gorgeous venue.
Once seated, my friend and I had a pretty decent view of the whole restaurant and the bar so it gave us ample opportunity to people watch. While sipping our champagne, we did have trouble choosing what to eat as everything sounded amazing! Luckily the manager at Avenue helped us out by suggesting his favourite dishes.
My friend went with his suggestion of sea bass ceviche with mangoes, lime and avocado. It didn't last long on my friend's plate and for someone who had never tried ceviche before… well lets just say he has seen the light. My crab and lobster bisque with a sesame cracker looked and smelt too good to eat! This is definitely a winner in my books, light and full of delicious seafoody goodness. Trust me when I say you'll want to lick the bowl clean too.
My main was even more scrumptious as the Loch Duart Salmon fillet teriyaki, bok choy and shiso tempura was melt in your mouth fantastic. Now let me tell you something though, my friend… well he's a talker… so when he couldn't say a word while eating his Slow cooked glazed pork belly, sour apple and charred scallions… I got the impression he'd entered a state of enlightenment. The first word's out of his mouth after finishing his meal was 'that pork was bangin'. You won't go wrong with either of these dishes, so make sure you order them both with a side of fries and new potatoes with seaweed butter.
We finished our meal with two desserts that had us extremely satisfied. The lime and ginger cheesecake with white chocolate and yuzu cream and the caramelised pineapple, walnut, malt and bourbon icecream. Oh my, the caramelised pineapple was the perfect dessert for me as it wasn't overly sweet. It was just the right amount of guilty pleasure that you could convince yourself it was healthy.
We're certainly going to be back for their extensive cocktail menu but our meal was washed down with the an absolutely delightful rosé wine. We couldn't have asked for better.
Our entire night was so lovely. The service was exactly what we expected – perfect, so hurry up and book a table now. The Avenue also has a pretty impressive sounding bottomless brunch so make sure you check it out. You can thank us later.
Website: www.avenue-restaurant.co.uk
Address:
7-9 St James's Street
London
SW1A 1EE
Twitter: www.twitter.com/avenuestjames
Instagram: www.instagram.com/avenuestjames
Facebook: www.facebook.com/avenuerestaurantandbar
Written by Tegan LeBon
Twitter and Instagram: @toogs1