A stone's throw from Southwark station, and down a side street filled with independent and niche restaurants, I find myself up on a mezzanine, surrounded by exposed brick and trendy music. Under the railway arches I am trying Israeli cuisine at Bala Baya. I have no idea what to expect, I've never eaten Israeli food before, but there's one thing for sure, it smells dam good in there.
So with some guidance from the waiter, who is happy to share his experience and expertise with us, we settle on a few of the smaller dishes to share, dining tapas style. With the chef hailing from Tel Aviv, and keen to share some of the traditional and more unusual flavours we are keen to tuck in. But first a cocktail, the Pink has a real kick and sour bite to it; vodka, elderflower liquor and grape / ginger it's the best start to the flavours to come.
Israeli cuisine seems to take its influence from Middle Eastern and Mediterranean food. This is apparent in the hummus style chickpea served with lamb. And the warm flat bread with hummus that we were welcomed with. All served on stylish but traditional looking glass plates.
And the aubergine mess which is presented in a smashed and softer form, is truly sensation with it's smoky undertones and fresh large chunks of lychee. Not an obvious combination but a genius one. The Harissa and maple salmon is best described as a salmon sashimi, which for a Japanese enthusiast is a delight. Again, it is served with fresh fruit, this time in the form of plum. Another interesting and delightful twist.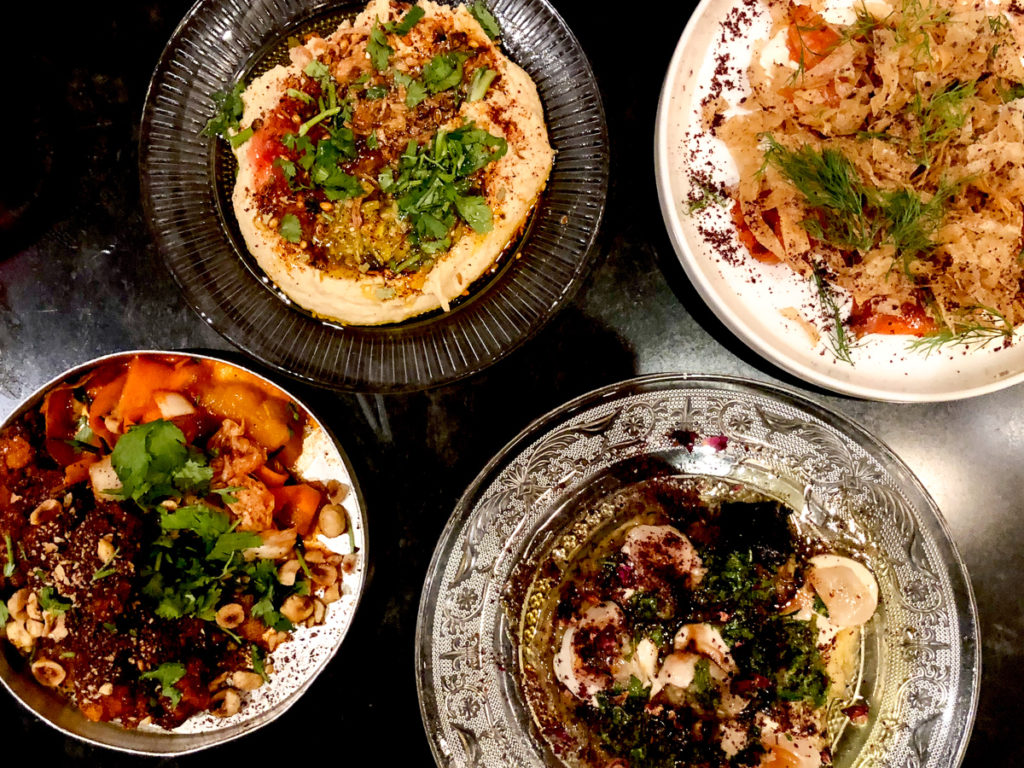 The Prawn Baklava is king prawns, wrapped in angel hair style baklava, you can taste the Persian lime and the sweet flavour of baklava paired with the savoury prawn, once again a winner.
The Crispy, Sticky, Crunchy chicken thighs paired with orange kimchi and butternut squash puree creates a sweet, tangy and gorgeous final dish. This was definitely one of our favourites.
Dessert will be a real delight for the nut lovers out there – the Burnt Babka gives that sticky baklava quality with a Nutella taste. And The Cheesecake with white chocolate and caramel serve with banana fritters serves up a nutty base. As recommended we drank the traditional "Gazoz", a signature homemade syrup made with fresh fruits in house and combined with sparkling water. It's the perfect non-alcoholic refreshing compliment to the food.
We couldn't seem to lose here. Our favourite dishes had such incredible flavours it made some of the more standard combinations seem boring. I'm 100% converted to Israeli food, and I'm already planning my return. If you try one new thing this year, make it Israeli at Bala Baya. You won't be disappointed!
Website: www.balabaya.co.uk
Address: Arch 25, Old Union Yard Arches, 229 Union Street, SE1 0LR