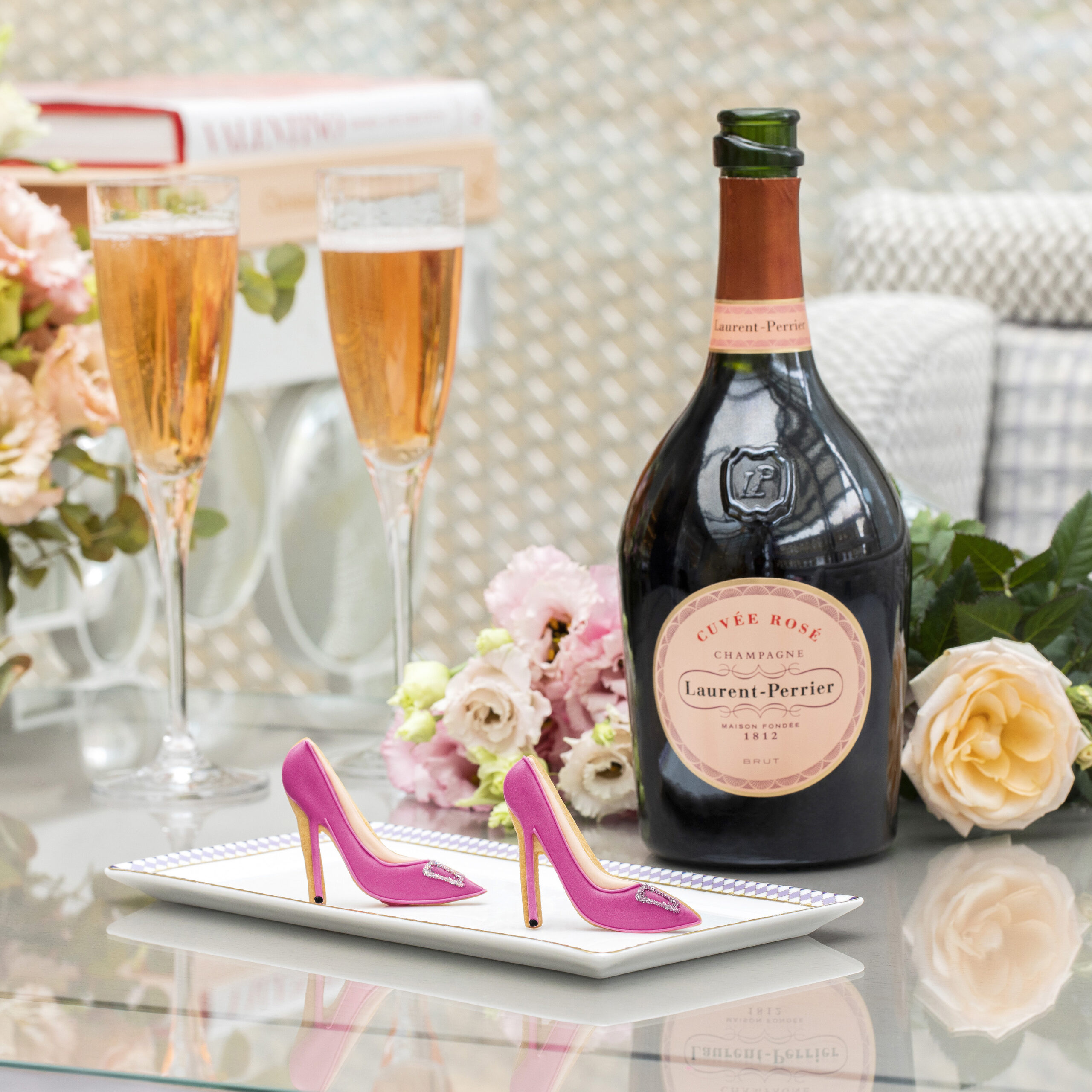 From catwalk to cakewalk: Champagne Laurent-Perrier and The Berkeley to bring the season's hottest styles to Taste of London
This Summer at Taste of London, Champagne Laurent-Perrier will unveil a unique cake-pairing menu produced in collaboration with The Berkeley. Inspired by its legendary fashion afternoon tea Prêt-à-Portea, the special champagne edition will see irresistibly stylish, edible creations paired with Laurent-Perrier's much-admired Cuvée Rosé.
Modelled from the vibrant runway successes of the Spring/Summer '21 collection, stars of the menu include a Valentino imagined gown, appearing as a pistachio bavarois with amarena cherry, set on a pistachio croquant and finished with a sugar lily. Further showstoppers comprise of a brilliant purple ensemble from Isabel Marant, showcased as an almond sponge with a beriolette jelly centre, glazed in glittering purple and topped with a chocolate bow, as well as a coconut dacquoise and mango confit, encased with exotic fruit mousse and topped with a shimmering sugar starfish depicting Versace's recent ocean-inspired collection. Available as a bookable masterclass experience, ticketholders will see celebrated catwalk styles transformed into delicious couture cakes by The Berkeley's Executive Pastry Chef, Mourad Khiat, while enjoying a glass of delectable Laurent-Perrier Cuvée Rosé.
The luxurious Laurent-Perrier Clubhouse will also be open to all festival goers and masterclass ticket holders, with champagne flowing in surroundings that take design cues from catwalks around the world. Thanks to Khiat, this year's Clubhouse is home to a very stylish homage to Manolo Blahnik in the form of an edible biscuit iced in champagne pink, to accompany every two glasses of Laurent-Perrier Cuvée Rosé purchased through the festival.
Daniel Brennan, PR & Communications Director at Champagne Laurent-Perrier said, "We're thrilled to be bringing guests another year of innovation through flavour and design at Taste of London 2021. Our partnership with The Berkeley's Prêt-à-Portea offers a contemporary twist to afternoon-tea with added drama and design of seasonal catwalks. It's the ultimate chance to celebrate the summer season and reunite fashionably with friends."
Championing innovation, sustainability, flavour and design, this year at Taste of London Laurent-Perrier will be ensuring all activity maintains a respect for the environment. From using reusable and recyclable set elements to recyclable glassware throughout, there will be a continual respect for the environment upheld at the Festival.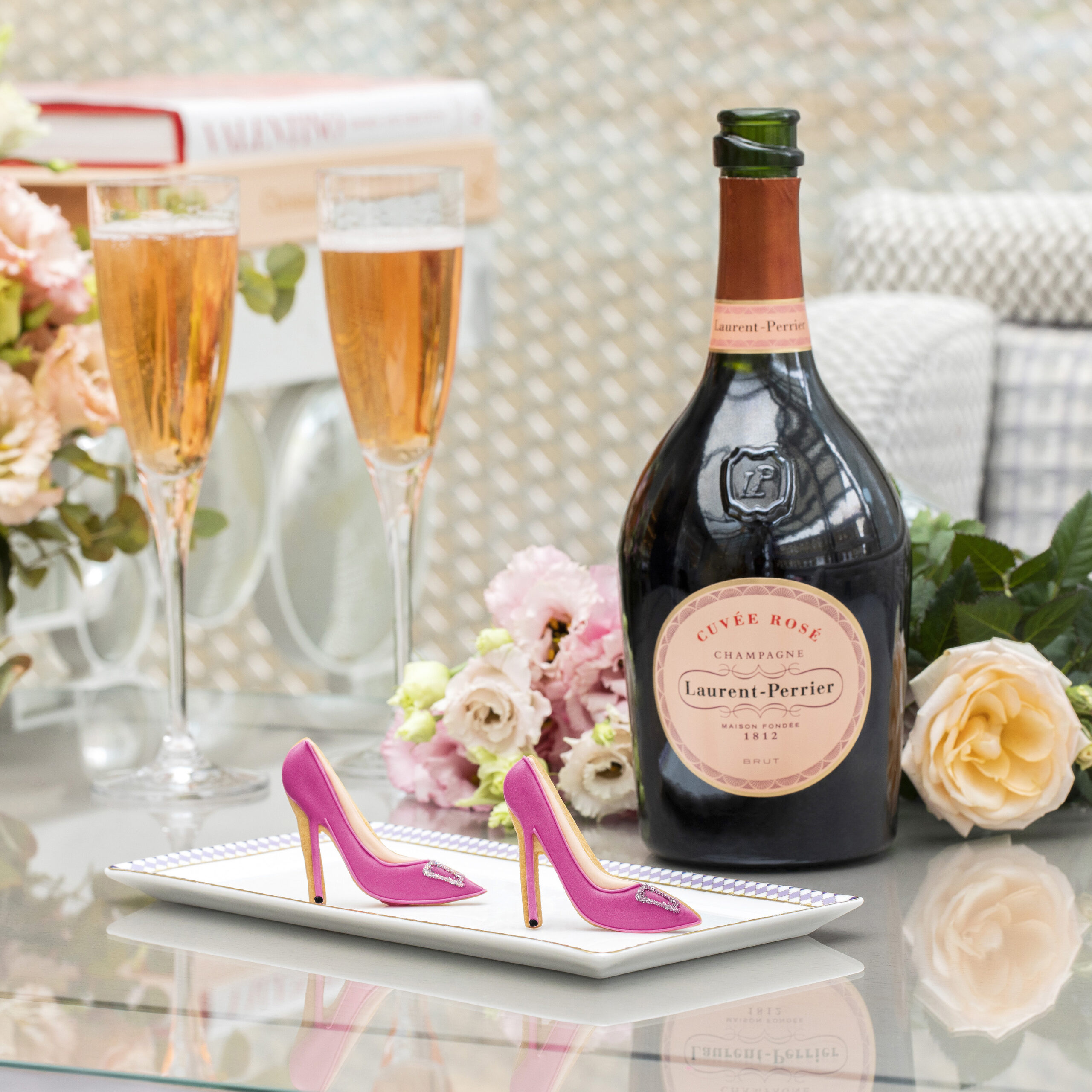 The Laurent-Perrier Clubhouse and Masterclass will be available to experience at Taste of London from 7-11 July 2021 and 14-18 July 2021. Tickets for the Laurent-Perrier Prêt-à-Portea masterclasses are available from £30.00, via https://london.tastefestivals.com. This is Laurent-Perrier's 17th year as official champagne sponsor of Taste of London.
For information on Laurent-Perrier please visit: http://www.laurent-perrier.com/en/