Hotel review: CitySuites, Manchester – one part homely apartment, one part exquisite hotel
Have you ever thought that you'd like the homely feel of Airbnb but with the comforts of a hotel? Such a place does actually exist – or at least it does in Manchester.
ON IN London ventured up north a few weeks ago for a weekend adventure and to explore the food, drink and nightlife of northern England.
But where to stay?
A stone's throw from the city centre you'll find CitySuites – an apartment hotel that is budget-friendly while still maintaining a very luxurious feel (it's very fitting, given it's near Spinningfields – Manchester's posh grounds).
We arrive at the hotel after a six-hour bus ride, a perfect alternative to the train as it gave us ample time to nap and sip G&T's before arrival, and were instantly impressed by two things. Firstly, by how cheap an Uber is in Manchester (there's no £5 minimum, you guys) and secondly, by the beauty of the hotel. 
The receptionist gives us a warm welcome, sat behind her desk in a foyer with artistic touches that scream 'we're classy but edgy'. We're handed our key cards, given a brief introduction to the hotel's amenities (more on that later) and off we go. Every aspect of the hotel is chic – from the contemporary seating by the lift to the subtle lighting – and the room is no different.
In difference to a traditional hotel, CitySuites was built with a purpose – serving as short-term apartments for people who are staying for a few days, a few weeks or even a few months to a year, and don't want to put themselves into an expensive lease that is more hassle than it's worth.
So, in addition to a  huge bed and rain shower (which is divine when you're suffering through a hangover), there's also a large sofa, wall-mounted flat screen TV, dining table and chairs and a full kitchen.
And that's just in the studios.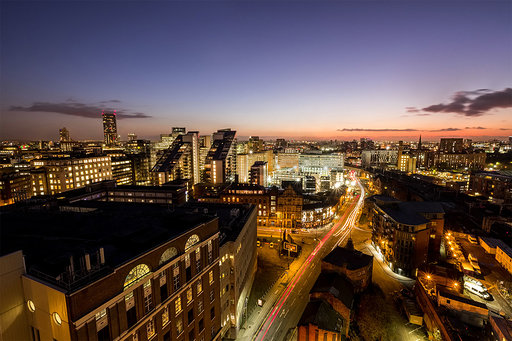 If you've got the cash to splash, upgrade to a one bed or two bed – the quality is the same throughout, but you'll get a double bed to yourself (which was pretty much the only downside of the studio – we had to share).
The sheets are Egyptian cotton, and if you need an extra duvet or pillow, reception are more than happy to help. We asked for an additional duvet and it magically appeared in the room while we were out for dinner. There's also a weekly cleaning service.
It's the kind of flat you've always wanted but will probably never be able to afford in London, but it's a lovely reality in Manchester.
But that's not even the best part.
Going on holiday usually means you choose a good place to stay anyway, because you want to treat yourself, but there are certain aspects that enhance one's experience.
Our favourite part of the weekend was Saturday morning as we explored the hotel's basement.
We woke up feeling regret over that last drink at Cane & Grain – a bar in the Northern Quarter that is well-worth a visit – but this feeling was swiftly abolished as we sank into a state of bliss in the CitySuites hot tub.
And swam a few laps in the 18-metre swimming pool.
And considered visiting the hotel gym to sweat out the booze (but instead snuck into the restaurant and munched on a tasty breakfast buffet).
Like we said, some aspects make your holiday that much better.
The only area that needs some improvement is the temperature in the room; while we were able to adjust it ourselves, it seemed to regulate itself during the night (which left us either hot or cold).
But it barely registered as a blip on our otherwise superb stay.
Manchester as a whole left a great impression (stay tuned for the food reviews) but frankly, we had a hard time leaving the hotel and would've been happy to just stay in for the duration.
CitySuites is located on 16 Chapel Street, Manchester. You can walk into the city centre and there are plenty of bars, restaurants and shopping options nearby.
Website: https://www.citysuites.com
Twitter: https://twitter.com/citysuitesmcr/
Instagram: https://www.instagram.com/citysuitesmcr/