Interviews with Marylebone Village Retailers
We love catching up with the owners of businesses in Marylebone Village, packed with independent and well-loved fashion and lifestyle brands, restaurants and bars. This month we caught up with La Fromagerie and David Mellor.
Patricia Michelson – Founder
LA FROMAGERIE
TELL ME ABOUT LA FROMAGERIE
La Fromagerie started in 1991 from my garden shed in Highgate. We opened in Marylebone in November 2002 just at the beginning of the facelift for the whole area which was re-named Marylebone Village.
It was an exciting time, and Andrew Ashenden and Simon Baynham invited me to the area and I chose Moxon Street as my preferred store-front much to their amazement. I loved the building and the big garage doors as the entrance. The estate went into action and completely re-built it from a builder's yard to a store and also the other shops next door. It was an amazing time to be in Marylebone and I think we were absolutely part of the rise in popularity not only to shop in the area but also to live there too.
WHAT MAKES LA FROMAGERIE SPECIAL?
We are an independent family run business, and you will see me in the store every day, on the shop floor. With Sarah Bilney who is a shareholder, who has been working with us since the inception of La Fromagerie in Marylebone, we have a great team and we work closely together. We have wonderful produce from suppliers and cheese makers we've worked with, many of them for years and who are themselves independent. It is all about connecting with artisans and farms from all over the UK and the continent and even farmhouse cheese makers in the US, to showcase in our shops.
Once you could only see these products when you went on holiday, but we have searched them out and bring them here to welcome and celebrate the seasons through the year. The kitchen uses the produce too, and the menus reflect the seasons and regionality of the dishes.
WHAT IS YOUR FAVOURITE ITEM IN LA FROMAGERIE?
We do a wonderful fondue using alpine cheeses, and also our toasted sandwiches are I think the best. The secret to the sandwiches? We brush white wine on the bread to soak in a little before toasting.
All our dishes are gleaned from the produce we have on sale, both fresh and larder, as well as the wonderful cheeses. We follow the seasons, so there will be warming stews in the winter as well as soups and tarts, and in summer delightful salads dressed up with Feta, Mozzarella and Burrata. With our olive oils and balsamic we make great dressings too. We have developed our to-go dishes to include many items on the restaurant menu, and they are packed and ready to take home, heat up quickly or simply serve straight onto the plate. Freshly made every day and in tune with the rhythm of the store.
IS THERE ANYTHING NEW COMING UP FOR LA FROMAGERIE?
Since developing our line of biscuits for cheese, we have been looking at expanding the range. We like our biscuits for cheese to be crisp and not overloaded with ingredients that do not work with the cheese. A rosemary and sea salt one would be great with fresh goat cheeses, and a gluten free biscuit is also being developed.
WHAT DO YOU LOVE ABOUT MARYLEBONE VILLAGE?
I grew up in the Marylebone area, moving here with my family in 1965! I have seen the many changes to the High Street, and although I don't live around here now, my heart is definitely firmly set here. I love the fact that it is a community – there are schools, colleges, open playing areas, Regent's Park, local shopping of all kinds, and you are a stone's throw from the heart of the West End and theatres.
It is a very special part of town that still holds the live/work/play ethos together – and I hope will always keep that a primary factor in whatever happens here.
WHAT IS YOUR FAVOURITE MEMORY IN MARYLEBONE VILLAGE?
I have many memories as a teenager….walking home from a club in Soho at midnight and taking the short cut through Moxon Street and Grotto Passage without fear or thought of being accosted!
Early days in the shop when we just had a long communal table, and Clement Freud enjoying our duck rillettes with toasted sourdough and a glass of red, he said we had the best rillettes ever! Such a great character and I really enjoyed sitting down and chatting with him. Best memory on Paddington Street where the Beatles 'Apple' shop was decorated from top to bottom in psychedelic colours….I watched that being done and loved it. So sad that the 'old fogies' didn't and it had to be painted over. Marylebone village had a Beauty Without Cruelty shop on the High Street (where Pierre Marcolini is now), an organic Butcher and Grocer on Paddington Street in 1966 – only teens and early twenties and hippies shopped there! Marylebone Village always seemed ahead of the game on certain things, as it is now, and the artisans and independents were there in abundance.
I do hope it never changes. Whether it is Perfumer H on Blandford Street, or Websters Ironmongery on Chiltern Street, this is what makes Marylebone the place to wander around as well as finding things you need.
WHERE IS YOUR FAVOURITE PLACE TO EAT?
In Marylebone – it is Fishers because it has such a relaxing and calm atmosphere. I love the Schnitzel – and they are very generous! I love Dinings – sitting at the counter watching how they prepare everything with such dexterity. I have to say I am a bit partial to people watching in the garden area of The Firehouse on Chiltern Street – it is a lovely space on a sunny day.
Website: https://www.lafromagerie.co.uk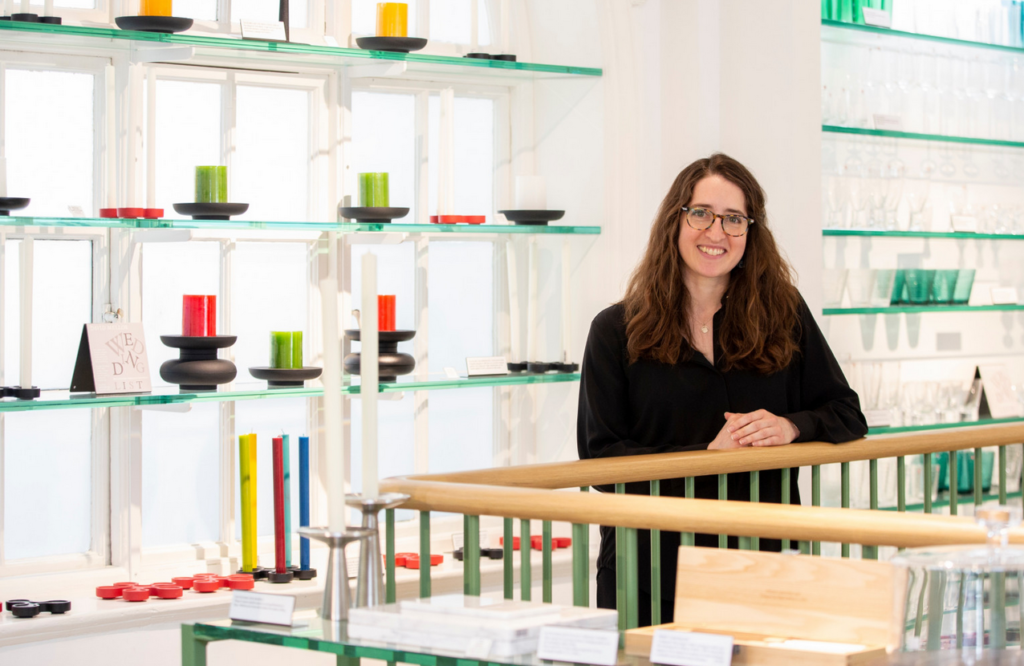 Photograph – An employee of David Mellor
Interview answers from Corin Mellor – Owner
David Mellor
TELL ME ABOUT DAVID MELLOR?
The company was founded by my father, David Mellor, back in the 1960s. He was keen on manufacturing and retail as well as design and it was always his vision to combine all three in a unique way. As a company, we specialise in tableware and our famous cutlery is produced in our own award-winning factory in the Peak District National Park. As well as our own designs the shop also carries what we believe to be London's finest collection of tableware, kitchenware and English crafts.
WHAT MAKES DAVID MELLOR SPECIAL?
Starting with the bricks and mortar, the arts & crafts period building itself is beautiful and was originally a dairy. We restored the building ourselves using our own craftspeople. We also designed and made all the interiors and fittings in-house to create a complete 'David Mellor' environment. The company philosophy has always been that the settings our products are sold in should be as well-designed and well-made as the products themselves.
WHAT IS YOUR FAVOURITE ITEM IN DAVID MELLOR SPECIAL?
It has to be our beautiful 'Pride' cutlery. This was designed by my father in 1953 when he was still a student at the Royal College of Art. Revolutionary for its time, it was actually the first student design to be put into mass production. Over the years it seems to have won every design award going and is still our best-selling range. There's something so pure and perfect about the design that makes it feel timeless.
IS THERE ANYTHING NEW COMING UP FOR MELLOR SPECIAL?
We are actually just launching a new range of patterned fine bone china tableware called 'Deco'. This collection is our first decorated range of tableware and is totally exclusive to us. The name 'Deco' is a nod to art-deco design of the 1930s which inspired it. Its shapes perfectly complement our existing fine bone china range so customers can either have all 'Deco' or mix-and-match with the plain white version to create a unique table setting exactly suited to their taste.
WHAT DO YOU LOVE ABOUT MARYLEBONE VILLAGE?
I love the vibrant feel, the mix of independent shops with selected high street favourites, the superb restaurants, and the genuine sense of community. It's extremely rare to find this combination anywhere but the fact it's so close to Oxford street is always amazing to me. It's a haven right in the middle of central London.
WHAT IS YOUR FAVOURITE MEMORY IN MARYLEBONE VILLAGE?
My favourite Marylebone memory without question is when we opened our New Cavendish Street shop. We were looking for five years to find the right space – a shop location where the architecture really shone and could match the beautifully designed and made products. After being so involved in the restoration, and personally making the fixtures and display units, it was a real pleasure to finally open the doors to the public.
WHERE IS YOUR FAVOURITE PLACE TO EAT?
The mouth-watering La Fromagerie on Moxon Street. I've always been a huge fan of what Patricia and the team there have worked so hard to create. Their cheese selection is always perfect and their food is simply delicious – whether it's eaten in, taken away or delivered. If there's a better cheese shop in London I've yet to see it.
Website: https://www.davidmellordesign.com
Marylebone Village: www.marylebonevillage.com