Spun Candy Making Class Review
At the start of July, my friend and I were up early on Sunday to visit the hard rock candy experts at Spun Candy! They have opened up their kitchen in a Spitalfields to guests to get a taste of the magic behind handmade candy making. 
Visitors can now create their own sweet delights with the help of highly-trained Master Candy Makers who will teach the art of traditional British candy making through their lollipop masterclasses and fudge, honeycomb and brittle workshops.
The list of classes is extensive and we already want to go back to try some of the more advanced classes:
Lollipop Masterclass (60 minutes):
The chance to be a Candy Maker for the day! Learn and apply the science and skill involved in hand-making your own lollipops. All the candy you make you get to take home so you can share it, show it off or simply keep it all for yourself. – £60 per adult 
Candy Face Making (90 minutes):
Ever wondered what your face tastes like? Well wonder no more! Get your hands sticky and create a candy replica of yourself or a favourite person! This class is truly unique and brilliant fun. – £75 per adult
Family Masterclass (60 minutes):
Family classes are designed to be fun for all ages – £60 per adult, £30 per child, £150 for two adults and two children
Candy Flower Masterclass (90 minutes):
Say it with (candy) flowers! Learn how to make a beautiful candy bouquet that will make your mouth water. Craft and create Spun Candy's beautiful iconic sweet roses with our experts guiding you throughout. – £75 per adult
 Children's Masterclass (60 minutes):
Designed to be educational and great fun, our kids' classes will teach your little ones the magic of candy making – £60 for two children, £30 for one child, £30 for an extra child.
Confectionery Masterclass (90 minutes):
Choose two recipes from the collection of original Spun confections including fondant fudge, heavenly honeycomb, perfect popcorn or bite-me-hard brittle and fill your boots.- £100 per adult
The Ultimate Candy Experience (3 hours):
Over 3 hours of sweet indulgence. Let Spun Candy take you on a magical sugar journey covering everything from lollipops to flowers, fudge, brittle and honeycomb. You'll become an expert candymaker, and you'll need an Uber to carry home everything you've made. – £170 per adult
We attended the Lollipop Making Class and came home with 6 gorgeous Rainbow Lollipops. You'll definitely have a sugar buzz after eating one of these! I'm not sure I have what it takes to be a Spun Candy master but it was a lot of fun regardless.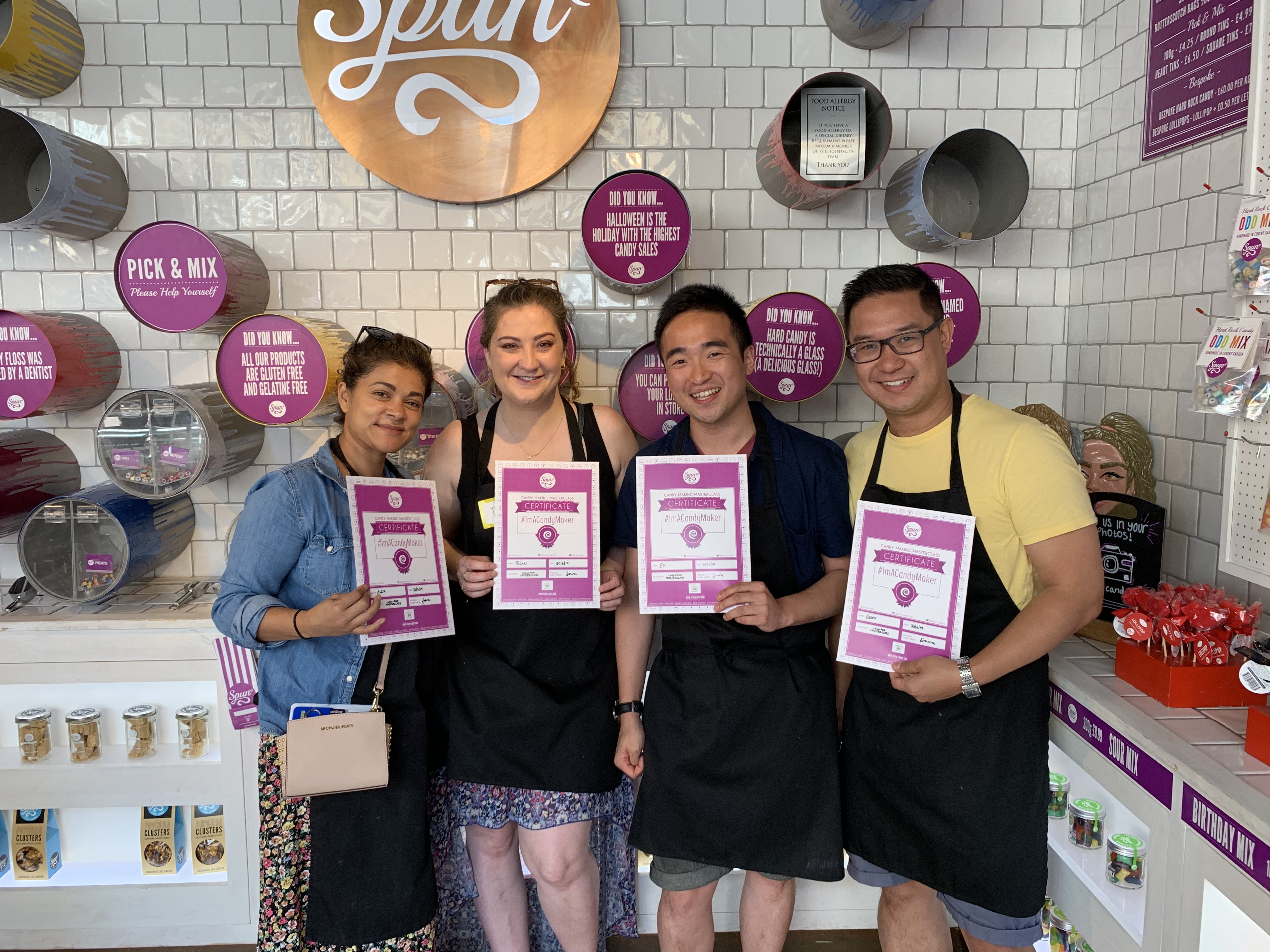 The class was informative and despite there being a few kids parties, getting to join had us feeling like big kids ourselves. We graduated with Candy Making Diplomas any big smiles on our faces.
To book a class and for more information please visit https://www.spun-candy.com
 Written by Tegan LeBon