Wholesome Nostalgic Fun with New Bullseye ARDarts Game
Picture this….
It's the 80's, you're settling in for a Sunday night in front of the TV and Bullseye – the nation's favourite darts and quiz show – is up next on the agenda.
Fast forward to the current day, and Bullseye is now hosted as part of ITV's Epic Games Show, hosted by the fabulous Alan Carr. But this isn't the only way to get your Bully fix. We attended the marvellous launch of the brand new AR game at Gravity in Wandsworth and had an absolute hoot.
What to expect:
Gravity itself can only be described as a giant, vibrant adult arcade. There are indoor go-carts, neon arcade games, a plethora of naughty-but-nice junk food outlets and a surprisingly snazzy and glamourous bar. We were sold!
Amongst all the fun and games is the AR darts game. Perfect for mate dates, family fun or first dates, these games, as witnessed in other venues like Flight Club, are the forefront of adult entertainment. What Flight Club doesn't have however, is the Bullseye game.
If you're familiar with the game show, you'll know that Bullseye is the perfect combination of skilled darts, meshed with pub quiz. We teamed up with some strangers to build out our team and really add to the competitiveness of the game. Not only that, we all had the chance to win the star prize of a speedboat (as mini as it turned out to be in the end)!
As we delved into the rounds, we found that the whole game was flawlessly executed, with easy to use functional darts and a fully calibrated system that left no delays or confusion. Likewise, the general knowledge questions were challenging, yet fair, making the game accessible for all ages.
What wasn't so flawless, was our darts finesse, so alas, the speedboat went home with another lucky player.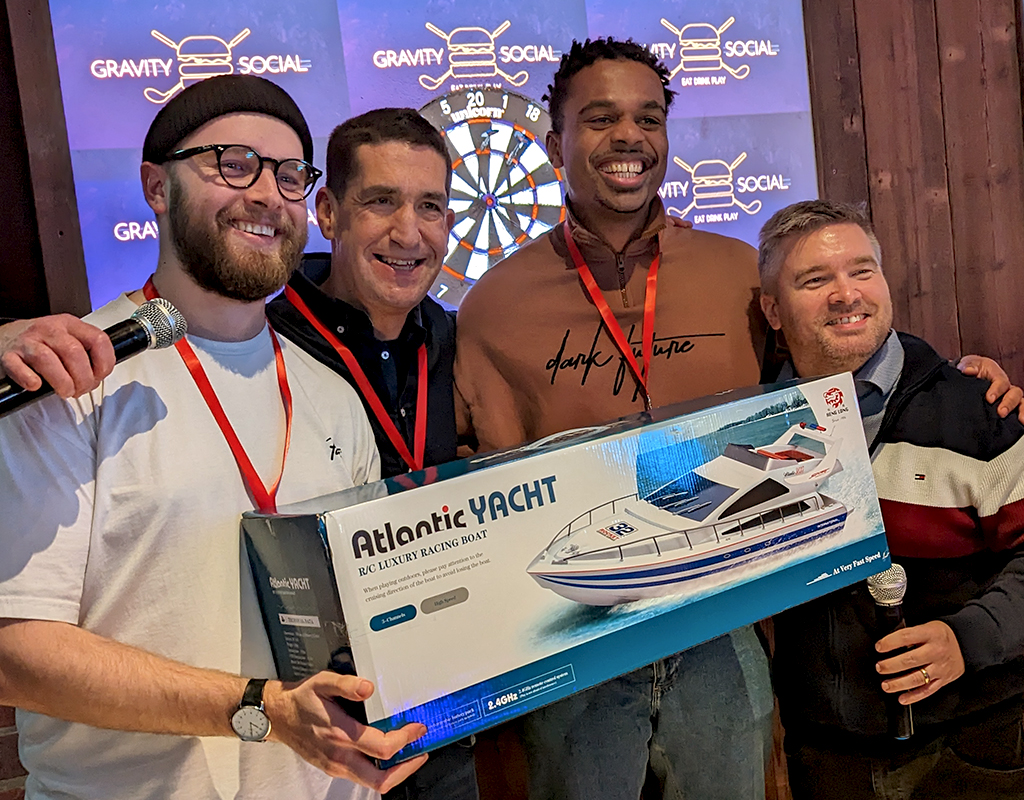 It's not just Gravity in Wandsworth that you can experience the great game either – in fact, it's already in pubs, bars, bowling alleys and dedicated venues up and down the country. The team is also expected to roll out even more in 2023.
Coming soon to mobile…
For the players who can't get enough Bully at their local venue, they'll soon be able to play at home with the brand new Bullseye mobile game app. The Bullseye Official game app will allow users to play the entire game show from the comfort of their own home with family and friends. They don't need a fancy projector set up, just a regular dartboard and the app – so get sending out those dinner party invitations and get those darts at the ready!
A list of current venues where you can play the Bullseye AR gamecan be found on bullseyegame.co.uk
The Bullseye App is found on the app store and costs £2.99 per month to play the game on a subscription basis