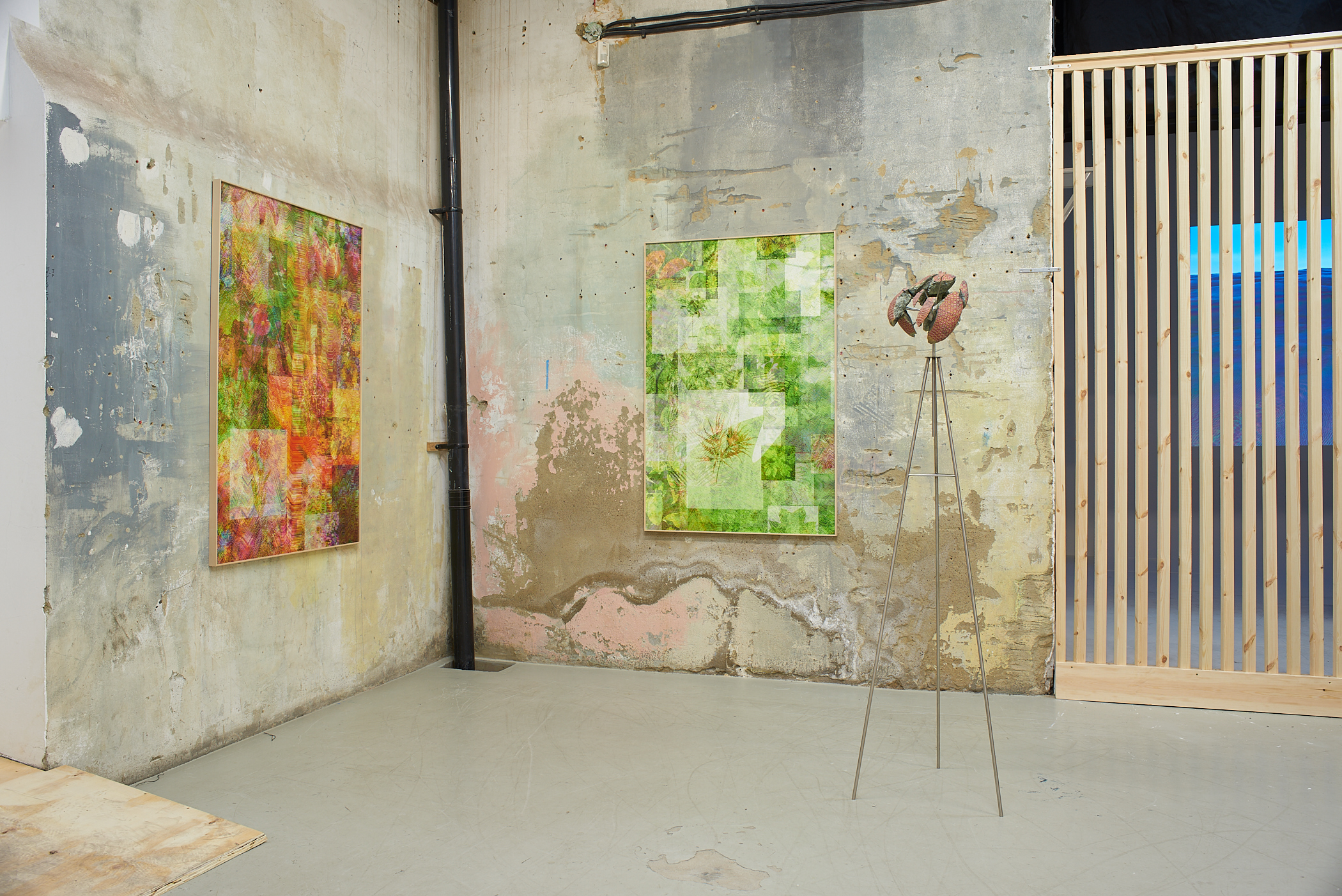 Without Nature Exhibition Review
It's Frieze week! As London prepares for the two giant fairs and for a hectic and vibrant next few days, smaller, yet unmissable events are taking place outside of Regent's Park. One of them is the ten day exhibition without Nature hosted by NiCOLETTi, a nomadic curatorial project focusing on exhibition programming, artist representation, and art consultancy.
The exhibition, a group show including a selection of ten well-known international artists, reflects upon the conditions of perception and representation of the environment in an ecologically-concerned, digitally-mediated era. Reflecting on the concept of Nature, which the curators define as 'a historically contingent and socially constructed entity, rather than as an inert, a historical background against which human history unfolds, […], the exhibition seeks to challenge the idea of Nature as a unified, incontestable ontological model, and considers the role of aesthetics in the (re)formulation of the ecological question via the re(con)figuration of a certain dialectical flatness inherited from Western philosophical and scientific traditions.'
Philosophically charged and inspiring, wonderfully envisioned and curated, the exhibition offers viewers to embark on an exploration of future ecologies by reflecting upon the progressive entanglement of nature, culture, and technology.
The first part of the show deals with the ways in which the perception and representation of the environment is altered by the digital, by technology. At arrival, we are greeted by a series of site-specific works by Lisbon-based, French artist Hugo Cantegrel that frame the entrance of the space. Described by the curators as a 'futuristic cabinet de curiosités' Cantegrel's installation include a series of hybrid objects (i.e. an aquarium, a volcanic rock, a rose, as well as rotating decorative objects) and repetitive motifs and patterns printed on Plexiglas and aluminium.
As we walk into the main space, we are captivated by Petra Cortright's digital paintings, which play with art-historical archetypes and imageries intermingled with digital abstractions. Accompanying them, Rachel de Joode's sculptures explore the relationship between the 3D objects and its 2D representation by mounting close-up images of organic matter on flat, sculptural frames.
In the same room and across from one another, Chris Dorland's and Aram Bartholl's works define a dialogue between Nature and an all-encompassing Reason attempting to gain complete control over it. These works make us wonder: will our distancing from nature eventually turn into a progressive reversal in which the steady growthof Artificial Intelligence will prevail?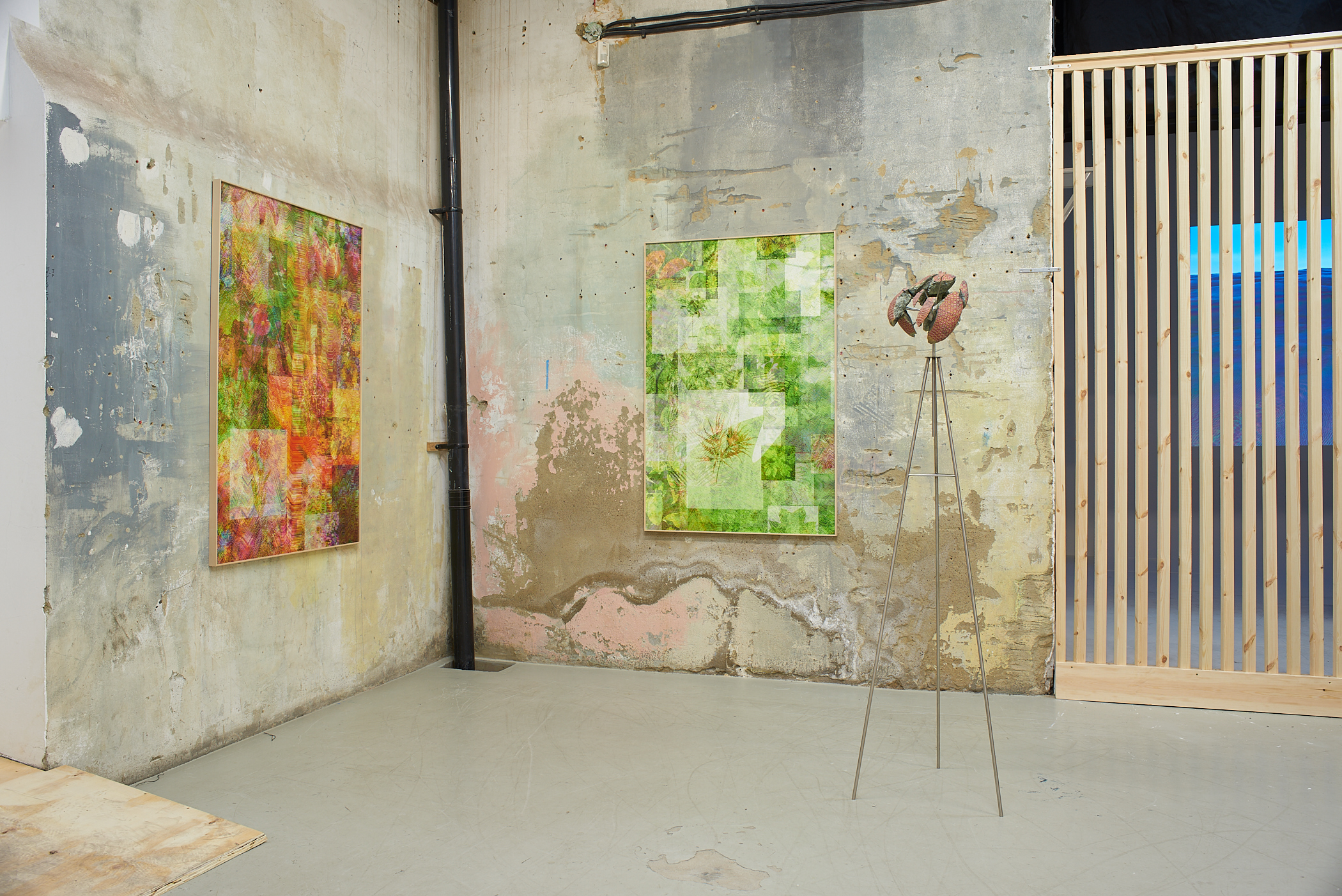 If the first part of the exhibition analyses the relationship between perception and representation vis-à-vis the digital, the second part of the show speculates on what our relationship with the environment will be in the future. Mathieu Merlet-Briand's new works further the artist's explorations on 'digital (im)materiality,' the product of complex algorithms that are re-materialised in his works. Julius von Bismarck's sculpture, Apocalypsoid, departs from what one would consider an archetypal 'natural' object, a block of granite rock. The fragmentation of the stone and the superimposition of sections of the Periodic Table of Elements painted over it, suggest a speculation ofa possible geological future.
Similarly, Eva Papamargariti's video work imaginespossible future organisms that will develop from the actions and waste that we are producing today. In the adjacent space, additionally, Nicolas Sassoon and Rick Silva offer an immersive audio-visual installation of an oceanic panorama seemingly covered by oil. By perceiving and representing the imperceptible, these two artists poetically suggest a constant mutation we are habitually unaware of.
The works in this show explore the various entanglements of nature, technology, and culture, problematised by the dichotomisation of concepts such as artificial/natural, actual/virtual, human/non-human. The show aims, in a way, to dissolve these binary divisions. As, ultimately, we should attempt to perceive the environment as a far more complex series of relations and networks between all beings and things, beyond the imposed fixtures we have been taught to discern.
'without Nature' is the second exhibition of NiCOLETTi contemporary, on show until the 7th of October, 2018.

Curated by Oswaldo Nicoletti & Camille Houzé.

Website: www.nicoletticontemporary.com
Address:
458-460 Hackney Road
London E2 9EG

Facebook: www.facebook.com/nicoletticontemporary
Instagram: www.instagram.com/nicoletticontemporary
Written by Francesca De Filippo Piccolo
photos by Theo Christelis 2018.