WREATH MAKING WITH ATOPIA AND SAGE
Atopia, the award-winning non-alcoholic spirit has partnered with Peckham-based SAGE flowers to host two exclusive Christmas wreath making workshops at 12th Knot at Sea Containers bringing flavour, colourful florals and festivity to the capital this December – with a twist.
At each event, guests can create brightly coloured wreaths, inspired by Atopia's three key flavours; Spiced Citrus, Rhubarb & Ginger and Hedgerow Berry. A unique mid-week experience and the ideal setting to create your own arrangement to prep your home in time for the festive season.
Onin.London attended the press preview and we had a lovely evening, sipping on Atopia cocktails and making the beautiful wreathes. We had an absolutely lovely evening and the wreathes look even better in our homes.
The masterclasses are open to the public on 7th and 13th December at 7.30pm, guests will have the chance to create a bespoke Christmas wreath themselves using garnishes and foliage inspired by Atopia bottles sure to bring colour to your home.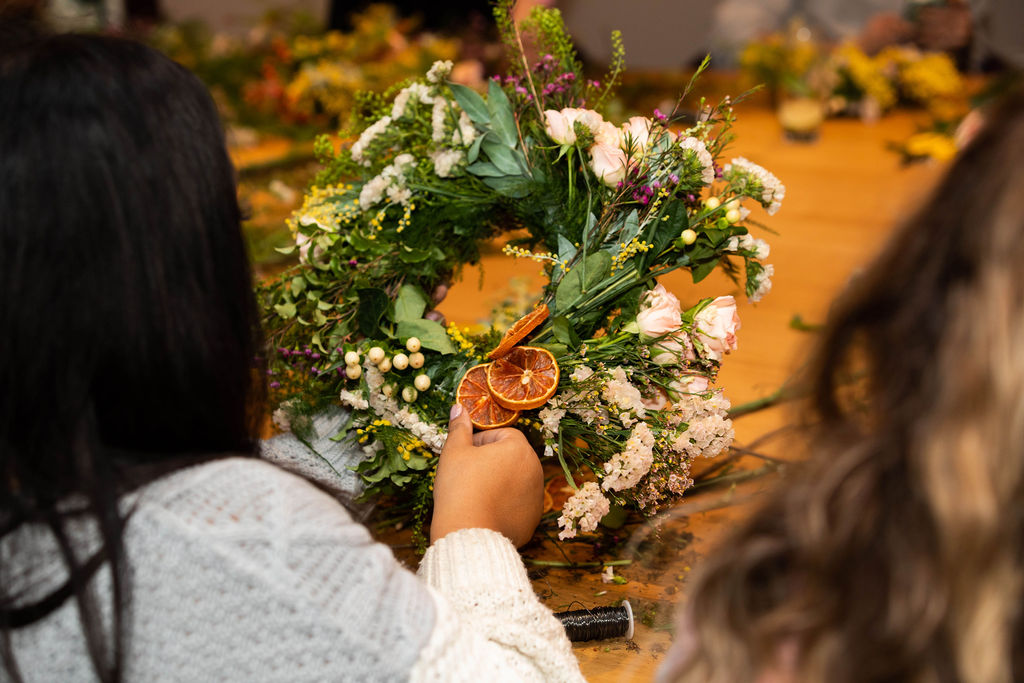 On the evening, guests will receive a delicious festive Atopia cocktail to be enjoyed throughout the masterclass. Each guest will also be offered one of the delicious Atopia products to takeaway after each wreath masterclass, with the choice of either; Hedgerow Berry, Rhubarb & Ginger or Spiced Citrus to create their own unique serves from home. Our favourite is the Hedgerow Berry.
The No/Lo category is growing, faster than any other category (+up 44% vs LY and now worth £20.6M) and for individuals moderating their alcohol intake specifically around Christmas or looking to change up their drink choices, the partnership aims to highlight that moderation no longer means compromising on taste or a great experience.
The shift towards living a more moderated life doesn't mean dialing down or accepting a less desirable drink choice; Atopia's refreshing spirit, harnessing all natural flavours allows for all the fun and none of the FOMO, creating flavorsome cocktails for all to enjoy. However you choose to moderate this Christmas, Atopia has the answer. 
Tickets can be purchased for two events on 7th and 13th December for £40 through the SAGE website here. 
Rhubarb & Ginger can be purchased from from Waitrose, Clink, Amazon and Ocado for £23 RRP
Hedgerow Berry can be purchased from M&S, Clink, Amazon and Ocado for £23 RRP
Spiced Citrus can be purchased from Waitrose, Clink, Amazon and Ocado for £23 RRP