2022 ADVENT CALENDARS GUIDE
It's that time of year again and we're bringing you some of our favourite advent calendars to suit all budgets.
NEW Lindt TEDDY Sleigh Advent Calendar 265g (RRP £15.00) www.lindt.co.uk/shop.
Exclusively available at Lindt Chocolate shops throughout the UK, this stunning new sleigh shaped advent calendar is an adorable choice for small and big kids alike. It contains an appealing mix of mouth-watering Milk and White chocolate characters, mini Lindt LINDOR truffles, not forgetting nut Crème and Milk chocolate balls. 
Lush's 12 Days of Christmas
https://www.lush.com/uk/en/p/12-days-of-christmas-gift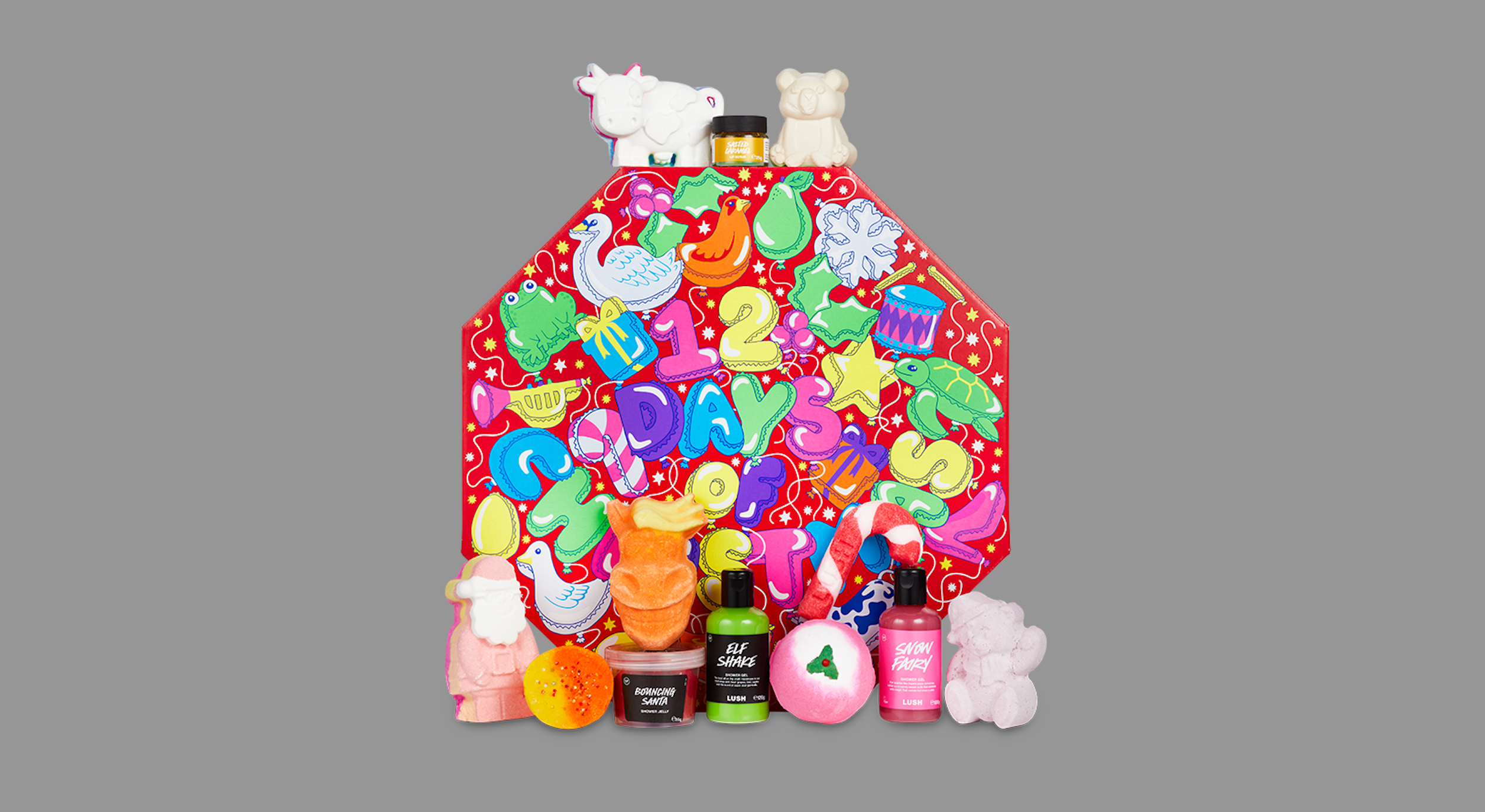 Price £75 / €95
A fun, festive Christmas countdown featuring 12 products especially selected to bring you joy in the lead up to the big day! Bright, fun design inspired by the song 12 Days of Christmas. A party-like feeling with inflatable characters. Our favourites include the popular Snow Fairy Shower Gel and the Reusable Candy Cane Bubble Bar.
Cohorted's 12 Wishes Beauty Advent Calendar
Cohorted Beauty Advent Calendar 2022
Cohorted's 12 Wishes Beauty Advent Calendar was the first of its kind and they are back this year, bigger and better than before. The Calendar is ans exciting as ever, brimming with luxe beauty items tried and tested by Cohorted's team of experts.
The 2022 Cohorted Beauty Advent Calendar to be filled with beauty bestsellers and undiscovered heroes from our favourite cult and discovery brands. Some of our favourites products inside are from Fresh, Floral Street and Philip Kingsley. The value of the £49.99 box is said to be £457 which is pretty good value in our eyes!
Bird & Blend Tea Co. Advent Calendar www.birdandblendtea.com
The UK's most loved indie tea company, are on a mission to spread happiness and reimagine tea this festive season with the launch of its Advent Calendar and wider Christmas range of products.
Offering double the tea delight, every day offers x2 tea parcels in a taste sensation of flavours. Boasting wonderfully festive flavours such as; Gingerbread Chai & Snowball. Plus Bird & Blend's pick of its favourite blends; Cold Weather Warrior, Tea & Toast, Moondrop Dreams & Chocolate Digestive Tea, amongst many more.
The only tea calendar on the market to contain double the delight as each day customers can unlock not 1 but 2 x tea parcels, so that's 48 cups of tea in total! One for you to enjoy and one to share with someone new!
The Bird & BlendTea Calendar is available for £38 and will be available to buy online and in-store now.
LAKRIDS BY BÜLOW CHRISTMAS CALENDAR
https://lakridsbybulow.com/products/christmas-calendar/345g
Can you imagine a better way to enjoy December than with 24 days of unique taste experiences? The LAKRIDS BY BÜLOW CHRISTMAS CALENDAR has gathered your all-time favourites along with new, exciting flavours including an added touch of extra indulgence with the premium SLOW CRAFTED range. Creating sweet, magical moments this Christmas, behind every calendar door reveals carefully crafted liquorice treats, consciously wrapped in renewable natural materials. There are also small quotes and QR codes for an extra experience. 
Available from September 22nd RRP: £49.00
toucanBox Advent Calendar and Christmas range: www.toucanbox.com
One NOT to miss for the children this year. toucanBox's Advent Calendar is for children aged 2-8yrs and the perfect gift for all, from friends and family. From multi-award winning children's craft company toucanBox, The Very Merry Advent Calendar is stashed with 24 boxes of festive fun. Featuring exciting Christmas crafts such as a snowball juggling bear bauble and snowman puppets, scrummy recipes for gingerbread reindeer, hot chocolate spoons and more, plus five enchanting STEAM inspired story books.  Priced at £35, it'll have you and your children getting into the Christmas spirit in no time.
'The Cake Shop' Belgian Chocolate Advent Calendar 120g – £25
https://www.cartwrightandbutler.co.uk
Brand new for 2022!  Introducing Cartwright & Butler's Cake Shop Belgian Chocolate Advent calendar. The Cake Shop was Cartwright & Butler's first designated premises in Beverley, East Yorkshire, and where it's now infamous foodie hampers and signature luxury goods first hit the shelves – cleverly captured in a beautifully designed advent calendar, guaranteed to make the countdown to Christmas truly memorable.
W7 Advent Calendars 
Beauty Blast Advent Calendar 2022
Bringing you the Beauty Blast Advent Calendar(£19.95)- a new collection of 24 high quality makeup & cosmetic surprises to reveal during the Christmas countdown. Inside are some of W7's best-selling make-up products in both full and travel sizes- perfect for the festive glam!
If you're after something a little smaller, the 12 Days of Beautiful Advent Calendar (£14.95) is perfect for you! The perfect early Christmas gift, this is individually boxed with 12 surprises of some of W7's best-selling treats.
The Gin Advent Calendar – Premium Edition from Drinks by the Dram
Stockist – Masterofmalt.com
Gin lovers rejoice! Packed full of the best gins from around the globe, this calendar is just the tonic* to see you through the festivities as you explore innovative creations, and savour classic favourites – the tastiest way to get into the Christmas spirit(s). This is a calendar for the gin-thusiast who believes they've tried them all. This is our 3rd year in a row with this calendar and we're still impressed each year. So try the 24×30 drams at £99.95 and find your new favourite gin of the year! *Sorry you'll still need actual tonic!