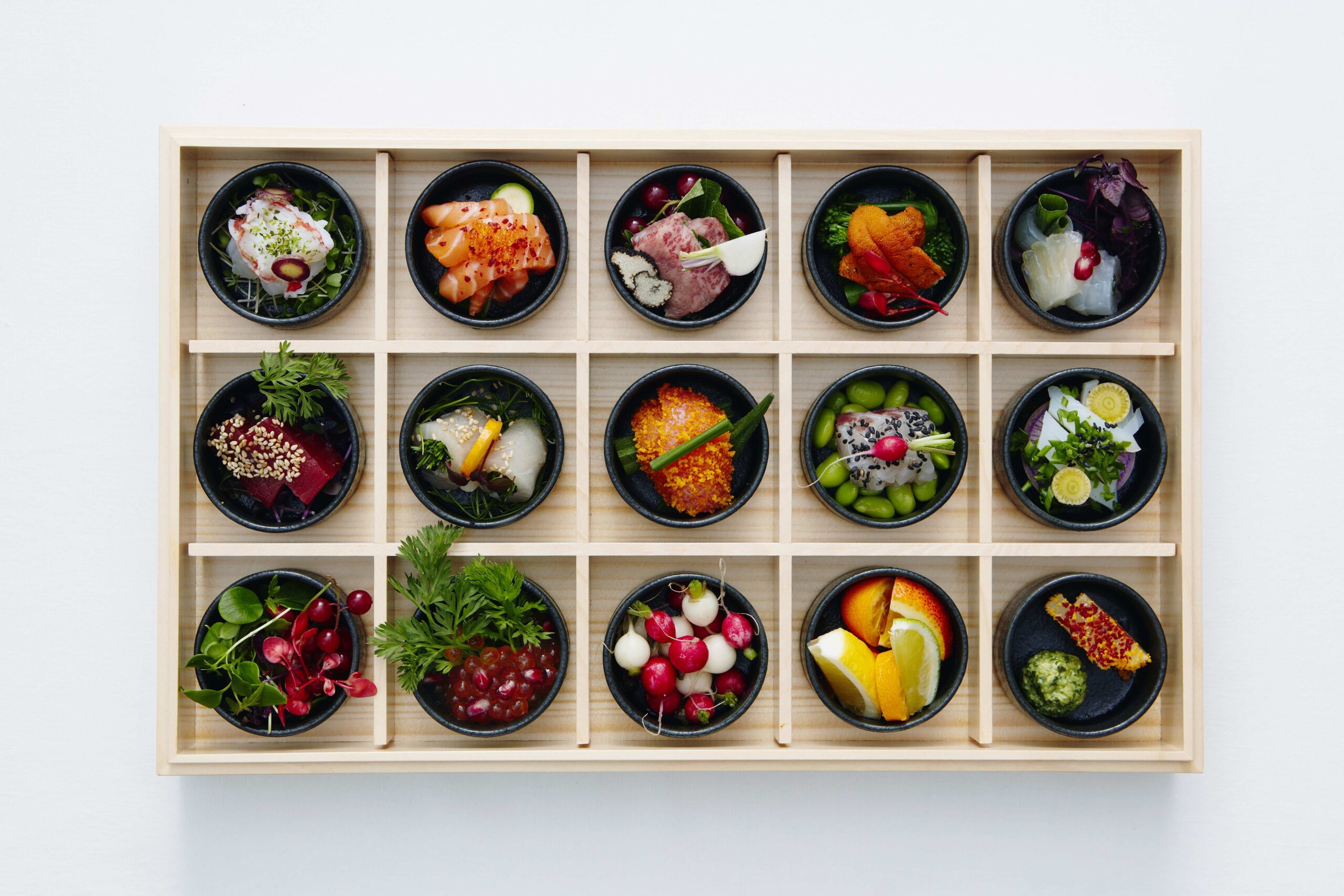 Akira at Japan House review
We have a silver lining: one of London's best Japanese restaurants reopened their doors on the 4th September and we are excited. If you know anything about Akira, then you will know that this critically acclaimed restaurant set in the heart of High Street Kensington is a must visit for any foodie or aspiring foodie. The robata has been lit, sushi knives have been sharpened and Chef Akira is ready to once again skilfully slice sashimi, craft innovative sushi and expertly cook the likes of umami-rich Waygu beef, pork, chicken, seafood and vegetable dishes on flaming charcoal.
Akira has ensured that its restuarant is in line with new covid restrictions to set its diners at ease. The best way to get a table is to book online using their booking system, see website at the bottom.
For the signature Akira experience, opt for the robata or sushi omakase set menus, with three courses at lunch (£60) and up to five available for dinner (£75). Visually striking and delicious, each omakase includes a daily changing starter, an elegant bento box, and main course of either Wagyu beef or sushi. The robata and omakase set menus are worth every penny and full of some amazing delicacies, you will leave both full and happy.
The Robatat Omakese 3 set menu consists of a daily selection of appetizers, ours was an aubergine roll, that was absolutely amazing. Then as a second dish there is an assorted menu of sashimi , Japanese osozai side dishes and a vegetable selection. The presentation came in this huge bento box and every single mouth full tasted amazing. The twist comes with the main course, where you are treated to a selection of grilled meats. Our dishes included the chicken thigh skewer, lamb and pork, the dishes were tasty and served on a beautiful hot stone. The Sushi Omakase has the same first two courses, but the main is a selection of 8 different kinds of sushi and soup. I am such a sushi fan and have tried some amazing sushi in London, but the sushi at Akira was out of this world. It was perfection in perfect mouthfuls. I dare not choose which was my favourite set menu, both had their unique twists and I would happily return and eat both again.
In addition to being open for lunch and dinner Wednesday to Sunday, the Akira afternoon tea is back. This exquisite Japanese-inspired Tea for Two platter comprises of Japan's best-loved savoury and sweet treats; from carefully crafted sushi through to mochigashi pounded rice cakes with a variety of sweet bean pastes and Japanese dorayaki pancakes. Enjoy with a choice of green and smoked black teas from Ippudo and Kaneroku Matsumoto Tea Garden, Japan's finest producers or add a glass of sparkling sake, which can also be added for an additional £7. Available Wednesday – Saturday between 2:30 – 4:30pm and is priced at £28 per person, with a minimum of two people sharing.
The restaurant's private dining room, The Tatami room, offers a peaceful, wooden haven – with space for up to 6 guests, providing the perfect opportunity for socially distanced dining with friends and family. The minimal and modern décor reflects the Japanese philosophy of place and home – doma – so you can feel experience restaurant quality food in a truly safe space.
If you are looking for great Japanese food, then I would 100% recommend Akira! Visit: www.japanhouselondon.uk/eat/restaurant to book online.
Address: Akira, 110-111 Kensington High Street, London, W8 5SA
Written by Abi Onas