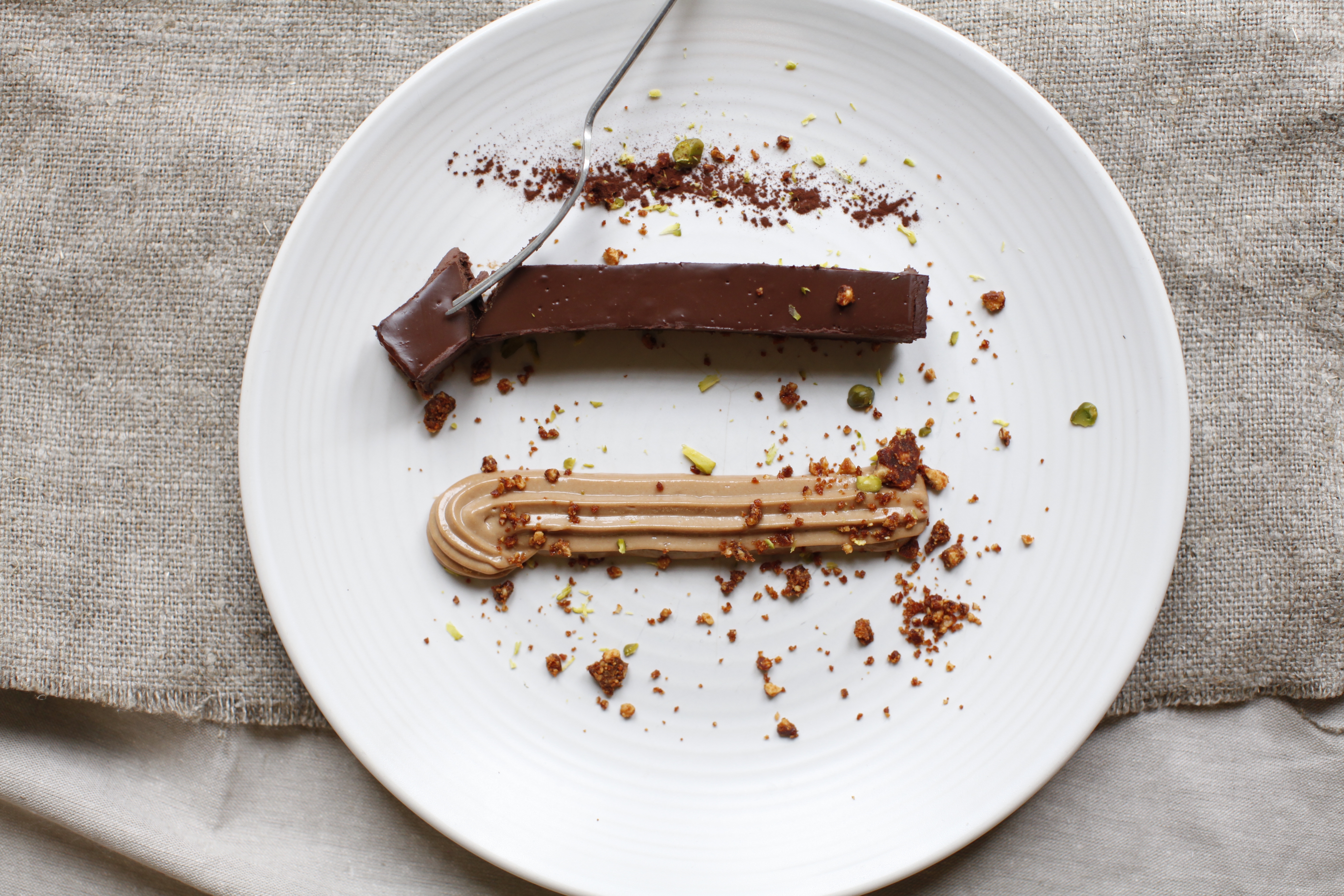 As we walked in we were instantly struck by our rich surrounding, soft green and pink furnishings with a truly striking feature piece bar, the restaurant oozed a contemporary cool vibe. We were shown to our table with smiles and talk about how perfect the evening was, with our friendly waiting kindly taking our coats and letting us settle in before returning with a menu and special board. The menu was truly diverse. As someone who usually drives my dinner guests insane by my indecisiveness, I must admit I had already perused the menu and picked out my options, and I'm happy to say, they had a truly strong vegi offering!
I opted for the BB cheese soufflé. As an absolute cheese fiend this fulfilled all of my dreams and more. A fluffy cloud of cheesy goodness coated in a crispy shell, I struggled to get my head around how something could be so light but so rich at the same time. To add to the ultimate cheese indulgence, it came with a little pot of warm cheddar source to decadently pour over it, by now I was already in heaven.
My friend opted for a special from the board, a prawn cocktail salad ingeniously served in a beef tomato, finished off with lashings of fresh pesto. Although I didn't get to taste it, it was definitely a treat for the eyes, and she assured me it tasted as good as it looked! To accompany our meal, we chose a bottle of Vidal New Zealand Sauvignon Blanc that I would definitely suggest to anyone who's a fan of a full-bodied white.
For the mains my friend opted for mussels, which I could only describe as a mussel TROUGH, with a side serving of skinny fries. I went for the ravioli duo: goats cheese and rosemary and pea & mint, served with creamed leeks, broad beans and chives. The al dente style of the pasta complemented the broad beans, adding an extra interesting element of crunch, and a lemony zest adding a lovely end twist. The contrasts of the flavours and textures worked together perfectly, the ideal dish for such a sunny evening and picturesque setting. Again although I did not try the mussels' myself, my guest assured me they were cooked to perfection, ordering a side of bread so she could soak up the last of the sauce they were served in.
Completely full and now slightly sleepy from the wine and abundance of food, we couldn't resist finishing off the meal sharing two deserts. A summer berry pavlova filled with light fluffy cream and tangy summer berries and coulis, alongside a devishly rich chocolate delice; dark chocolate mouse on a crispy feuillantine base. Once again a dish completely different to the last, but served to absolute perfection!
If a French restaurant offering a twist on the norm, set in a idyllic riverside location sounds like the absolute dream, then Brasserie Blanc in Fulham should be top of your dining out agenda!
Website: www.brasserieblanc.com
ADDRESS:
Goldhurst House
Parr's Way
London
W6 9AN
Facebook: www.facebook.com/BrasserieBlanc
Twitter: www.twitter.com/brasserieblanc
Instagram: www.instagram.com/brasserieblanc
Written by Jordan Crowley