CHRISTMAS TABLE: CHEESE, CHOCOLATE AND COFFEE
Everyone loves the Christmas table.
Turkey (or the vegan equivalent) and trimmings has its place but if, like us, you prefer to snack your way through the holidays, we have put together a list that will appeal to both sweet and savoury tastes, with three festive staples: cheese, chocolate and coffee.
Okay, the latter doesn't usually take centre stage in December (stepping aside for hot chocolate).
But after playing games with the kids for hours, listening to family members quiz you about your love life or getting through a three-day-all-day-eating-palooza, you're going to want that hit of caffeine, trust us.
From glorious hampers, gift sets and tasty treats, here is the best of the three C's.
CHEESE
Sharpham Essential Devon Cheese Board, £25
We bow down to the masters of cheese. The good people at Sharpham sent us a selection of fromage to stuff our faces with and each one was tasty but the brie, oh darling, the brie. Hide it away from greedy hands because it's going to disappear very quickly. Aside from the brie (did we mention it's great?) there are four other "artisan" cheeses such as the Ticklemore Devon Blue (perfect in a salad), a Grader's Choice from both Sharpham and Quicke's and a Quicke's Mature Cheddar. Each piece is about 300 grams of cheesy goodness. Anyway, did we mention the brie?
Snowdonia Christmas Cheeseboard Hamper, £70
https://www.snowdoniacheese.co.uk
This hamper arrives in an actual paper-rope hamper, which is reusable for summer picnics or as a fancy sock drawer. Inside, you'll find a selection of treats that'll tickle the taste buds; cheese, crackers, chutneys, a jar of Sicilian green olives and a box of salted caramel figs (absolutely divine). Snowdonia wants you to dine in style; they've even thrown in a small slate board for serving. As for cheese, there's five to choose from: Black Bomber (extra mature cheddar), Beechwood (smoked mature cheddar), Red Storm (vintage Red Leicester), Truffle Trove (extra mature cheddar with truffle) and our personal favourite, Rock Star (DELICIOUS cave-aged cheddar). This hamper is more than worth the money and a perfect gift option, too.
So Wrong It's Nom Cheese Calendar, from £8
https://sowrongitsnom.com/shop/cheese-advent-calendar/
Claimed to be the 'world's first cheese advent calendar' when it was created in 2016 by Annem Hobsom, in 2022 it's back. You have two options here: use it as a standard calendar, opening one door every day for a chunk of tasty cheese OR pop out the mini cheeses into a bowl and serve them at the Christmas table for a fromage feast like none other. Each one is bite-size so this is a great option for kids to share too, with classic options like Cheddar Cheese and Red Leicester. There's also some vintage choices for adults and a delicious apple, onion and sage Cheddar.
THE EXTRA ONE: CRACKERS
Cartwright & Butler Cheese Lover's Box, £35
https://www.cartwrightandbutler.co.uk
Look, you can't have cheese without crackers and the word starts with a 'C' so we've decided to pop an option on here for you, and it's a good one. Sure, you could go with a supermarket own brand cracker this Christmas (no judgement here, we like affordable crackers) but if you're feeling up for a splurge, this is the one. C&B's box features Tomato & Basil Seeded Flatbread Crackers, Salt & Pepper Savoury Wafers and Water Biscuits, plus some caramelised onion chutney to top it all off. Use with the aforementioned Brie (see Sharpham cheese board above) and thank us later.
CHOCOLATE
Russell & Atwell Festive Pouch Set, £19.90
https://www.russellandatwell.com
Forget fighting over the Celebrations box and that final Bounty (we will champion this neglected festive treat forever). This year, get a trio of truffles instead and be prepared to hide them away because the Russell & Atwell best-seller melts in your mouth. Quite literally, you're meant to keep the fresh chocolates in the fridge for the full effect. There are several flavours to choose from; we tried the Golden Monty, which features the classic milk chocolate, salted caramel and the limited-edition Seville orange. It gets a little sickly after a while though, so don't eat all three pouches in one go. Not saying that's what we did…
Rita Farhi Handmade Bonbonniere and Cocoa Dusted Milk Chocolate Caramelised Pecans, £15 / £17.50
Since these are solitary treats, we've decided to include two Rita Farhi options for you to choose from, starting with the assorted Belgian chocolate coated almonds, which arrive in a gorgeous box (the bonbonniere) made from papier mache and hand-painted in Kashmir. Frankly, the bonbonniere is so pretty we didn't want to open it at first and it'll fit in perfectly on the festive table. The chocolates are nice too but if we're judging on flavour alone, the cocoa dusted milk chocolate caramelised pecans, which arrive in a more standard plastic container, win hands-down. These are extremely moreish, with a hint of gianduja (hazelnut paste invented in Turin). Go on, be greedy and get both. It's Christmas, after all.
Cutter & Squidge, £5.99
If chocolate is starting to feel 'same old, same old', it's time to upgrade to a new brand. Because when one is tired of chocolate, one is tired of life (that's how the saying goes… right?). We'd like to introduce Cutter & Squidge's filled chocolate bars. There are only four options to choose from, which is a bit sad, but at least these four are made to perfection. Our favourite is the dark chocolate and cherry and the yuzu and mango, because of the pieces of fruit that'll keep surprising your mouth as you eat it. The caramel hazelnut praline is pretty great too. As you can tell, we are not tired of chocolate. The only downside is that the bars are not traditionally festive but we don't think you'll get any complaints at the dinner table.
COFFEE
London Nootropics Gift Box, £40
Ever heard of nootropics? As an ingredient, it is said to be a brain-enhancing, natural 'drug'. There are many brands that boast about the benefits; among them, London Nootropics with its coffee sachets that promise things like "mental clarity", "balance" and "vitality". We tried the gift box with three adatopgenic blends (12 sachets in total) with one cup every day for just under two weeks. It wasn't life-changing but the flavour was pure caffineated joy. We give the Zen blend 10/10. The box includes an adorable reusable ceramic coffee cup, too.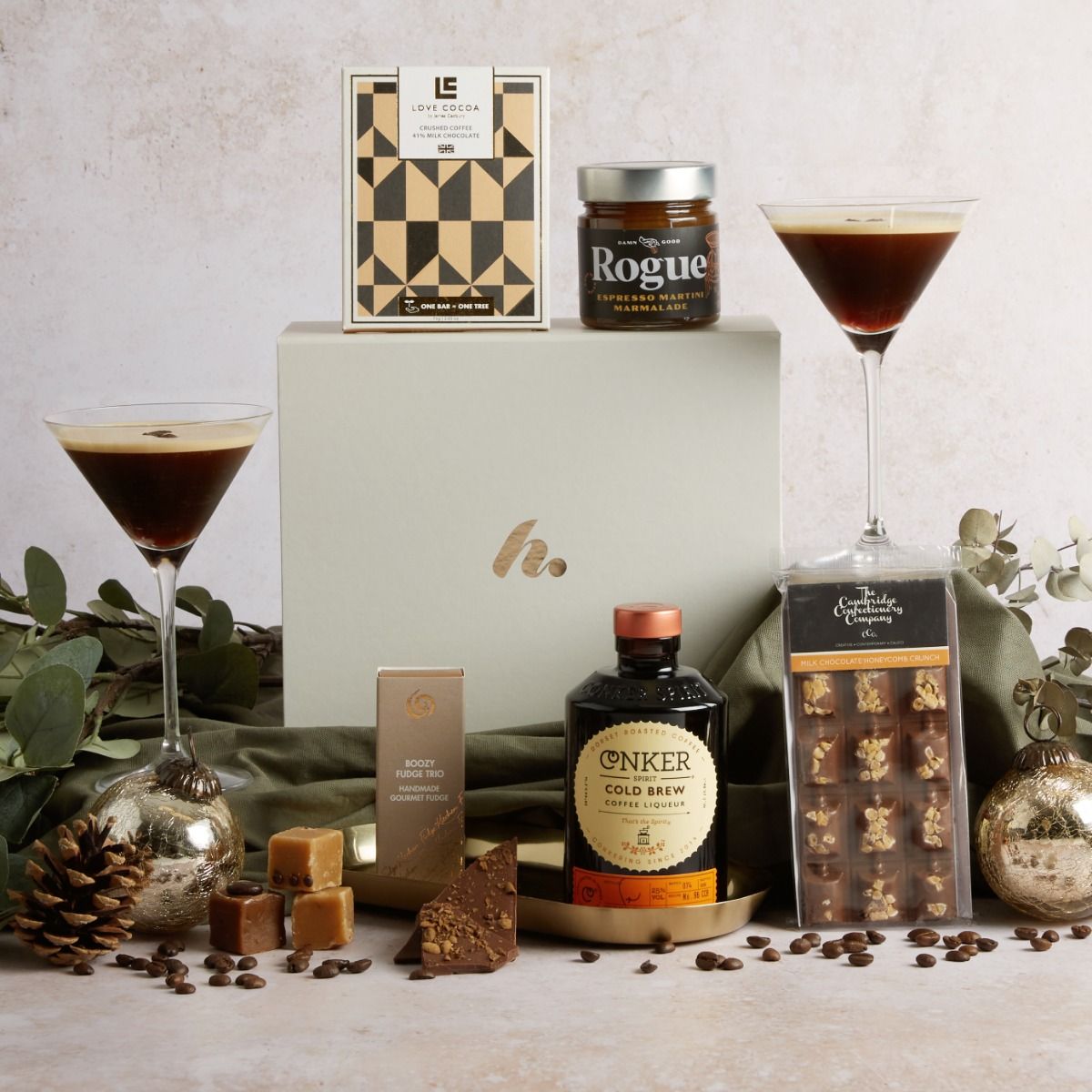 Hampers.com Espresso Martini Hamper, £55
This one kind of falls into both chocolate and coffee, and there's nothing we love more than a two-in-one. Perfect for espresso martini fiends (or just people who love a sweet treat with a caffeine twist), the hamper comes with some truly unusual items such as Conker cold brew made with Grade 1 Ethopian and Brazilian coffee, chocolate with crunchy beans, fudge and a weird but most brilliant espresso martini-flavoured marmalade from Rogue. Yes, marmalade. The taste is a little bizarre at first but it'll grow on you. The delicious Cambride Confectionary Co. honeycomb chocolate bar is the best part.
Bridge Coffee Roasters House Blend Collection, £59
https://bridgecoffeeroasters.co.uk
A real coffee snob wants the full experience: from grinding the beans to release the roasted aroma to pouring it into the cup. Bridge Coffee Roasters aims to please and has a decadent list of unusual flavours like lemon tart, black cherry, smoked hazelnut, yuzu and blackberry mousse and violet. The collection features five blends in total, each one numbered. Intrigued by the blackberry mousse, we opted for no 5 for our first cup but sadly couldn't taste any blackberry mousse but perhaps our noses and tongues aren't refined enough? Either way, it was a very tasty cup of coffee, and the full experience aka 'from beans-to-cup' was a treat too. This is a perfect gift for anyone who wants to talk about the fancifulness of their brew (or just be smug and drink it in secret while everyone else has crap coffee).