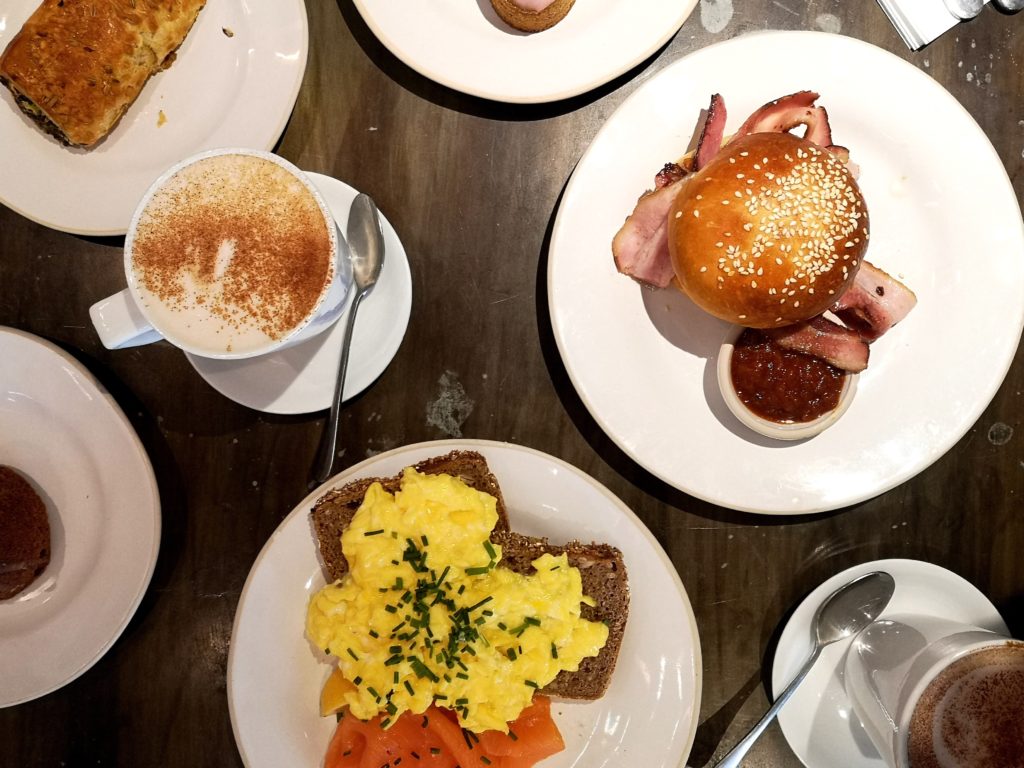 I have always known Gail's Bakery for their fresh quality bread, and pretty looking sweet treats, but I've never dined in for lunch. Last week I took the opportunity to dine in during their busiest hour with a friend to try out their lunch dishes in the Willesden Green branch.

When you walk in you are greeted with a huge counter displaying a delicious array of savoury and sweet treats and then to your right you'll see shelves of fresh baked bread in varying types and sizes. After marvelling at the treats in front of us and the large menu above the counter, we ordered our food and took a seat.
Our food arrived pretty quickly, I had ordered the scrambled eggs and salmon on Russian Rye sourdough bread. The eggs were buttery and creamy, the salmon was fresh and the bread tasted divine, it was a filling meal, despite how small the serving looked.
My dining partner had the bacon breakfast roll option, which she happily tucked into. Juicy strips of bacon and a lot of it, is exactly how you serve a bacon roll! We also ordered cakes (because why not right…).   
I had the pistachio, lemon and rose cake, I've had this before so I already knew I was onto a winner. The cake was sweet, full of flavour, and moist, I only wished these cakes came in bigger portions. 
The Gail's bakery in Willesden Green is situated right across the station and is a really good size, you have some seating at the front, near the counter and a lot of seats at the back. The staff are friendly and there was a nice buzzing atmosphere, which of course quietened down after lunch.
It's also a great place to pick up a Chai Latte! 
Website: https://gailsbread.co.uk
Address: 82 Walm Lane, Willesden, London, NW2 4RA
Written by Nyla S.