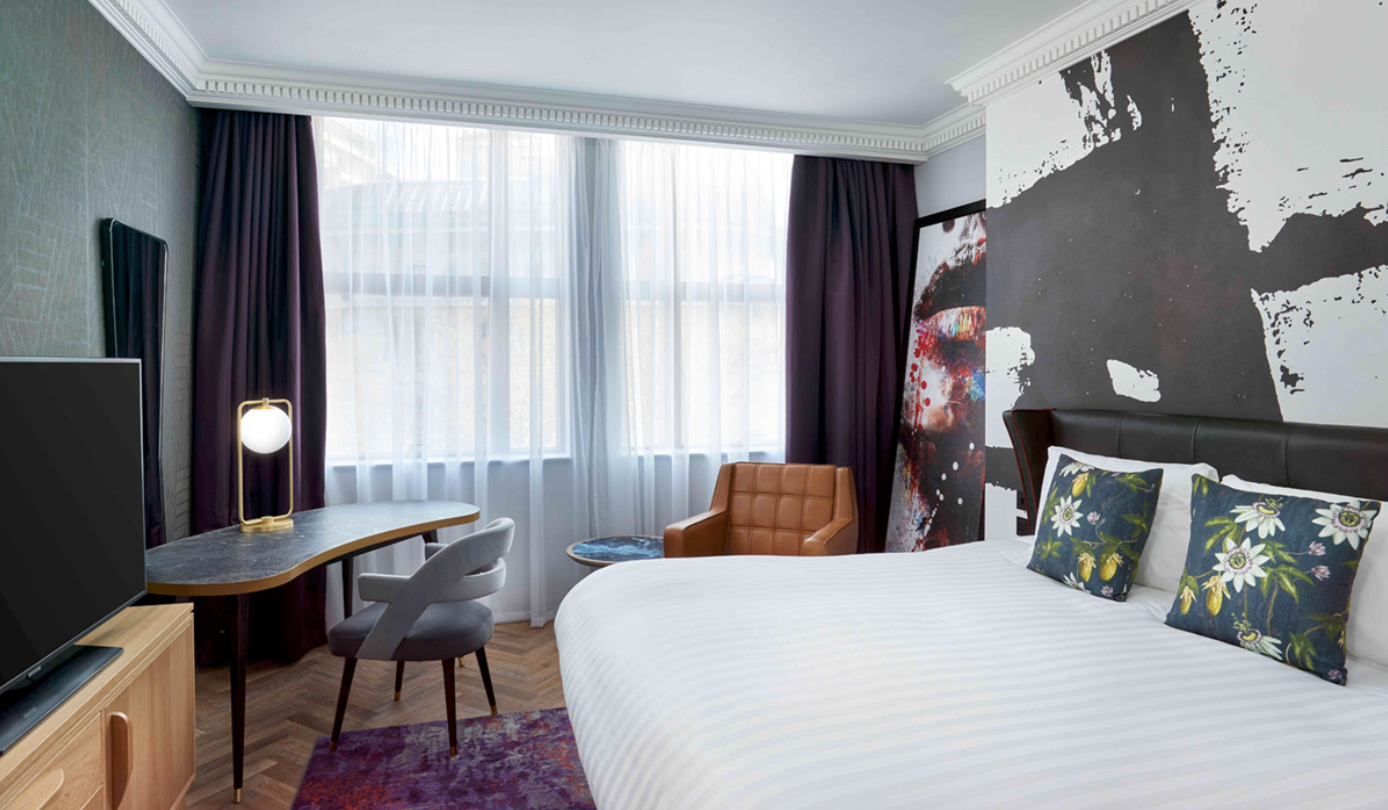 NYX Hotel Holborn – Review
There has been an exciting buzz recently over the opening of NYX hotel in Holborn, which opened less than a month ago. New kid on the block NYX Hotel London Holborn stands out from the mundane with an incredible 125ft high piece of artwork right up the side of their building. The impressive mural from street artist Dan Kitchener, showcases the colourful buzz, excitement and electricity of London city life, providing a connection to the city that NYX has intentionally set out to achieve.
Walking through the main hotel doors, the colour continues inside. You are drawn in by the vibrant, and eclectic interior featuring modern art and sultry lighting. Pop Art adorns the walls, along with colourful panes of glass. After checking in, we excitedly headed to our rooms, spotting two retro arcade machines in the lobby, Pac-Man's yellow body was cheekily blinking as if to call us over but the door to our hotel room beckoned. The hallways were sultry with low lighting, like moody passages with touches of devilish artwork on the wall. It felt secretive and intriguing at the same time.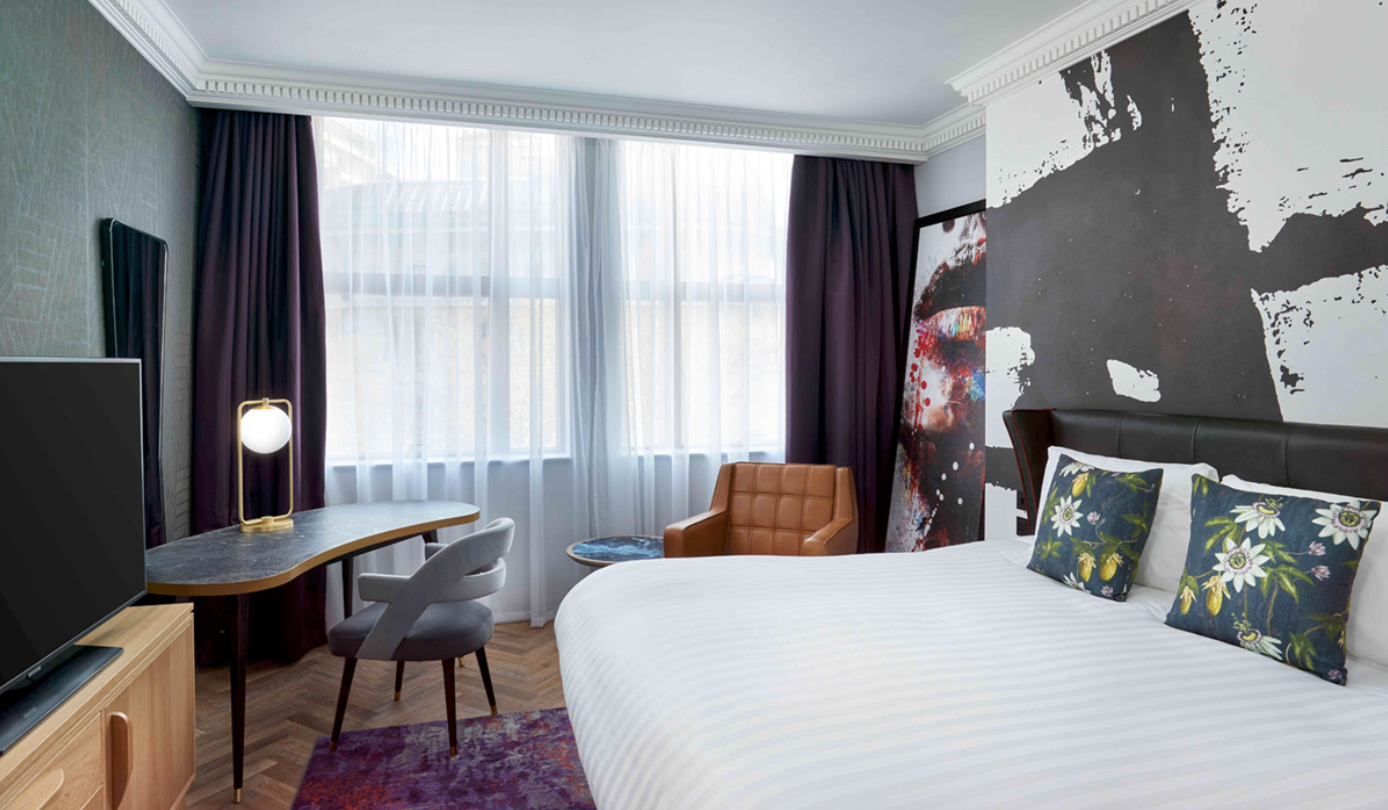 Opening the bedroom door we were hit with bold colours, a lighter atmosphere, and a grand king-size bed, a floor to ceiling piece of artwork creates an unapologetically bold statement. You would be forgiven for mistaking this for a hip hotel room in downtown Manhattan. I almost wanted to look out the window and wave at a nearby yellow NYC taxi. The comfy king-size bed suited us perfectly and the room was stocked with complimentary tea and coffee along with a fully stocked Smeg mini bar if we wanted to further indulge.
The restaurant and bar has a US-inspired mid-town vibe with pop art, touches of glamour, and a real international buzz. The menu boasts a good selection of creative snacks and main dishes. You will find Buffalo Wings, Margarita Stix, Baby Squid, Creole Crayfish Burger, Aubergine Schnitzel and King Prawn, and Blackened Monkfish Chowder. For those looking for a sugar high, try the Sticky Ginger Pudding or Tequila Key Lime Cheesecake.

We didn't stay in the bar late, but we have been told NYX truly comes alive at dusk with DJs until 3 am most nights. Grab yourself a cocktail, mingle and see where the night takes you. At the time of our visit, the 10th-floor rooftop wasn't yet open, however, we shall be keeping our eyes peeled for the opening date and will return. We found the service was slower than expected and after a few conversations with some of the staff and a manager it was clear that they were understaffed, not because NYX themselves haven't hired the right amount of staff but the pandemic has resulted in a struggling hospitality industry. Finding enough highly-trained staff right now is hard to come by, so if you happen to go to the NYX or any other hotel or restaurant and the service isn't up to scratch, bear in mind they are trying their best with the people they have. The hospitality industry needs as much help as they can get, and we are there for them!
If you want to further indulge in your stay at the NYX, head to the RENA spa, where you can book a massage or facial to unwind, or you can go for a leisurely swim in the hotel pool.
The NYX hotel has a lot to offer and we can't wait to return when the rooftop opens, visit here: www.jurysinns.com/hotels/london/nyx-london-holborn to book your stay.
Address: NYX Hotel London Holborn, 50-60 Southampton Row, Holborn, London, WC1B 4AR
Written by Nyla Sammons
Photography courtesy of NYX hotel Holborn