KIMPTON FITZROY LONDON LAUNCES BESPOKE TAROT READING SERVICE FOR HOTEL GUESTS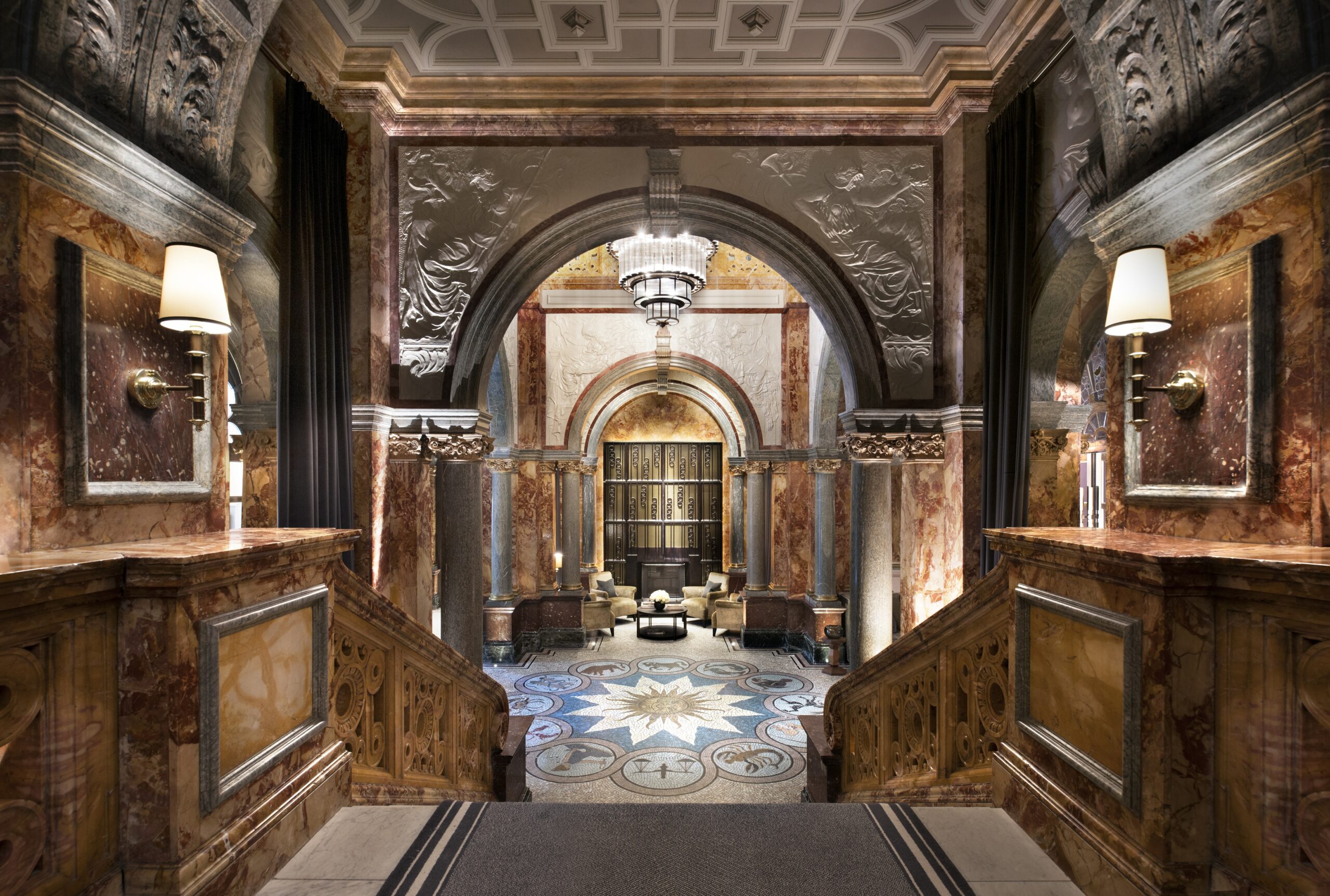 Kimpton Fitzroy London is offering guests the opportunity to look into their futures by booking a one-to-one tarot reading with The Wellness Foundry between 24th and 30th October. Inspired by its 19th century heritage and the Victorian fascination with the occult, the luxury hotel in Bloomsbury has embraced the 21st century tarot revival, now more cult than occult. The bespoke tarot service will be launched alongside a uniquely designed tarot deck, available for hotel guests to prebook during their stay.
Astrological and magical folklore are laced throughout Kimpton Fitzroy London's history. While Charles Fitzroy Doll was drawing up plans for the grande dame of Russell Square, fashionable ladies and gentlemen in the finest drawing rooms in Victorian London spent their evenings laying tarot cards. Suffragette Sylvia Pankhurst, writer Oscar Wilde and other key figures of the time, including poets Ted Hughes, Sylvia Plath and Peter Pan's creator J. M Barrie all had ties to the zodiac and tarot.
An ornate zodiac mosaic on the floor of Kimpton Fitzroy London's lobby is a striking legacy of the late 19th century fascination with tarot and fortune telling. Today the occult is undergoing a modern resurgence, evident with the rise of WitchTok and popularity of horoscope apps, such as The Pattern.
Kimpton Fitzroy London's mystical tarot deck has been created in collaboration with London-based queer artist and tarot illustrator, Ari Wisner. Ari's designs are inspired by the magnificent architecture and rich history of Kimpton Fitzroy London and the contemporary flare of the hotel's interior and artwork.
Iconic cards in the Major Arcana deck have been reimagined. The Emperor, usually depicted as an older man representing experience in power and authority, is instead portrayed by influential suffrage leader Emmeline Pankhurst, whose home now forms part of the hotel premises at 8 Russell Square. Ari references the hotel's resident dragon, 'Lucky George' in The Wheel of Fortune card, so named because the hotel architect Charles Fitzroy Doll designed an identical dragon for the staircase of The Titanic, when he designed their First Class dining room. Reunited with his unlucky counterpart, pages of books swirl around the dragons, representing the unravelling story of life in a nod to Bloomsbury's literary history.
The Tower card is an illustration of the hotel's striking terracotta brick exterior, but features a rooftop dome which is believed to have been bombed during World War 2 and ultimately removed. In the card, the impressive structure is being hit by lightning, paying homage to the card's traditional symbolism. In addition, The Strength card gives tribute to the late Queen Elizabeth II. Her portrait joins depictions of the statues of four iconic British Queens, which adorn the main front entrance.
Ari Wisner, tarot illustrator added: "The earliest tarot cards have origins as a parlour game. The game provided precious moments for guests to reconnect with their inner selves and share stories with others, as their paths crossed along the journey of life. Much like the tarot, Kimpton Fitzroy London has hosted those travelling from afar and created a special place to connect with fellow guests for over 120 years.
This 22-card Major Arcana tarot draws from the exquisite beauty and heritage of the Kimpton Fitzroy London and the rich local history of Bloomsbury.'
"When I first visited Kimpton Fitzroy London, I was instantly inspired by the stunning architecture and the beautiful details throughout. With so many stories and visuals to work with, it tied in with the archetypes found within the tarot so naturally. It's been a pleasure to create this deck of cards and to capture just a little bit of the hotel's magic."
The bespoke deck will be read by Psychic, Tarot Master and Spiritual Coach Fiongal Greenlaw-Meek and his team from The Wellness Foundry. The Wellness Foundry, a group of spiritualists offering tarot and psychic readings will be directly available to guests at the Kimpton Fitzroy London. With the use of crystals, candles, and aura incense, Fiongal and his team will take over a secluded and intimate area of Kimpton Fitzroy London, creating the perfect, immersive environment for hotel guests to enjoy their mystical experience.
Garreth Walsh, General Manager of Kimpton Fitzroy London, said: "Much like our hotel, which showcases brilliant contemporary design within our stunning 19th century building, our uniquely designed tarot cards capture our iconic heritage and historical stories with a modern twist. It has been wonderful working with Ari Wisner to tell the stories of our surroundings: not just grand narratives but local anecdotes, which is why you'll see subtle nods to Bloomsbury's literary past and cultural occult figures in our tarot deck. Providing a tarot service goes beyond usual hotel offerings, but Kimpton Fitzroy London is as unique as every one of our guests, and we strive to inspire and delight guests in equally unique ways." fitzs.co.uk.

Kimpton Fitzroy London's Time for Tarot package includes the bespoke tarot card deck, plus a guide for beginners on reading tarot, alongside cocktails from Fitz's Drawing Room Divination menu to enjoy. Guests can email reservations@kimptonfitzroylondon.com to book the package.  Guests staying between 24 and 29 of October can book a tarot reading subject to availability by speaking to concierge or emailing hello@kimtonfitzroylondon.com.
For more information about Kimpton Fitzroy London and to make a booking, visit www.kimptonfitzroylondon.com.