Lancôme's La Vie Est Belle Christmas Installation At St Pancras International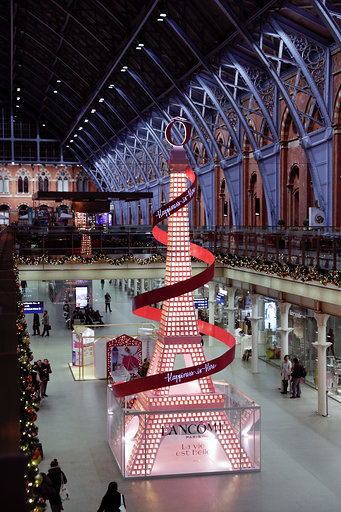 Lancôme have teamed up with St Pancras International to unveil this year's sparkling festive installation, inspired by Paris' most iconic landmark – The Eiffel Tower. We here at OnIn.London we're excited about visiting to see the huge and magnifique 36-foot installation on Tuesday night.

At the launch we enjoyed champagne at Searcy's Champagne Bar whilst listening the beautiful voices of The Kingdom Choir. It was a lovely evening and we were luckily enough to go home with a bottle of Lancôme's La Vie Est Belle – it smells wonderful. You could even smell it throughout the station.
What is the installation? Well it embodies the elegance and cheerful spirit of the world's largest French beauty brand, brightening up the station with Lancôme's signature pink pantone.

It will be available to view from 12th November 2019 to 4th January 2020 and is adorned with over 1,500 bottles of the brand's signature fragrance, 'La Vie Est Belle'; a scent that captures free-spirited and fulfilled femininity. No wonder Julia Roberts is the global brand ambassador and spokesperson. 
Lancôme will also be replicating the original Eiffel Tower's iconic Light display with over 1,300 flashing LED lights being visible almost 600 times during the festive season.
But it's not just station visitors who will be able to enjoy the display, as all 1,500 fragrance bottles used for the installation will also be donated to the international cancer support charity, Look Good Feel Better, which helps boost the physical and emotional wellbeing of women, men and young adults undergoing cancer treatment. Such a lovely thing for Lancôme to do.
 For more information on the Lancôme Christmas tree visit lancome.co.uk/discover-lancome/la-vie-est-belle-christmas-tree-st-pancras and follow Lancôme Official Instagram @lancomeofficial / Lancôme UKI Twitter @lancomeUK / Lancôme UKI Facebook @lancomeUK #LancomeChristmasTree #HappinessisHere
Or visit http://stpancras.com and follow @StPancrasInt.