Last Minute Mother's Day 2022 Gift Guide
Still wondering what to get mum this year? We'll look no further than our handy gift guide! From Chocolate to Spa Packages we have you covered.
Guylian
Guylian Master's Selection – If you're looking for an extra special gift, hop online to find Guylian's beautiful Master's Selection boxes (200g), a premium assortment of Belgian mini pralinés filled with a variety of exotic flavours and topped off with the finest ingredients, making a box an ideal gift for discerning chocolate lovers. Guylian's Masters Selection (200g) is available online from Ocado and Moonpig.
And of course, for those who love classic gifts, Guylian's praliné Sea Shells – the first product Guy and Liliane created together – are ideal. Made using only the finest, hand selected Mediterranean hazelnuts, which are roasted and caramelised to perfection before being blended with premium Belgian chocolate, they're a delight that makes life that little bit sweeter.  Available in a 250g box (22 pieces; RSP £5), or a 375g box (33 pieces; RSP £7.50).  
Jasmine Silk
Jasmine Silk is a silk retailer, offering luxury goods from bedding to clothing and more. Jasmine Silk's silk eye masks. These Block out unwanted light and help you sleep peacefully. The silk sleep eye masks are 100%  luxury Mulberry Silk and allow you to enjoy a peaceful slumber, with the silk qualities being perfect for those with sensitive skin or allergies. 
To complete the gift… don't forget Jasmine Silk's  silk pillowcases. Available in an array of stunning colours, these Mulberry silk pillowcases make for the perfect gift due to their hypoallergenic qualities, that help nourish your skin and hair, providing less friction than other synthetic fibres. The silk pillowcases from Jasmine Silk also regulate your body temperature so it keeps you cool in the summer and warm in the winter. 
Red carpet Beauty
 Spring is in the air and the Morgan Taylor Full Bloom Spring 2022 Collection is here to welcome it! A selection of shades that celebrate all the fresh floral hues of springtime, Full Bloom offers a bouquet of eye-catching, colourful crèmes plus a delicate glitter that may be worn on its own or as an overcoat.
Pink lovers can choose from pale pink Pick Me Please! or salmon pink Plant One On Me, while dusty teal Bloom Service, pale blue Best Buds, and dusty lilac I Lilac What I'm Seeing round out the pretty spring crème palette. Feeling Fleur-ty, a sheer pink with glitter, is like a shower of blossoms on a breezy, beautiful spring afternoon, adding the perfect touch of fantasy and spring sparkle to every manicure.
This collection includes six fresh NEW shades:
• Bloom Service – Dusty Teal Crème
• Best Buds – Pale Blue Crème
• I Lilac What I'm Seeing – Dusty Lilac Crème
• Plant One On Me – Salmon Pink Crème
• Pick Me Please! – Pale Pink Crème
• Feeling Fleur-ty – Sheer Pink with Glitter
The 'Full Bloom' Spring 2022 Collection from Morgan Taylor retails at  £9.95 each available from www.redcarpetbeauty.co.uk
Wild Slumber Unwinding Pillow Mist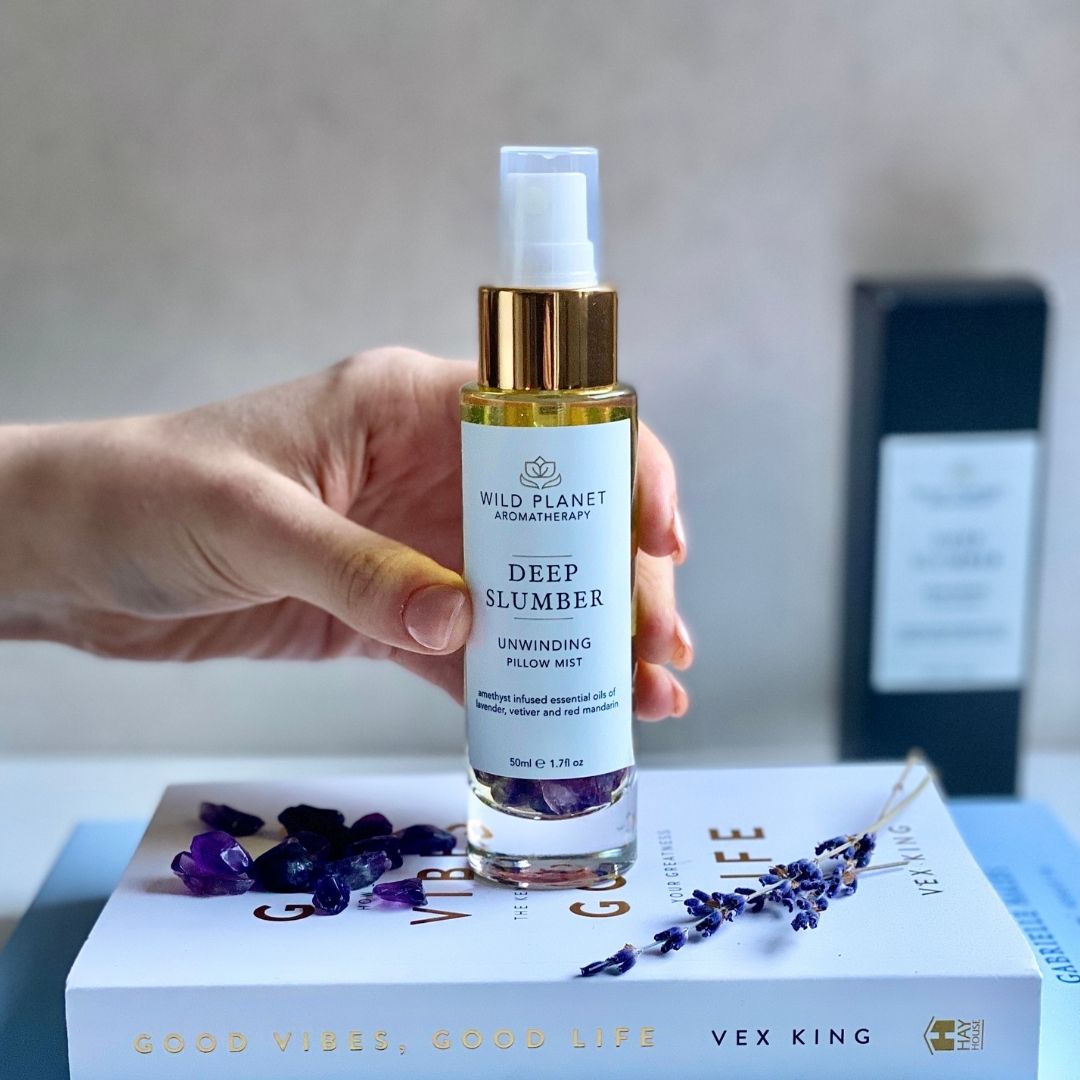 We love a good pillow mist and Wild Slumber's is no different. It's an unwinding essential oil blend of soothing lavender has been elevated with calming mandarin and a tranquil layer of vetiver that creates an earthy, enduring aroma. It's one of their most relaxing blends to help mum unwind and have a good night's sleep so she wakes up feeling refreshed and rested. Infused with a purple amethyst stone to help cleanse and calm the mind and combat insomnia.
Love this? Explore the rest of their DEEP SLUMBER Collection.
Free of synthetic fragrances, parabens, phthalates, artificial colours, cruelty free and vegan* *No ingredient of animal origin.
Glass atomiser bottle
Certified organic grain alcohol by The Soil Association
Size 50ml
Made in England
Standard UK delivery is £4.95 within 1-3  days. Free standard UK delivery on orders over £50.
Delectable dessert-inspired blends, Ti Amo Tiramisu and Banana Fritter, both beautifully presented in keepsake square tins. Ti Amo Tiramisu (RRP: £16) comes straight from Nona's kitchen and has been inspired by an iconic dessert that no one can resist. Cloud-like in its creaminess, and oh-so velvety in its finish, Ti Amo Tiramisu is perfectly balanced for daily indulgence. Banana Fritter (RRP: £16) has been inspired by banana fritters, deep fried and served with old-skool golden syrup and a dollop of ice cream on the side. Featuring the taste of sweet, ripe bananas, thick luxurious, crispy batter, with undertones of nuts and golden syrup, this blend is a celebration of indulgence and nostalgia.  
Majestic teawares from the "Damask Dreams" range (RRP from £20). This classic design adorned with indulgent gold detailing is available in three striking colourways, navy, pink, and aqua in T2's hero Fine Bone China. Including short and tall teapots, cups and saucers, tea for one and tea for two sets, mugs, infusers, milk jugs, and sugar bowls, this exquisitely elegant range is perfect to savour every sip.
Beautifully boxed gift packs (RRP: £30) which include either a selection of ten teabag or loose-leaf teas with an infuser, a matching mug and a keepsake printed tin of tea. The range includes 'Coming Up Roses', 'How's The Serenity', 'Peace, Love & Pastels' and 'The Bright Side'.
 Mum's favourite loose-leaf and French Earl Grey teabags (RRP from £8). A signature black tea with sweet fruits, rose, sunflower and hibiscus, with a touch of bergamot to finish, French Earl Grey is a classic, much-loved blend and a jewel in T2's crown.
THE PERFECT MOTHER'S DAY PRESENT TASTES LIKE BARCELONA  
Ditch the flowers or the chocolates. El Bandarra, the aperitif brand from Barcelona, wants you to take your mother on a trip to Spain's sunniest city with El Bandarra in a tin. An oversized vintage tin that includes all you need to recreate the perfect aperitif time, Barcelona style.  The "El Bandarra in a tin", the gift pack modelled on traditional Spanish tuna cans contains all the essentials for a Spanish aperitif starter pack, including: 1L bottle of El Bandarra Rojo, canned olives and canned mussels. On top of that, the lid also doubles as the perfect snack tray, salud!
El Bandarra in a tin is one of the crazy creations of the Virgili Bros (twin brothers Alex and Albert Virgili), whose winery nestled in Barcelona has been producing renowned wines (and hosting legendary parties) for three generations. The dynamic duo are on a mission to challenge the drinks business by creating original and enjoyable concepts, such as its successful El Bandarra aperitif range (red, white, rosé and Al Fresco). 
El Bandarra in a tin is available for purchase from El Bandarra, SPIRIT.ED and Harvey Nichols. RRP £39.99. 
Hummingbird Bakery
This year, The Hummingbird Bakery's much loved flavours have all been given a delicate makeover using gorgeous handmade edible fondant flowers with the option to add a customisable handwritten message as well.
Themed Vanilla, Chocolate or Red Velvet cupcakes are available individually or in a box of 6 with vegan or 'made without gluten' options also made to order. Cakes in the range include a tempting Chocolate, classic Red Velvet and a fresh Lemon & Raspberry.
The Hummingbird Bakery x No.3 Gin
EXCLUSIVE to this year is a collaboration between The Hummingbird Bakery and No.3 Gin. Three bespoke cupcake flavours, all using No.3 Gin in the recipe, have been created inspired by three iconic gin based cocktails; The White Lady, The Clover Club and The St James's Spritz. At £47.95 you could get your hands on a luxury gift hamper containing a box of the 6 cupcakes and a 50cl bottle of No.3 Gin.
I Do Handmade's Make Your Own Spring Wreath Kit
With more of us turning to crafting and DIY projects in 2022, the mother-daughter team behind mindful craft kits I Do Handmade have just released their latest offering for spring: a make-your-own wreath kit.
The kit comes with everything you need to make your very own rustic dried flower wreath to celebrate the start of springtime and is suitable for beginners and crafting pros alike. Packed in plastic-free packaging, the kit includes a step-by-step online tutorial and freshly picked kiln-dried flowers from a farm in Kent. Joining other popular craft kits in the I Do Handmade family (such as their Crochet Basket Craft Kit, Block Printing Craft Kit, and Macrame Plant Hanger Kit), this spring wreath kit is perfect for a relaxing evening of crafting and for those who want to make a truly unique floral display for their home.
Make Your Own Spring Wreath Kit – £28, I Do Handmade 
Helly Hansen W Adore Puffy Parka
RRP: £168.00
www.hellyhansen.com/en_gb/w-adore-puffy-parka-53205?color=605289
An on-trend, puffer-style women's parka with fold-up reflectors for cold and dark winters. Help mum snuggle up in this thigh-length, warm puffer parka with HighLoft™ synthetic insulation. It's perfect for those freezing days when she needs max protection without sacrificing style. It has a soft puffy hood for her comfort and protection. They've even added fold-up reflectives because the coldest days are also dark. The exterior has a PFC-free, water-repellent treatment – a win for mum and the environment
Dirtea
The DIRTEA boxset will give you all the natural energy and immune support you need whilst leading you to being more creative, less stressed, with better sleep and more connected to the world around you. Our full solution of mushrooms to target and transform your Mind, Beauty, Health, Physical Performance and Sleep.
Chaga for immunity, skin & energy
Lion's Mane for focus, memory & digestion
Cordyceps for energy, performance & endurance
Reishi for calm, de-stressing & immunity
Available from https://www.dirteaworld.com/collections/all/products/the-dirtea-boxset
Perfect for exhausted mums in need of a pick me up, the Dirtea boxset (£107.99) would be ideal!
THE ULTIMATE TOAST – DELLA VITE SUPERIORE DOCG
Produced in the heart of the Valdobbiadene valley, Della Vite combines the very best of Italian wine-making, with the creativity and flair of its founders – Chloe, Poppy and Cara Delevingne. The Della Vite Prosecco Superiore DOCG is made exclusively from hand-picked Glera grapes, resulting in a rich and extra dry liquid, with aromas of citrus blossom, olive, crostini and chamomile. Not only does Della Vite offer a great-tasting, fresher alternative to champagne, its environmental standpoint means it's certified 100% vegan and sustainably sourced, with a donation from each bottle purchased going to My Trees. Della Vite Prosecco Superiore is presented in an elegant gift box, available at
Selfridges for £25.99
Beaucoup London And Forest Distillery
Forbici London
Mother's Day packages at Forbici London, a new luxury hair, beauty, grooming and wellness destination in the heart of Knightsbridge.
The Forbici 'Queen For A Day' package: We all know Mums are the Queen of every family. This Mother's Day why not treat your Mum and her crowning glory to a standout salon session. Including a bespoke comprehensive style consultation, full cut, and blow dry with a Forbici expert.
The Forbici 'She's Worth It' package: Spoil your Mum this Mother's Day with the perfect pamper package which includes a luxurious manicure and pedicure. Guaranteed to leave your Mum feeling relaxed and looking truly polished.
As well as the above packages, Forbici London will also be offering their signature gift vouchers so that the recipient can choose a treatment of their choice.
Book no on https://www.treatwell.co.uk/place/forbici-knightsbridge/