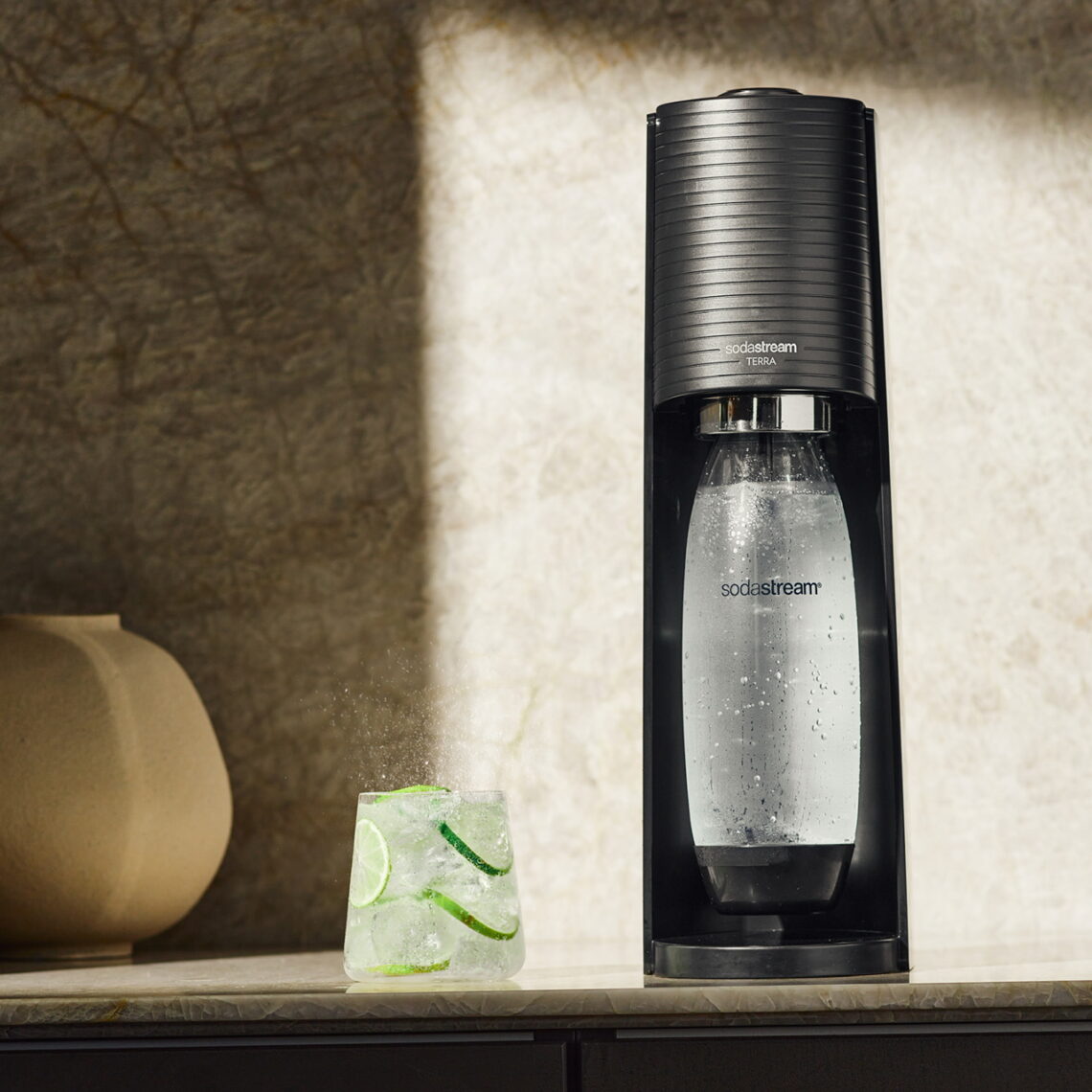 Make this Valentine's Day sparkle with SodaStream 
Let sparks fly this Valentine's Day with SodaStream! Whether you are looking for the perfect gift for your amour or planning an evening full of sparkle, SodaStream can help you do just that.

A SodaStream sparkling water maker is the perfect present to show your love this Valentine's Day. Each SodaStream has a beautiful design that will fit perfectly in any kitchen. And to make Valentine's Day even sweeter, the Terra sparkling water maker is currently available for £79.99, that's a sparkling saving of 27%.
If you're looking to kick it up a notch this February 14th, there are limitless options for unique and personalised cocktails and mocktails to be made with your SodaStream machine. To impress your special someone, why not spread the love this Valentine's Day with a delicious Enchanted Rose Cocktail? Or, if you're celebrating Galentine's Day, treat your friends to Aperol Spritz, the perfect cocktail to fuel a night of rom-coms and girltime. Plus you can prepare a batch before they arrive for the festivities. 
These are some of our favourites!
Virgin Raspberry Mojito
 Ingredients:
15 ml of Soda Press Co. Raspberry & Mint syrup

20 ml of fresh lime juice

¼ of a fresh lime, cubed

10 fresh mint leaves

60 ml of soda water
 Method:
 In a tumbler add the lime juice, Soda Press syrup, fresh lime cubes and mint leaves. Muddle gently.

 Now fill the tumbler with a handful of ice, top with soda water and stir. Garnish with fresh raspberries and mint leaves.
Enchanted Rose Cocktail 
Ingredients:
SodaStream Classics Diet Tonic flavoured sparkling water

250g strawberries

1 shot vodka

30ml lime juice

Ice
Method:
Prepare the flavoured water: Fizz 1 bottle of cold water. Add a capful of SodaStream Classics Diet Tonic flavour and mix.

Add strawberries, vodka, lime juice and ice to a blender. Blend until smooth. Strain the mixture through a fine sieve and slowly push the berries through with a spoon.

Pour mixture into glass and top with Diet Tonic flavoured sparkling water. Serve with a strawberry garnish and enjoy!
Giant Aperol Spritz
Ingredients:
SodaStream Classics Diet Tonic flavoured sparkling water

120ml Aperol

80ml gin

80ml white wine

Orange Slices
Method:
Pour all ingredients and half the oranges into a pitcher and stir

Add ice and two slices of orange to four wine glasses

Serve and enjoy with friends!