Rhythm Kitchen Review
A Taste of the Caribbean has arrived in Walthamstow: Rhythm Kitchen
Most people recognise the name of Rhythm Kitchen because of their Westfield Stratford eatery. The brand that brought the most amazing jerk chicken to make our shopping trips a bit more exciting have launched in Hoe Street, Walthamstow. The new restaurant provides wholesome, traditional Caribbean food, which is freshly, cooked every day and the most amazing rum menu we have ever seen.
The menu is created by founder and chef Delroy 'The Jerkfather' Dixon and focuses around the charcoal BBQ, which brings out the best of their Jerk marinated meat and fish dishes. Alongside their classic Jerk dishes the restaurant they also serve family favourites such as Curry Goat (authentic Caribbean curry slowly cooked to perfection), Braised Oxtail(a Caribbean special – slow cooked oxtail in a rich sauce with butter beans, carrots and dumplings, served with rice & peas, mac & cheese & sorrel) and Vegetable Rundown (Vegetable coconut rundown with yam, callaloo, carrots, sweet peppers, sweet potato, served with basmati rice and fried plantain) to complement their authentic Caribbean menu.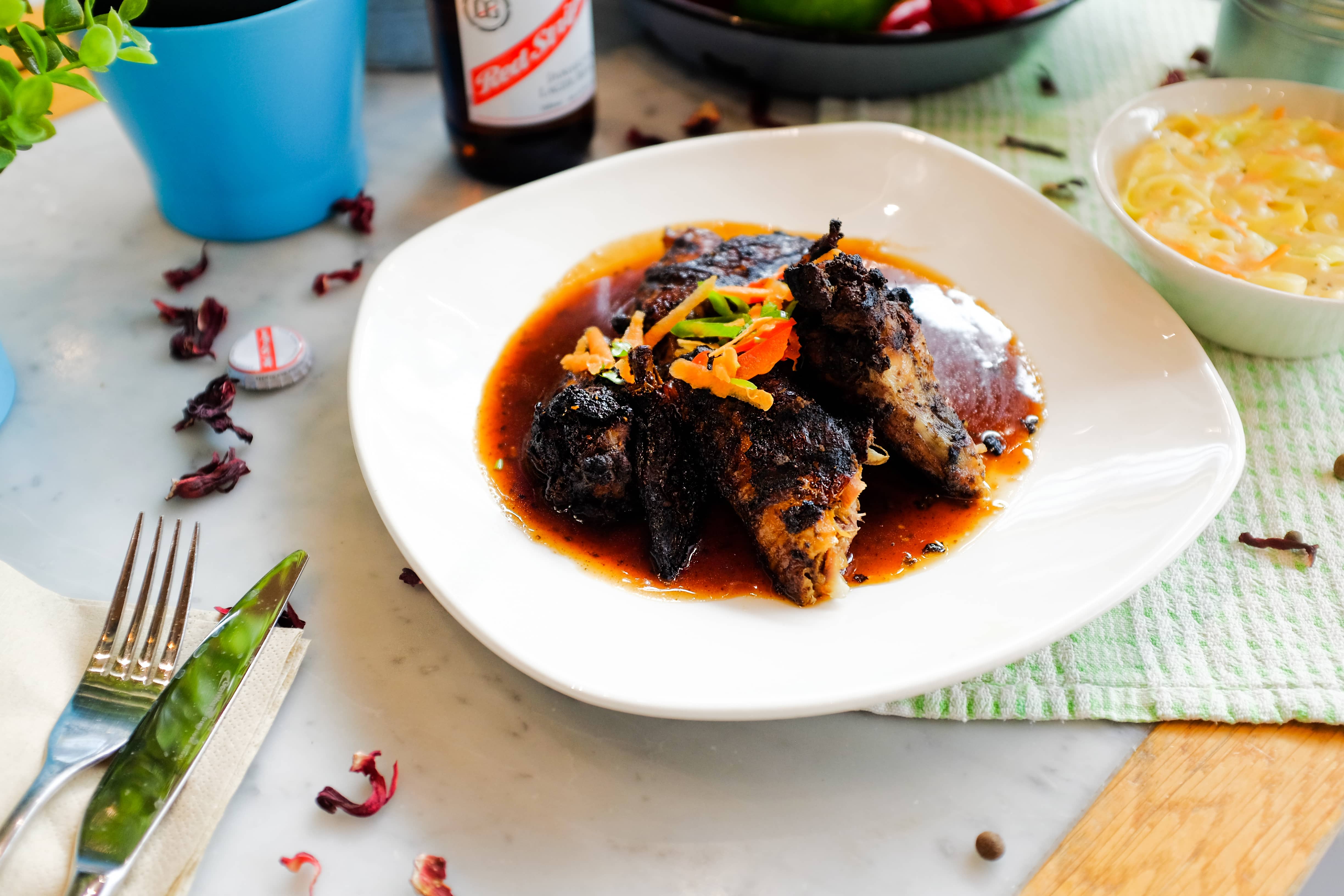 We love good food and had to try what was on offer and thought why not go for the favourite dishes of the owners. The coconut peppered prawns served with mini dumplings opened up our night. The prawns are served in their shell in a homemade coconut spicy pepper sauce, the sweetness of the coconut perfectly compliments the kick that the peppers offer. Each mouthful took me back to my days sipping cocktails in Montego Bay. Next up was the meal everyone said would fill us up so much we wouldn't be able to walk home without a power nap first. They were right! Enter stage left the braised oxtail served with, rice and peas, homemade mac & cheese and a sorrel drink. The oxtail is beautifully cooked in a rich sauce with butter beans and dumplings. The meal was divine and I couldn't finish it, it was a lot of food but worth every penny. I haven't eaten that well for a tenner in a long while. Make sure you are wearing loose fitting trousers before jumping right in.
The cocktail menu includes the use of the amazing rums on offer at the restaurant. The Rum Punch (a super refreshing cocktail, made with Del's own recipe), Mango Daiquiri (a deliciously sweet and fruity cocktail, made with mango puree, rum, Cointreau, lime juice and ice) and the Painkiller (a delicious blend of Pusser's Rum, cream of coconut, pineapple juice, orange juice, and nutmeg served on the rocks). You can guess that I decided to try the Painkiller; any cocktail that sounds that interesting had to be tried. This lethal slow burner is perfect for cool summer days, it was smooth and moreish hence the slow burn statement. A couple of these and you are ready for an amazing night.
No menu is complete without a great dessert and Rhythm Kitchen does not disappoint. The white chocolate 'Blondie' was my dessert of choice served with the most alcoholic rum and raisin ice cream known to man. The soft fudgy blondie is homemade and is flavoured with white chocolate and banana. It was out of this world!!! Do not leave the restaurant without trying this no matter how full or tipsy you are.
If you are looking for great food a relaxed environment and great service we would highly recommend Rhythm Kitchen.
Delroy says: "We serve the food that we love and the food that you love to eat. I live in the community and I am proud of my Caribbean-British heritage. I am also delighted to announce that we have opened up our space to London born photographer Ian Watts who showcases his fine work of everyday life of the Caribbean British community and my reggae heros." – We could taste every bit of the love the food is made with.
Find them here:
Rhythm Kitchen
257 Hoe Street
Walthamstow
E17 9PT
0208 520 6112
Written by Abi Bose