Pikes, Ibiza, Bar Menu Review
Having spent the last two days with friends in the centre of San Antonio, Pikes was the ultimate recovery spot away from the madness of the party capital of Ibiza. I'd heard a lot of really great things about this hotel come bar come restaurant come party place. Listed as one of the 'Top 100 Hotels in the world' by Sunday Times Travel and winner of 'Best Boutique Hotel' by the prestigious White Ibiza Awards for three years running. So of course I was excited to check out this iconic Ibizan entity for myself.
Climbing up the entrance steps past sandy tones and quirky ornamental finishing, I knew I was going to like this place as soon as I saw the collection of different sized mirror balls spinning over our heads. The energy here instantly felt a world calmer than our last couple of days, you could feel the true spirit of Ibiza running through and through. Groups of glamourous guests sunning themselves around the perfectly aquamarine pool, complete with an in pool seating and table area. We chose what really felt like the best seat in the house, which was essentially an outside bed raised on one of the higher points overlooking the rest of the site. Perfect for people watching. The décor is truly fantastic, with custom made giant pillows boasting pictures of lobsters and disco balls.
Staring out over the fairy-tale beleric gardens with the sun beating down on us, it really did feel like we could stay there forever. Our super cool hostess Sylvie, brought us goblets of what she described as 'a strong wheat beer'. Having overdosed on frozen pina colada's and bottles of bud over the last couple of days, this was the much-needed proper pint we had been craving. Both a little bit worse for ware and starting to feel a bit of that famous hangover hanger, Sylvie brought over fresh bread with olives and garlic aioli whilst we perused the menu. You know your in for a treat when the bread is just so unbelievably good. So fresh and perfectly cooked, the complimenting garlic aioli really hit the spot. Served with huge green olives lightly salted, just this was enough to tide us over. Feeling perfectly content we wanted to drag out every minute of Ibiza in this Spanish paradise, we opted for a cocktail before choosing our mains. Bloody Mary, a true hangover cure but also my absolute favourite cocktail. I have drunk hundreds in my time and have to say I'm pretty damn picky, it is such an art, and I demand only the highest quality, and I have to say Pikes lived up to my high standards. Perfectly seasoned and garnished with all the bells and whistles, the adorable shell toothpick finishing it off gave a nod to the level of detail Pikes obviously pays to every part of the experience.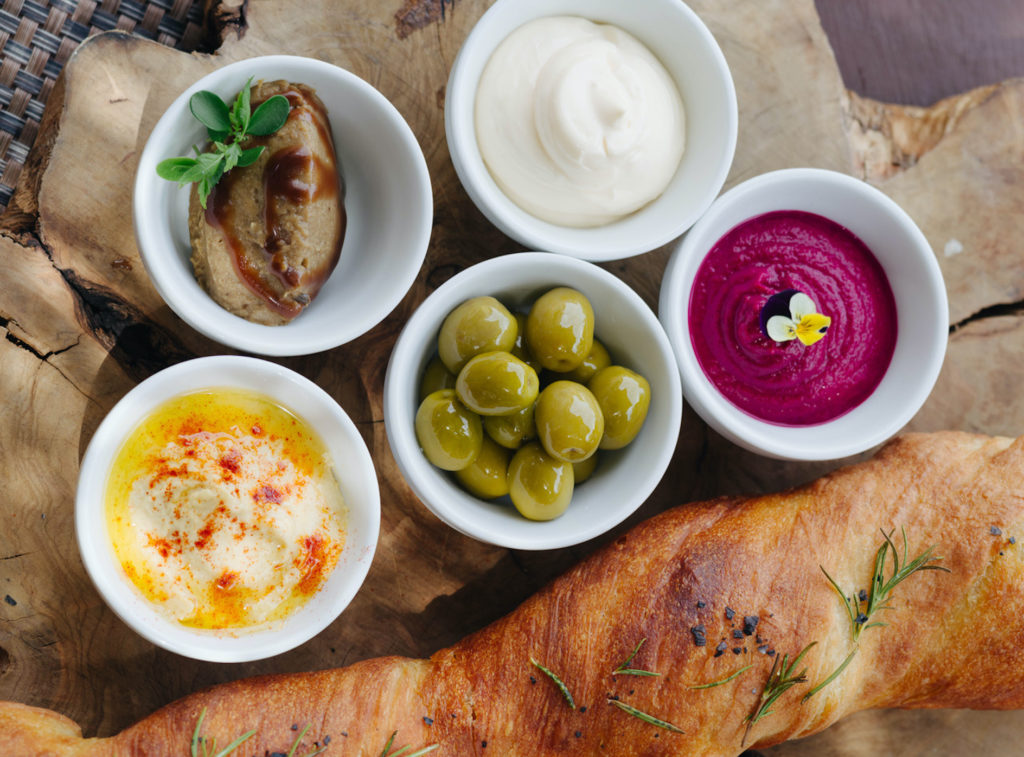 Now suitably hungry we were ready for our mains. Pikes has one of those great menu's that offers some old time favourites such as Caesar Salad and full English but with its own unique, fairly Mediterranean, twist. Being both relatively hungover and desperate for starchy food, but also craving a dose of vegetables and vitamins following a bit of a boozy couple of days we chose the best of both worlds. A beetroot and quinoa burger, with avocado, sweet potato, spinach, minted yogurt and a seeded bun, served with mint, pea shoots, soya beans, lime and local olive oil. First thing to note was the presentation. So much colour! The salad was a feast for the eyes, the pink of the watermelon mixing into the feta cheese, it was almost too lovely to look at to eat. Wooden slabs and pretty bowls, even the tableware was thought out. If it looked good then it tasted just divine. The mix of flavours and the attention to detail to garnishing showed just how much thought had gone into each part of the meal.
Despite the hefty portion sizes and us being completely stuffed, it was too good to leave, and we continued to pick at the remainders of our food until it was completely finished.
Aware of the time and how soon our flight was, we begrudgingly packed our bags and said our thanks and goodbyes to the lovely staff, who very kindly called us a taxi. Sauntering back down the steps through the hotel apartments, we vowed next time we returned we were staying here.
The perfect end for our mini break in Ibiza, Pikes is a must see. An oasis of calm away from what cam sometimes be a bit of a mad city, the place has so much care and thought put into every element of it, no wonder it's such a success.
Website: www.pikesibiza.com
Address Camí Sa Vorera, S/N, 07820 Sant Antoni de Portmany, Islas Baleares, Spain
Written by Jordan Crowley