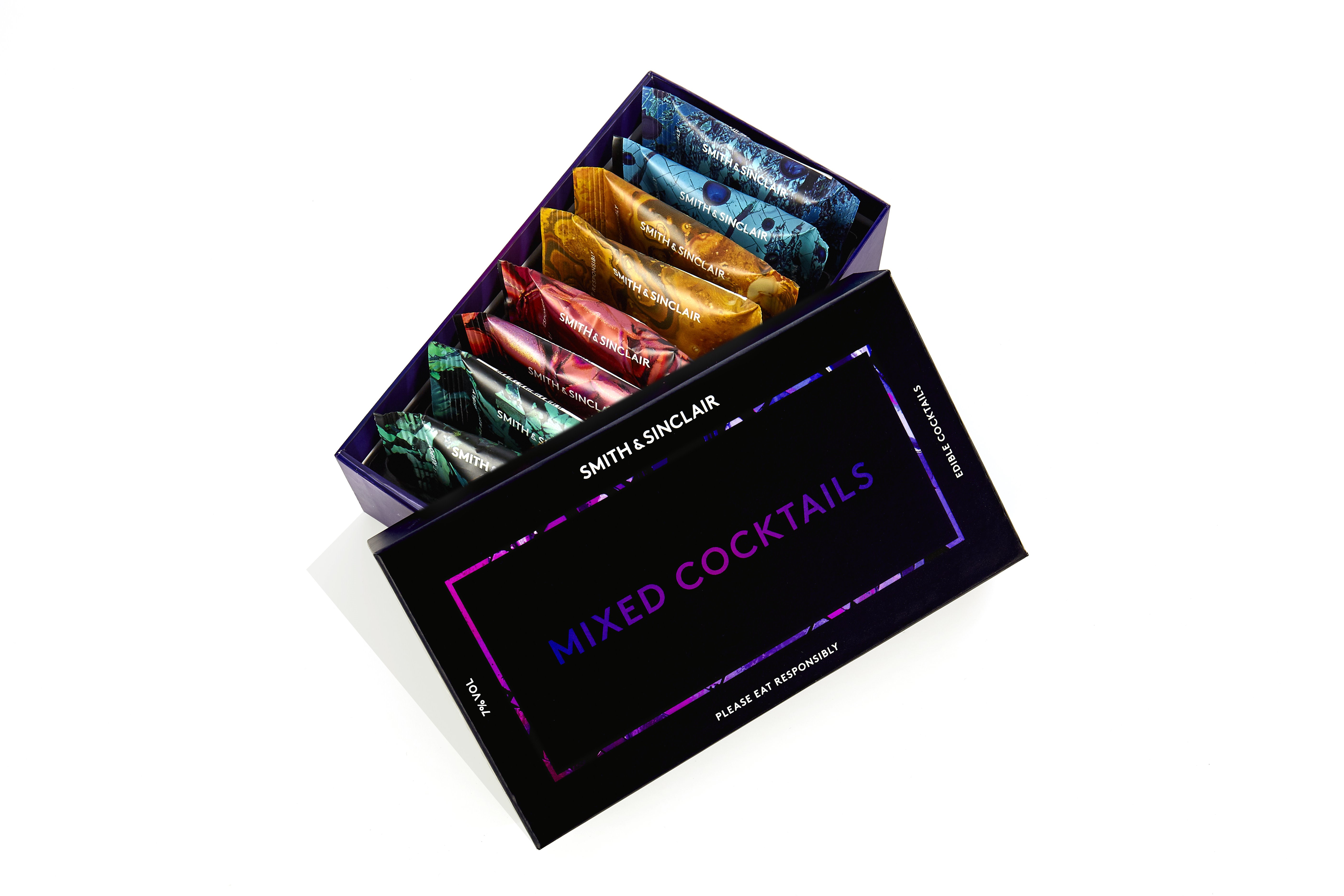 Smith & Sinclair Edible Cocktails Review
Here at ONIN.London we've tried Smith & Sinclair's Edible Cocktails before. They're a tried and true favourite. Now available in eight different flavours across four spirits, Smith & Sinclair's range of single serve Edible Cocktails are perfect for dinner parties, nightcaps, cocktail garnishes, weddings and of course gifts. The full range includes Berry Daiquiri, Spiced Rum, Elderflower Spritz, Gin & Tonic, Rhuby Mule, Long Island 'High Tea', Whisky Sour and Godson. At 7% ABV per pastille, each one is made in London using only high quality spirits, fresh fruit and real spices. Smith & Sinclair now use 55% ABV spirits instead of 40% to give even more of a kick with no loss to the natural, premium flavour that the company is famous for.
Each pastille comes individually wrapped in pick 'n mix-inspired single serves or gift boxes of eight and sixteen. All packaging features bold new artwork that is influenced by the molecular composition of each alcoholic spirit used in Smith & Sinclair's creations (gin, vodka, whisky and rum). It's bright and slightly wacky but incredibley interesting. The single serves are even available in multipacks for weddings and events online via the Smith & Sinclair website. If online shopping isn't your thing the new Cocktail Gift Boxes can be purchased at Harvey Nichols, Fenwicks and many more.
We were sent a Mixed Cocktails Box and it was delicious. Our top choices were the Gin & Tonic, Elderflower Spritz, Long Island 'high tea' and the Berry Daiquiri. They are just so yummy and it's hard to remember they're alcoholic. Perfect for the sweet tooth and for people that like something just a little unusual.
Website: www.smithandsinclair.com
Twitter: www.twitter.com/SmthandSnclr
Instagram: www.instagram.com/smithandsinclair
Facebook: www.facebook.com/smithandsinclair
Written by Tegan LeBon