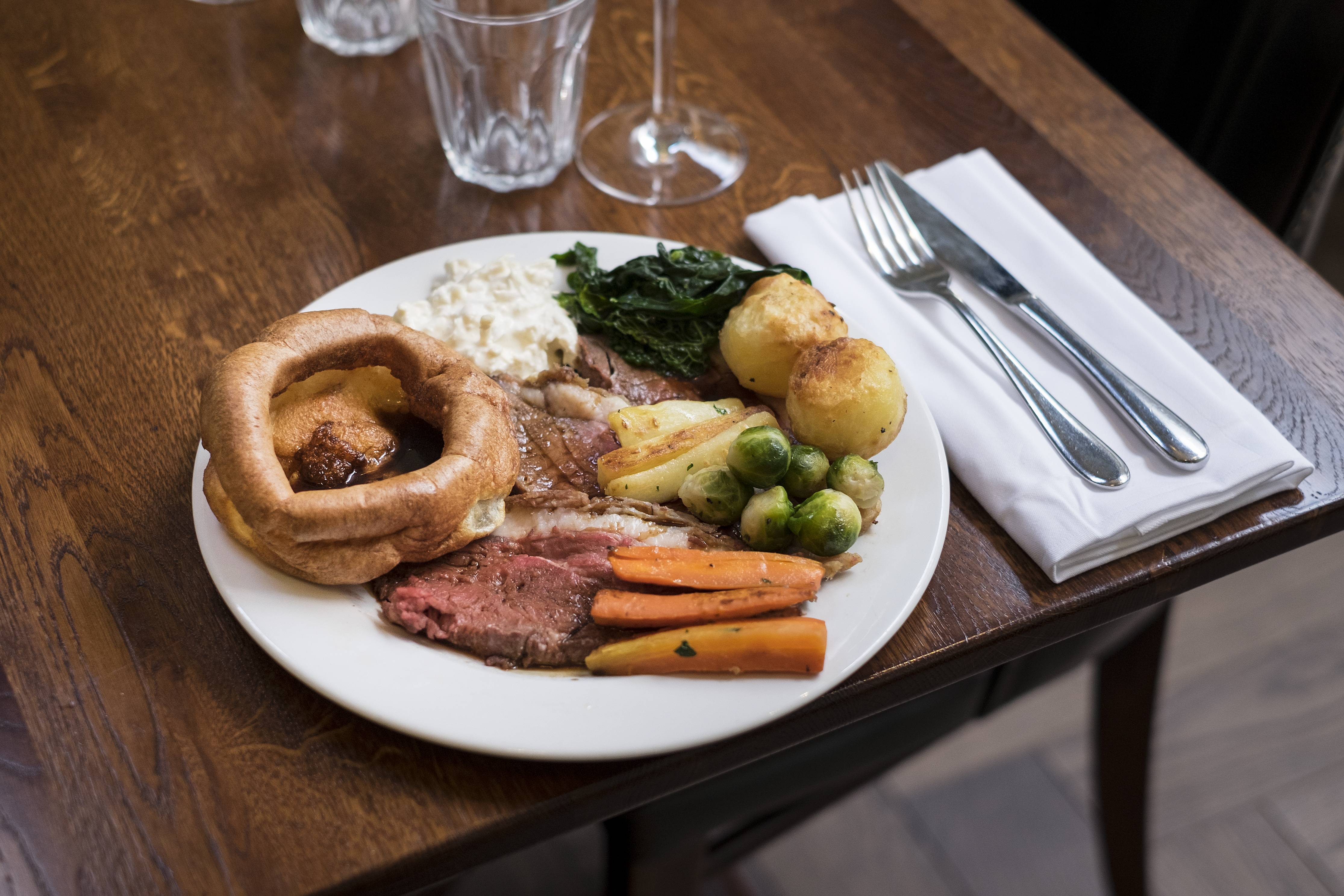 The Clarence Whitehall Review
Sunday Roasts are one of the things I just love about living in England. My only disappointment is that I have to wait until Sunday to order one. Thankfully, the Clarence Whitehall have made Roast Beef with all the trimmings available from Wednesday to Sunday!
Arriving at lunch time on the 9th of October 2016, my cousin and I were shown upstairs to the lovely Tin Belly Dining Room. While perusing the menu, we ordered a bottle of White Rabbit Riesling. Definitely my favourite bottle of wine here in London so I'm glad I've found another restaurant that stocks it.
When you are attending a restaurant to eat a Sunday Roast, you do not want to eat large starters. We tried to order what we thought would be the lightest options and smallest serving sizes. We were wrong. I ordered the soup from the specials board 'Celery and Blue Cheese Soup with Welsh Rarebit' and my cousin ordered 'The Aubergine, Pepper and Tomato Hot Pot, Quickes Smoked Cheddar and Toasted Sour Dough'. My cousin was hoping she'd be able to recreate this dish in her own kitchen because she loved it that much. The portion sizes for both these dishes were quiet large so if you're going for a three course lunch like we were, make sure you're bellies are ready for an insane amount of food. Especially if you're going to be eating cheese soup like I did. It was so good that I didn't even feel guilty about the large amount of cheese and calories I consumed.
For our mains I couldn't go past the Tin Belly Carvery (28 day aged British sirloin of beef on the bone, beef dripping roast potatoes, double egg Yorkshire pudding, seasonal greens, beef gravy and homemade horseradish). My cousin opted for the Roasted half Suffolk chicken, pigs in blankets and gravy. If we thought the starters were big, they were tiny compared to these mains. Both meats in our dishes were so juicy and tender. The potatoes cooked to perfection and Yorkshire Puddings as big as my head. The Clarence Whitehall really knows how to do their roasts.
At this stage of the meal, we were struggling to make room for dessert. We managed to find room though to fit in the Dark Chocolate Brownie and Salted Caramel Ice Cream. The Salted Caramel Ice Cream was so creamy and complimented the richness of the warm Chocolate Brownie flawlessly.
As I mentioned before, the Tin Belly Dining Room was on the small side and it was starting to get busy while we were finishing our meal. Because of this we didn't sit and let our meal settle before heading off. I'm actually surprised we could move to tell you the truth, our bellies were so full of a good wholesome British roast dinner with all the trimmings. It was the perfect way to spend a Sunday afternoon.
Make sure you head down to The Clarence Whitehall next time you're craving a roast dinner, you will love it. We sure did.
Reporter: Tegan LeBon
Twitter/Instagram: @toogs1
The Clarence Whitehall: 53 WHITEHALL , LONDON SW1A 2HP
020 7930 4808
theclarence@geronimo-inns.co.uk
http://www.theclarencewhitehall.com/
https://www.facebook.com/TheClarenceWhitehall