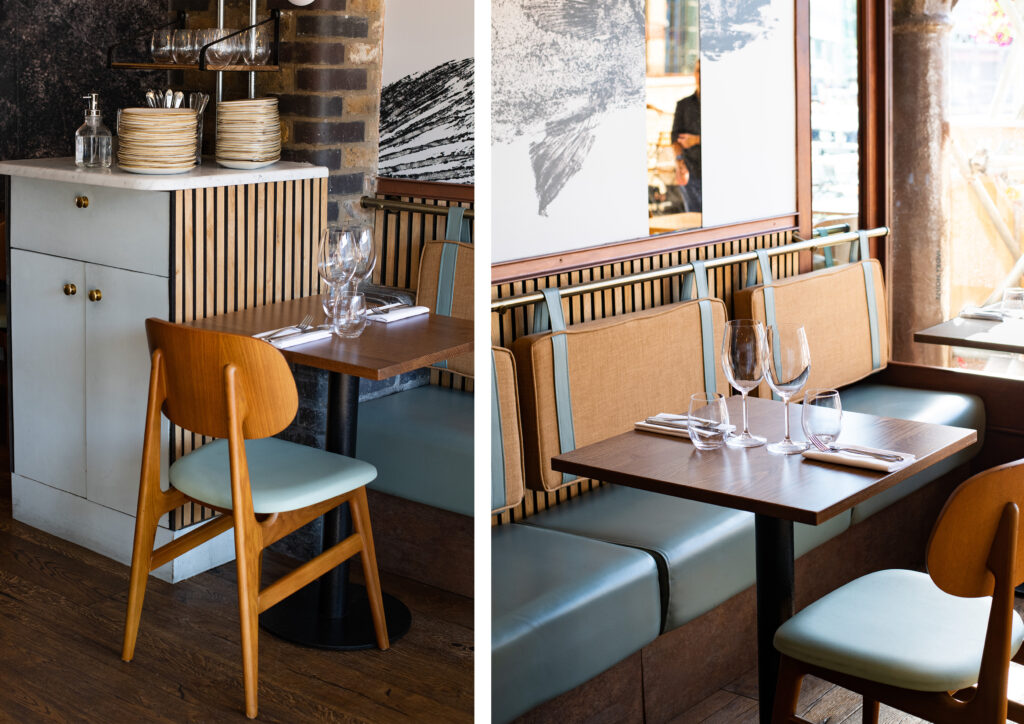 Tower Bridge, that iconic behemoth in the world of tourist sites to see, is a familiar name in household all over the globe. It is one of London's most visited tourist attractions. It always puzzles me, therefore that when I mention my fondness for St. Katherines dock, central london's only Marina, it is often met with a hesitant nod and "oh yeah, I think I know it".
The collection of basins that sit to the Wapping side of Tower bridge is home to a collection of very fine yachts, cobbled walkways, impressive dockside buildings and an array of eateries (albeit mainly chains). 
Situated in one of the marina's  listed Grade 2 buildings lies The Melusine, a restaurant boasting simple and sustainably sourced seafood from around the british coast, directly to your plate. To dine even closer to the source of the produce, you could eat at Avalon, The melusine's pontoon restaurant directly on the water of the marina.  We opted for the cosy (yet distanced) indoors of the main restaurant.
The fresh produce momentarily passes through the hands of Greek chef Theodore Kyriakou, of Livebait and The Real Greek. Theodore' and Co-founder Wade Mundford's aim is to bring the "Unforgettably Unexpected". A phrase which alludes to the evolving menu based on the changing availability of fish.
We reluctantly skipped the 20 gins available at the gin and tonic bar and proceed straight into the delicate yet flavoursome menu, paired with a bottle of Greek Kydonitsa, a refreshing, light citrusy white chosen by manager Hugh.
Being a seafood lover, I could have made my way through every item on the menu. With small plates such as octopus, Isle of Mull razor clams and crab with honey moon melon, chilli and coriander. I pawed over the menu whilst dipping my spelt heritage sourdough into an olive oil and sweet grape, pretending to be balsamic. A sweet but pleasant surprise.
With fear of food envy, I took the advice for cured chalk stream trout with a green tomato relish. Perfectly light and smokey slithers which set the meal off to a great start.
The following smoked fish carbonara with Mussels, girolles and king oyster mushrooms kept the smokey party going but only ever so lightly. I loved how delicate and tender the mussels were.
Having avoided one seafood favourite octopus, I couldn't help but go for the lobster next, with triple cooked oregano and sea salt chips. There may have been a touch of food envy watching the next tables dark and steaky John Dory. This subsided as I tucked into 300g of beautifully dressed lobster. 
Finshing off with a dark and fluffy chocolate triangle, filled with raspberry clouds I think to myself was that expected, or not? I ponder over the food I have just sampled, Delicious greek wine, british seafood produce in a light carbonara, delicate but smokey trout, unexpected? Probably yes. Unforgettable, well I'm still thinking about it, in a good way. 
Address: The Melusine, Unit K, Ivory House, St Katharine Docks, E Smithfield, London E1W 1AT
Website: https://www.themelusine.co.uk