Research shows that the average person spends a third of their lifetime sleeping and the  NHS recommends most adults need between 6 to 9 hours of sleep a night. Pretty straightforward one would think? But for many the reality is different with one 2021 UK study revealing that 36% of UK adults are struggling to get to sleep on a weekly basis. That, coupled with reports of the 'coronasomnia' phenomenon on the rise (from 1 in 6, to 1 in 4), it would appear that many of us are destined to miss out on our allocated quota of zzzz's. With World Sleep Day on 18th March 2022, we've compiled a guide to help you get your best nights sleep ever.
Bath Time:
Encouraging its users to add a regular bathing ritual to their nightly routine, the SLEEP salts create a fragrant, mineral-infused bath that signals to the body that it's time to sleep and prepares the mind for a peaceful night ahead. Containing magnesium from Epsom and Dead Sea Salts to relax the mind and body, jasmine and lavender essentials oils to calm and soothe and valerian to promote peaceful sleep, a bath in SLEEP bathing salts will leave bathers ready for a deep, restorative night's sleep. RRP £6.99, available from Boots, Westlab Salts, Look Fantastic
Lavender and Avocado CBD Bath Bomb
The Lavender and Avocado CBD bath bomb from Mindful Extracts combines 100mg full spectrum CBD with essential oils and dried lavender petals to help you relax, unwind and drift in to deep sleep. RRP: £9.99
https://mindfulextracts.co.uk/product/lavender-avocado-bath-bomb/
FLASHPATCH® REJUVENATING EYE GELS: 15 PAIR JAR – ERRP £30 THE ANYTIME PERK-ME-UP – Did you know the hours between 10pm and 12am are the best time to repair skin? Put fine lines to bed with a powerful nightly dose of anti-aging Retinol and Peptides. FlashPatch® Restoring Night Eye Gels are the perfect solution to tired looking eyes if you didn't actually manage a good night's sleep, with 94% users surveyed saying one 5 minute treatment provided more immediate results than their current under eye skin care regimen, and 100% saying their tired eyes appeared awakened, revived and revitalised. https://patchology.co.uk/products/flashpatch-eye-gels-5-pack
To set the mood
Arran Mountain Lavender Candle: Create a tranquil and relaxing space with the fragrance of Arran's new luxury, lavender scented candle. A new home fragrance from ARRAN Sense of Scotland to help you slow down, breathe and relax. Escape the ordinary with this limited edition, lavender scent in our beautiful 35cl glass. Packaged in an ARRAN branded presentation box, inspired by their island home…. It also makes the perfect gift.
https://arran.com/products/mountain-lavender-35cl-candle
OLVERUM Restful Sleep Pillow Mist is a unique treatment designed not only to help you get to sleep more easily, but to improve the quality of your sleep, essential for maintaining firmer, healthier skin and a radiant complexion. Scientifically formulated to work in harmony with your natural nightly sleep cycle, the exactingly balanced fragrance development of its key ingredients supports and enhances each of the four key stages of sleep. Just two spritzes applied to linens can ease you into a trouble-free slumber, enhance the health benefits of deep sleep, and boost your daytime energy levels. Part of the new range of products from pioneering brand behind the green wellbeing classic OLVERUM Bath Oil, OLVERUM Restful – £25
Teas:
To help lull you into a cosy and restful night's sleep, the range includes 'Sleepy Hemp' which has a delicate, citrussy, and softy floral flavour, including ingredients which can help to decrease anxiety and initiate better quality sleep. Acting as the perfect afternoon pick-me-up, the range also includes 'Dandy Choc Hemp' which features a decadent chocolate streak alongside natural ingredients such as chamomile, dandelion, chicory, and hemp seeds to transform your mid-afternoon tea break, helping you to take a load off and centre your mind for clearer thoughts. The other core sleep range of teas available from T2 also includes Sleep Tight, Sweet Dreams and Just Peppermint.
Pukka Herbs: Help ease into sleep with Pukka Herbs expertly blended range of Night Time teas. Each compostable tea bag is full of essential oils and crafted with dreamy herbs, helping you to naturally drift off into a peaceful rest:
Night Time Berry, RRP £3.45*. Soothe your senses and let go of the day thus far with a cup of Night Time Berry, our latest blend in the nighttime range.
Night Time Tea, RRP £3.45*. Created by herbal experts and nutritionists, Pukka Herbs Night Time tea contains chamomile, lavender and valerian; this bedtime blend is the perfect way to settle into your bedtime routine, flourish in the floral flavours, and unwind with nature!
Natural sleep aids:
Nutrigums, a vegan friendly vitamin gummy brand. Its gummies are 100% natural with great health benefits. The Dozy Bears have a great range in their product collection called 'Sleep Sweeter'. It consists of a bedtime sleep spray and  Dozy Bears, a chewy fruit flavoured sleep supplement. These would be perfect to try for World Sleep Day. The sleep spray is made with an ideal blend of Lavender, Chamomile, Sandalwood and Lemon Balm – to help aid a restful and relaxing sleep. The Dozy Bears are a perfect mixture of Amino Acids and Botanicals blended with 6 essential sleep vitamins. They're both Kosher and Halal and are made with everyone in mind. They help support restful sleep and also help contribute to the reduction of tiredness and fatigue the next day.
Starpowa Snooze Vegan Gummies | £19.99 currently reduced to £9.99 | uk.starpowa.com
Natural black cherry flavoured Snooze Gummies combine nature and science to help you achieve a restful sleep. Each gummy contains L-theanine, a naturally occurring amino acid that has been known to promote relaxation, and 5-HTP, which is involved in the production of serotonin whilst also helping to regulate the body's internal clock. Furthermore, each gummy contains natural ingredients such as lemon balm leaf, Montmorency cherry, lavender, chamomile that help promote a good night's sleep. They are vegan, low in sugar and naturally sweetened. Take one before bed each night and watch your energy levels increase – you'll be jumping out of bed in no time!
BLOCKHEAD 
(
https://blockhead.store/
), the UK's leading functional confectionery brand for people on the go, has the perfect product to celebrate World Sleep Day. The BLOCKHEAD CALM MINTS are mints with calming herbal extracts, to help relaxation before bed. 
Sugar-free and healthy,
 t
he product 
helps control your daily stress levels and relax the mind – the perfect treat before going to bed, 
you can have one after brushing your teeth. (RRP: 6X pouched x £12)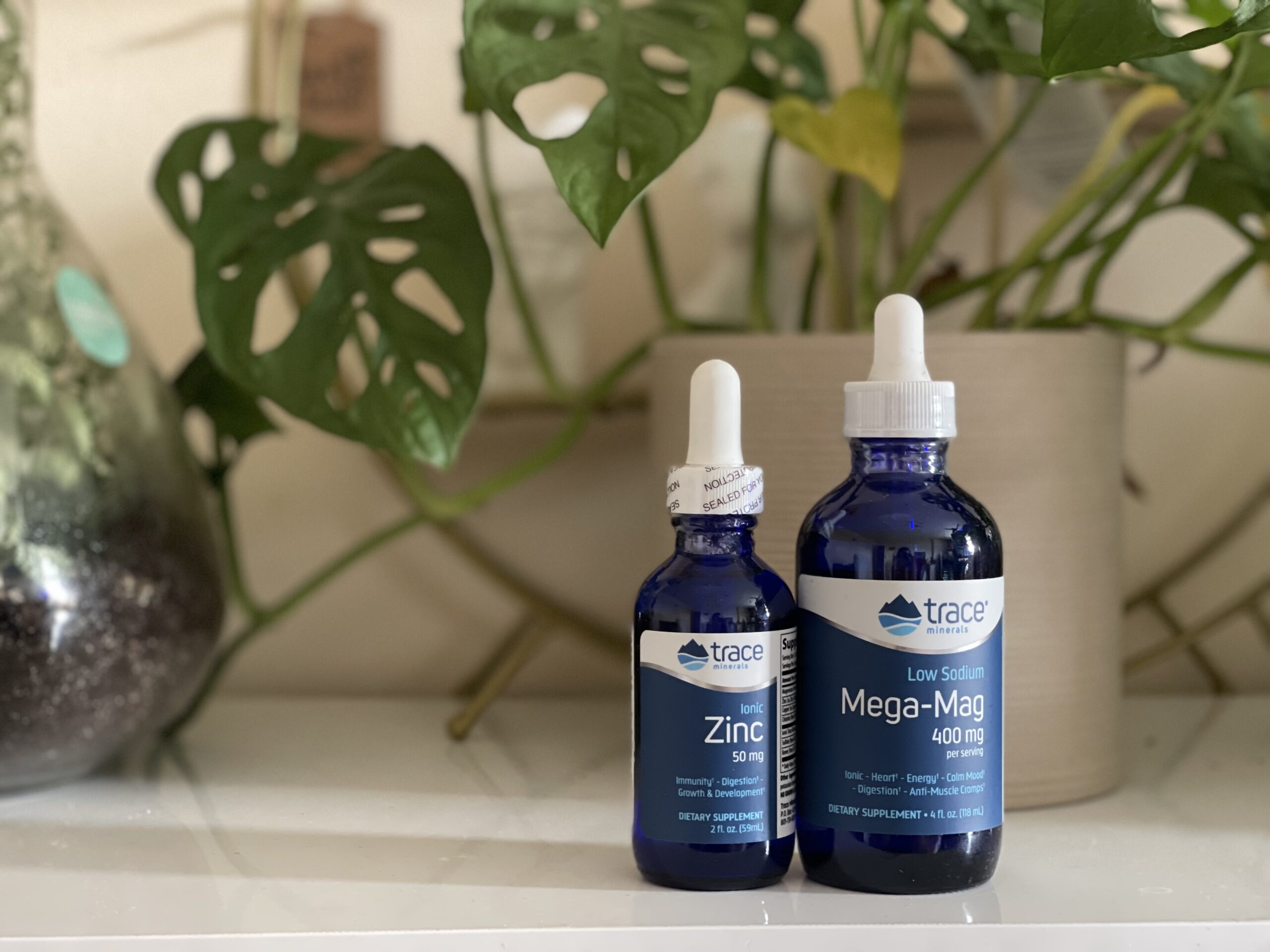 Trace Minerals Liquid Ionic Zinc
Zinc is an excellent and safe sleep aid, with calming and antidepressant effects. It helps to regulate thesleep portion of the circadian rhythm and also helps to have less wake-ups in the night!
Containing 400mg of Magnesium, this aids relaxation by activating the parasympathic nervous system, which is responsible for getting us calm and relaxed. It regulates neurotransmitters, which send signals throughout the nervous system and also regulates the hormone melatonin, which guides sleep-wake cycles in our bodies.
LQ Collagen
There are many methods that can help improve sleep quality, but one surprising ingredient that may have a positive impact on our sleep is none other than marine collagen. This is because collagen is loaded with the amino acid glycine, an inhibitory neurotransmitter that calms the central nervous system and helps us to unwind, relax, and fall asleep. It is also easy for our bodies to digest and use throughout the night so even if you wake up during the night the glycine can help you easily fall back to sleep. LQ Collagen Marine Collagen Peptides 300g Powders £32 (20 x 15g servings per tub) offer a premium marine collagen in terms of both efficacy and quality. Available in new Coconut & Lime, Mango & Passion Fruit and Vanilla, the new powders contain 10,000 mg of hydrolysed marine collagen per daily serving. Great tasting, natural flavours they are easy to mix with water or a perfect boost to your morning smoothie. Sweetened with stevia, the powders offer an easy dissolvable, low calorie option for those wanting to add collagen to their daily routine. https://www.lqcollagen.com
What to wear:
Critically Endangered, a sustainable clothing company that protects some of the world's most endangered animals by supporting WWF. Their latest release is a pair of tiger-saving pyjamas and are designed by artist Rachel Grant, they're made from 100% GOTS-certified organic cotton and come packaged in a recyclable cardboard box. £75 and for a good cause! What's not to love. Here's a link to them on their website: https://www.criticallyendangeredshop.com/collections/theshop/products/tiger-pj-set
White and Green Unisex Luxury Bathrobe
This lovely, soft and cosy white 100% cotton waffle robe is perfect for relaxing in and for creating that home spa feel. They are soft and cosy and yet light enough for warm climates. It comes in white, has long sleeves and comes down to mid-calf (below knees). Also who doesn't love pockets! The size of them is very generousz Two generous pockets so can hold all your essentials. It's perfect as it's also machine washable at 40 degrees.
Love Luna is a range of period, teen and leakage briefs, as well as biodegradable and reusable pads/liners. Each style of brief can be worn of its own or be used as a backup with another sanitary device (such as a tampon or moon cup). Perfect for a great night's sleep!
One amazing benefit of wearing Love Luna period briefs during your period is that it helps to reduce landfill. Shockingly, an ordinary sanitary towel or tampon can take 300-500 years to decompose. Yes, really. A towel you only use for up to eight hours will outlive your great-grandchildren. And that is just one towel!
Bedding:
Turn your bed into a heavenly cocoon with their silky soft organic cotton bundle that includes a duvet cover, a deep fitted sheet and 4 Oxford edge pillowcases (single has 2x pillowcases) that will completely transform the style of your bedroom and enhance your sleep quality. Their luxury bedding is 300 thread count cotton, the best mixture of softness, quality, breathability and durability.
This Is Silk and This Is Linen which specialise in helping people get the best possible night's sleep. Founder Sonal Keay suffers from a rare, sensitive skin condition and high quality silk is the only thing that soothes it.  She left her career as a barrister to develop the finest 22 momme, sustainably produced 100% mulberry silk and linen bedding to help others find solutions to sensitive skin, thinning hair and restless sleep. She says: "Sleep hygiene is a hot topic and I have coined the phrase 'well-bedding' to describe the conscious choice to buy bed linen that actively promotes health and wellbeing. Pure silk and high quality linen naturally regulates body temperature and feel soothing on a sensory level – giving a longer, deeper sleep. Both materials are naturally anti-microbial and hypoallergenic, which promotes health. Pure silk pillowcases also lead to younger looking skin and longer, thicker hair."Silk Pillowcase: £49.99. The highest quality silk, designed to give you a restful, friction-free sleep and wake with soothed skin and smooth hair. Awarded 'Best Silk Pillowcase' in the Independent's Indy Best review. It comes in a wide range of gorgeous colours.
https://thisissilk.com/collections/silk-pillowcases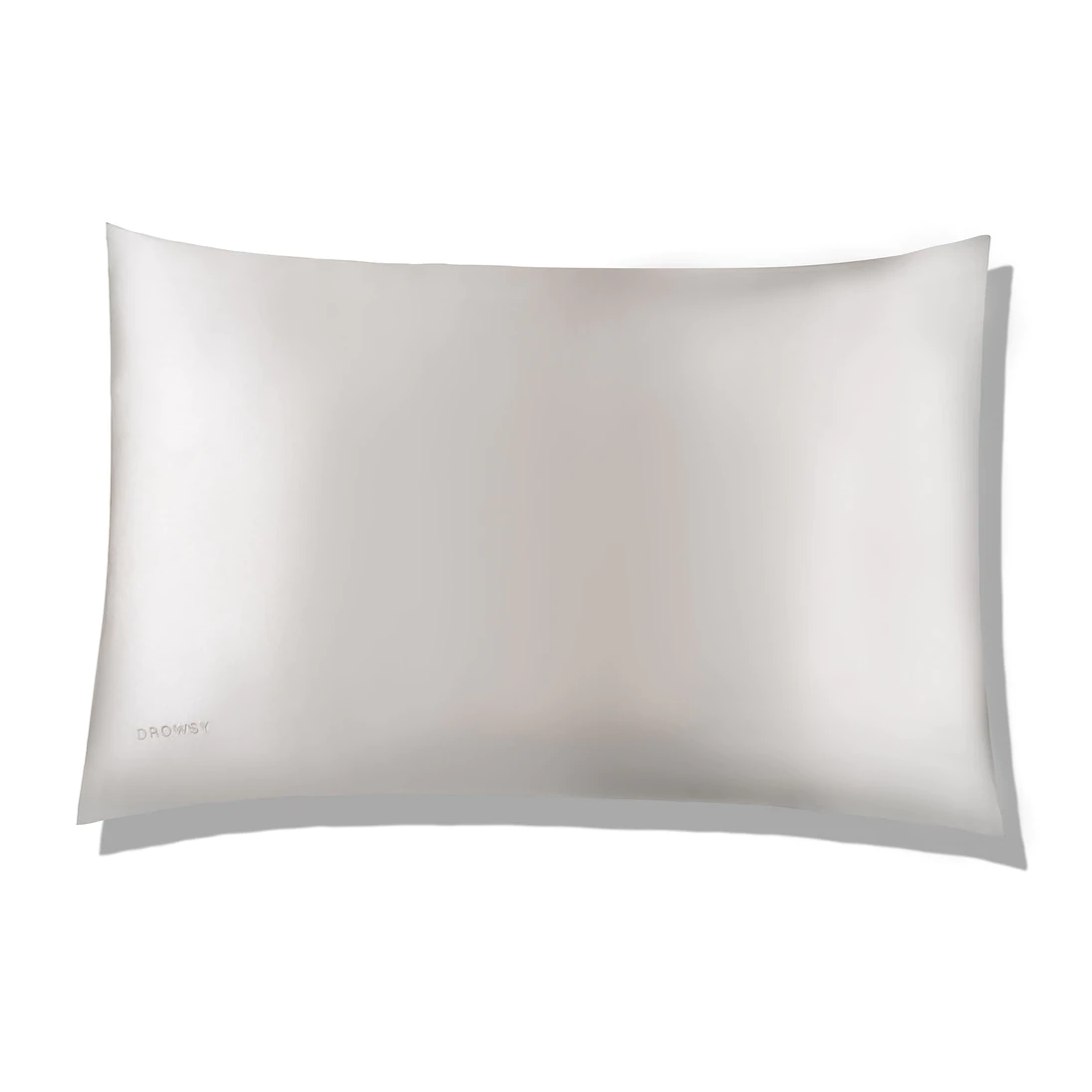 Drowsy Akoya Pearl – The Mulberry Silk Pillowcase
100% washable. Elevate your sleep to the next level with the Drowsy silk pillow case. The cult favourite of beauty editors, silk reduces the friction that causes long term damage to hair and skin and night. This heavenly pillowcase glides over skin making bedtime irresistible. £89
https://www.drowsysleepco.com/collections/silk-pillow-cases/products/ap-pillow-case

Medium, 2 Pack) Slumberdown Feels Like Down Pillow
£12.00 RRP £20.00
Down is the extremely lightweight, comfortable & insulating soft breast feathers of ducks and geese that they use to incubate their eggs. It's quite rare & very costly, so Slumberdown created the next best thing! Their lovely and snuggly hollowfibre filling is soft and comfortable. It gently supports your head and neck so you can move freely through the night. The luxury microfibre cover is wonderfully soft and cool to touch. These medium support pillows are ideal if you sleep on your back. They're non allergenic which means theres nothing in them that can cause allergies. They're machine washable at 40 and you can put them in the tumble dryer. Plus they're made in the UK. These pillows are standard sizes at 48cm x 74cm, so are a perfect fit for all standard beds and pillow case Choosing the right pillow; a good pillow is essential to getting good night's sleep
https://www.onbuy.com/gb/medium-2-pack-slumberdown-feels-like-down-pillow~c13526~p50602317/
Slumberdown has created their own CBD-infused pillow case and pillow with a blend of CBD, lavender and aloe vera, all plants which have properties known to promote relaxation. When using this innovative pillow, movements from your head release tiny bursts of scent, creating a more restful environment as you sleep – no effort required. Slumberdown CBD Infused Pillow – from £19.50 at Sleepseeker
Slumberdown Made For You Two Duvet – from £21.50 at Sleepseeker – This Slumberdown Made For You Two Double Duvet has been specially designed to help partners who prefer to sleep at different temperatures. This clever dual tog double duvet has a cool 4.5 tog side and a warm 10.5 tog side that is reversible, making it easier to tailor your warmth level when sleeping. The 4.5 tog has a lightweight filling which feels cool and comfy and the 10.5 tog has a heavier filling which has cosy and warm feeling so you and your partner can enjoy a restful night's sleep without compromise, all night long. With a soft touch cover and comfortable hollowfibre filling, this double duvet is non-allergenic, meaning there's nothing in it that could cause allergic reactions which is great for peace of mind, and essential for allergy sufferers.
Slumberdown Perfectly Warm Electric Blanket – from £40.00 at Argos. This wonderfully clever single heated electric blanket, with re-enforced elasticated straps, from Slumberdown, can focus heat on your whole body or just your toes. The removable deep filled velvety comfort layer makes it the ultimate in indulgent warmth at bedtime. It boasts digital detachable controls and 9 heat settings, along with extra foot warmth. Relax this blanket has a low energy consumption as well as a safety system with timer and auto-shut off.
The Simba Hybrid® Pillow – £109
Prepare for drift off with Simba's new sustainable Hybrid® Pillow
Space-inspired temperature regulation technology that's out of this world
Manufactured entirely with energy from certified renewable sources

New breathable Better Cotton Initiative (BCI) cotton

100% Global Recycling Standard (GSI) Certified

Stratos® technology – active temperature regulation that offers improved sleep quality

A breathable cool nights system – hypoallergenic, mineral-enriched fibres dissipate heat

Nanocube™ innovation – personalise your pillow to the perfect height and firmness

Vegan friendly – contains no animal products
The Pure Silk Sleep Set – £69
The best-selling 100% mulberry silk pillowcase and silk eye mask gift set provides the ultimate luxury hotel experience at home. Experience the  benefits of silk for skin, hair and the quality of your sleep with this luxury sleep set.
Snoring an issue? Then try Mute, the nasal dilator. It has been shown to help snorers; particularly those with night-time nasal congestion or nasal obstructions. Both snorers and their partners report a better night's sleep when Mute is used, waking more refreshed.  In a user trial, 75% of partners reported snoring was less/much less when the snorer used Mute. Mute is available from Boots, Amazon, Holland and Barrett online or www.mutesnoring.com starting at the trial pack to find the right size rrp £12.99
Or try EarHub ear plugs! They provide 2 different types of earplugs, both of which help to reduce background noise as much as 50%! EarHub T shaped purple foam earplugs are the perfect, snug fit for the ear and block out 33 decibels of noise. They can also be sent back to EarHub for recycling via their Zero Waste Box and by doing this, you will receive a discount off your next order! EarHub also offer silicone earplugs with aloe vera, which come in a handy travel case which keeps them clean, and they are reusable and easy to clean. They too, can be recycled through a TerraCycle® Zero Waste Box. Purchasing a pair of EarHub earplugs for can help to improve your sleep and hopefully leave you feeling refreshed, and ready to conquer the day! Earhub Earplugs 10 pairs of EarHub Premium Soft Foam Earplugs £4.99 or 6 pairs of Earhub Soft Sillicone Earplugs with Aloe Vera £8.99 | Available on www.boots.com
CBD Products
PureSport 
Sleep is the Best Meditation. PureSport Deep Sleep Bundleis crafted for the ritual of rest to relax the mind and body at the day's end. Dream Big. Sleep Deep. It includes 1500mg CBD Oil with Vitamin B Complex, Chamomile & Lavender with 0% THC.Triple lab-tested Natural ingredients and the Unwind Pillow Spray: Lavender Essential oil, Vanilla Extract & Witch-hazel Pillow Spray. It's currently on sale for £80 but RRP is £100 – https://puresport.co/collections/gift-set/products/deep-sleep-bundle
Broad Spectrum 10% CBD SoftGel Capsules 30 Capsule Bottle – Nutritional Supplement. – £39.95
Single strength, premium 10% CBD oil.

Easy to swallow SoftGel capsule, 30mg of CBD in each capsule.

Our products are THC-free, 100% Organic, Vegan, and non-GMO.

Unique and comprehensive product quality and safety testing regime for each product batch.

All our CBD products are manufactured THC-free in the USA.
LuxeCBD organic, vegan, cruelty-free oils and water soluble drops are an amazing sleep aid. CBD has been proven to help promote a better night's sleep and cause tiredness if you are unable to get to sleep or suffer from insomnia. Research carried out in 2019 found that 66.7% of subjects involved in the study reported better sleep (National Institutes of Health). They offer a range of CBD oils & water soluble CBD drops. All are organic, vegan, cruelty-free, and non-gmo, and are made using only the finest ingredients. The CBD water drops specifically, can be added to any liquid, so you gain all of the benefits of CBD in your favourite drink. Check out their website  www.luxecbd.com and instagram account is @luxe.cb
RAIN CLOUD pen:
Calm and composure packaged and delivered via a sleek compact pen, the RAIN CLOUD is a 100 per cent natural CBD mist pen and the cleanest of its kind currently available.  Harnessing the power of the botanical world, it helps alleviate anxiety and stress, and is fully regulated and can even be fully recycled…allowing you to sleep all the easier. Their recycling project gives you 15% off! Priced at £40 it's perfect for keeping in your handbag for when you need to alleviate anxiety on the go.
Incorporating a natural botanical supplement like CBD into a healthy lifestyle can provide the most restful night's sleep you've had in years. 'Night' pure CBD oil is a carefully formulated complex blend of natural botanicals, terpenes and organically-grown Swiss hemp-derived CBD to create a beautifully relaxing nighttime formula. A deficiency in Zinc can contribute to insomnia so we have blended this nutrient (along with calming chamomile and lavender) to make this best-selling gentle tincture extremely effective when used as part of a regular night-time routine. If you long to feel that inner zest in the mornings following a deep, restorative sleep, try our Night remedy (you'll be glad you started it today).
Zoetic – premium CBD brand have a great range of vegan-friendly CBD oils which come in three different strengths and 4 different flavours – Natural, Peppermint, Melon and Blood Orange. Strengths available are 500mg, 1000mg and 3000mg (only in the Natural flavour). CBD helps support a good nights sleep as well as aids relaxation and eases tension. Oils can be taken orally or you can even add a few drops in your evening tea/coffee/hot chocolate.
EUCALYPTUS SLEEP MIST (2000MG) – 10ML – £90 : The CBD Eucalyptus Sleep Mist from Eresos contains a unique blend of lavender and chamomile botanicals that are formulated to enhance your sleep and promote relaxation. Sprayed directly on to the pillow before sleep, this completely natural spray, it will help you to fall asleep, with the aromatic scents creating a calming atmosphere as you drift into a deep sleep. As you move during the night, you'll inhale the mist and absorb it transdermally through the skin as the CBD is released from your pillow's fibres.
https://www.eresos.co.uk/products/eucalyptus-sleep-mist-2000mg-10ml?_pos=1&_sid=5cdb99d03&_ss=r