Yauatcha City opened in May 2015, and is the second Yauatcha branch to open in London following the success of its Michelin-starred restaurant in Soho. Yauatcha is an all day dim-sum dining experience.  We've been before to visit the launch of the Yauatcha and No Ten Tea Garden (onin.london/yauatcha-and-tanqueray-no-ten-tea-garden-review), so when we were given the opportunity to visit and explore the dim sum menu… there was no way we were going to say no.
Arriving early, I waited for my dinner guest in the luxurious Terrace. Designed to emanate a traditional Chinese garden, the East Terrace is simply stunning. Green foliage, Chinese Umbrellas, lanterns and candles make this space extremely instagrammable. As it had been recommended in our previous review, I chose to try the Tanqueray No. TEN and Classical Beauty – Tanqueray No. Ten gin, Classical Beauty blue tea, Fever-Tree light aromatic tonic and strawberry. It was delicous. Extremely refreshing and the perfect G&T to be sitting in the sun soaked terrace while I waited.
Once my guest had arrived, we were seated at our table inside. By this stage I was even more in awe of the size and glamour of the restaurant. It really is simply stunning. We chose the Tou Chan menu, which provides guests the chance to sample a variety of dim sums and mains for the reasonable price of £35.00 per person. Our waiter was incredibly helpful as I don't eat mushrooms, so he spoke with the chef who replaced the mushroom dumpling and spring roll with other options.
Our meal consisted of:
Steamed dim sum
Prawn shui mai with chicken
Wild mushroom dumpling
Crystal dumpling wrap with pumpkin
Fried and baked dim sum
Venison puff
Mushroom spring roll
Chicken Shanghai dumpling
Steamed chilli prawn
Classic sweet and sour pork
Baby pak choi
Steamed jasmine rice
Petit gateau of the day
I'm not going to go into every single dish we had but I can say the highlights of the menu were the prawn dumplings and the Venison puff. If Shakespeare was still alive, I'm sure he'd dedicate a whole sonnet to those Venison puffs! The sweet and savoury mix of the dish was to die for. Absolute perfection and it's no wonder I tried to bribe the waiter to bring me some more to the table. It didn't work unfortunately, but at least I know the next time I visit to order a double helping.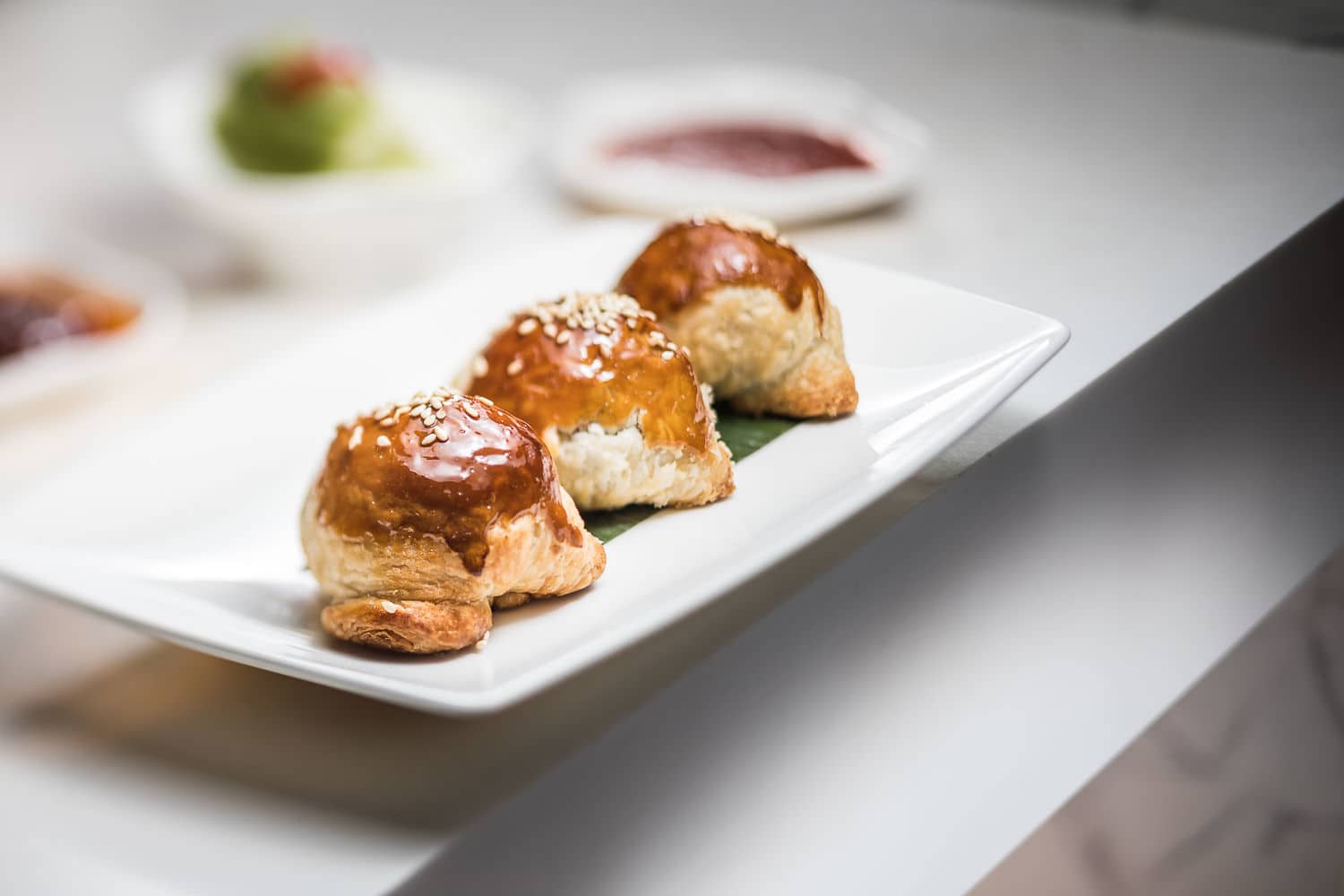 We washed our meal down with a delightful bottle of white wine which our waiter recommended for us. It was an extremely enjoyable evening and I haven't stopped talking about my visit there all week. Make sure you check out the Macarons while you are visiting – they are the perfect dessert.
The restaurant is open Monday to Wednesday 12pm – 10.30pm and Thursday to Saturday 12pm – 11.30pm. The Yauatcha Patisserie Counter is open Monday to Friday 11am – 7pm. Both terraces and bars can be hired exclusively for up to 60 people each, or a terrace and bar can be combined for adjoining indoor and outdoor space for 120 guests.
Website: www.yauatcha.com/city
ADDRESS
Broadgate Circle
London, EC2M 2QS
+44 (0)20 3817 9888
Facebook: @yauatchacity
Twitter: @YauatchsCity
Instagram: https://www.instagram.com/yauatchacity
Written by Tegan LeBon
Twitter and Instagram: @toogs1