2023 "For Her" Valentine's Day Gift Guide
Looking for the perfect Valentine's Day gift for that special woman in your life? Then look no further as Onin.London has you covered with some of our favourite products we would love to receive!
 Flowers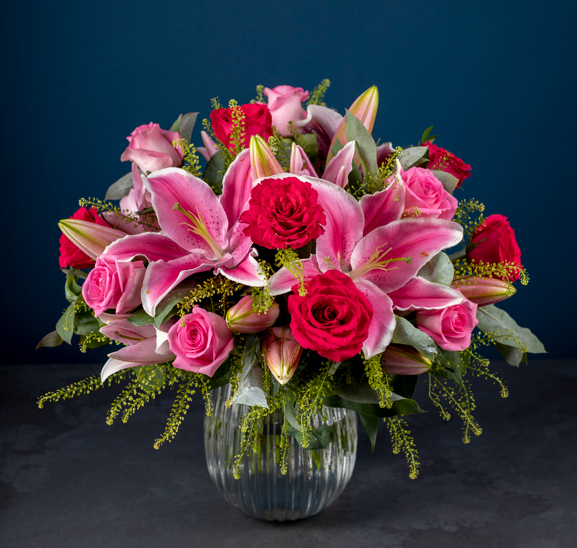 Eflorist delivered their first bouquet in 1947 and haven't slowed down since! Each bouquet has been carefully designed with the lucky recipient in mind. We're committed to supporting our growers, dedicating resources to farming communities across the world and choosing British growers where possible. They have an extensive range of courier flowers, which are carefully packaged and sent via tracked delivery.  They're also super proud to support local high streets, having worked closely with over 1,500 florist members who craft and hand-deliver our bouquets each day. So send your loved one a gorgeous bouquet beautiful range of bouquets from Eflorist.co.uk
Lego Flowers
Why not treat yourself or a loved one to flowers that can last forever with the LEGO® Botanical Collection, or find a build that you can do together such as the city of love LEGO® Architecture Paris set. We love the new Wildflower Bouquet, it's priced at £54.99 and they really will last forever.
https://www.lego.com/en-gb/themes/adults-welcome/botanical-collection/wildflower-bouquet
Jewellery
Purple Amethyst & Star Diffuser Bracelet – £32
We love this bracelet as it diffuses essential oils to you throughout your day. It is made from natural Lava & Amethyst stones & a 14K gold plated star charm. The gift box Includes a bottle of Lavender, Sweet Orange & Rosewood essential oil blend.
Product link: https://www.boostology.co.uk/products/star-charm-diffuser-bracelet
The Diamond Store
Diamonds really are a girl's best friend, so she'll love this gorgeous heart pendant priced at £119 and is 9K White Gold. The stones are 0.10CT of H/SI quality diamonds.  It's beautiful and your loved one will get lots of comments whilst she wears it.
Heart pendant link – https://www.thediamondstore.co.uk/lab-diamond-heart-necklace-pendant-010ct-h-si-set-in-925-silver-p29210c43.cfm
Matchbox
Just in time for Valentine's Day, Matchbox have handpicked their best-selling heart earrings to bring you their brand new 'Love Hearts' gift box. Slide open your MATCHBOX to reveal their AVA huggie heart drop earrings and their mini LIA open heart studs.
 This is the perfect gift for that very special person to show your love for Valentine's Day and all year round!
https://www.matchboxjewellery.com/products/love-hearts-matchbox
Clothes
IKKS Paris
We love IKKS Paris and their Valentine's Day range but you can't go past the IKKS Paris Limited Edition Capsule. This fine sweater with little hearts running over it is beautiful. Guaranteed compliments if she's wearing this one!
https://www.ikks.com/en/women's-white-hearts-on-red-sweater-buttoned-shoulders/BV18215-37.html
Beauty

Intuisse Active NAD+ Eye Mask, RRP £15*, available at www.intuisse.com

I personally love a good eye mask so Intuisse rejuvenating eye pads were a must for me. They deliver efficacious ingredients directly to your under-eye area. With pharma-grade Active NAD+ liposomal formulation penetrates the deeper layers of the skin to improve skin tone, elasticity and skin firmness. Native collagen activates the skin's own ability to repair, regenerate and provide lasting moisture retention. Radish root ferment filtrate is a potent peptide that intensely hydrates the delicate skin around the eyes. In just 15 minutes, fine lines and wrinkles are visibly reduced, skin tone and texture is improved and skin is smoother and brighter. So if you have a partner that loves them just as much as I do. There are a win!!
Aviela
Thanks to its softening, moisturising, anti-inflammatory, anti-irritant, anti-ageing and protective properties, unrefined Shea Butter has been used for centuries as a natural remedy to help hydrate, protect, heal, promote skin renewal and condition, soften, and smooth skin and hair. The Aviela Pure Shea Butter, with its rich, earthy aroma andlight, whipped texture is free from artificial colours, fragrances, preservatives, and additives and melts easily, helping hands glide over skin and sore muscles, leaving skin soft and nourished. Perfect to use as a massage oil as well!
https://www.avielaskincare.com/products/pure-shea-butter
MALLOWS

: Beauty


If your partner loves Tik Tok, you'd know that Laura founded Mallows Beauty following her own battles with self-image, acne, and anxiety. And the products have gone TikTok viral. Mallow's cult-loved product, the Pineapple and Mango Enzyme Mask (which Laura used to clear her acne), has continuously flown off the shelves and received thousands of five-star reviews! Mallows has since continued to see brand success – creating authentic connections with its customers on a daily basis. They continue to pride themselves on being a "beauty brand, based on real babes, real skin and real bodies. Stocking skincare, nails, body scrubs, bath bombs, and more." The best product for the Valentine's Day season is the cult lovers Candyfloss Unicorn shave butter. The must-have product is packed full of nourishing organic shea butter & grapeseed oil to give an ultra-close shave. Lather it on and shave away! Not only does it combat ingrowns & leave you silky smooth, but it is also super moisturising, smells divine and makes skin glow! We love the price too £13.95
Arran Hand Care Gift Set
We've featured Arran before and it's no wonder we love it. This beautiful gift set contains a full-sized hand wash and hand cream. Our favourite scent is, Glen Rosa but it's available in other beautiful scents. The perfect Valentine's gift for those whose hands need a spot of TLC.
https://arran.com/collections/hand-care-gift-sets
Olverum Bath Oil

An

OLVERUM

bath is as pampering as it is restorative. Its unique blend of therapeutic oils work in harmony to rebalance skin, revive tired muscles, open stuffy airways, and bring a deep sense of relaxation to the mind, while invigorating the spirit. 
Cruelty-free, vegan, and naturally free of petrochemicals, the iconic bath oil remains true to the closely guarded formula crafted in 1931 by its creators, Edith and Franz Otto Klein, a pharmacologist and winemaker from Germany's Mosel Valley. Among the pioneers of sustainable, biosynergenic wellness,
OLVERUM
's founders were pillars of the legendary 1920s European spa renaissance. 
It's little surprise that many regard
OLVERUM
as the ultimate in luxurious self-care.  
OLVERUM Bath Oil 125ml (enough for 25 baths) £39.95 – To purchase visit: https://uk.olverum.com
Athletia Aroma Wrapping Hand Cream Gentle Rose,
This hand cream has a luxurious texture that absorbs easily and retains moisture, leaving the skin soft but not sticky. The perfumed partner to the body cream, this soft, rosy scent is combined with deeply calming cedarwood. RRP £24, available from www.athletia-beauty.co.uk/
Super Facialist Rose Hydrate Miracle Makeover Facial Oil,
A superb dual purpose 'wonder-blend' of aromatherapy oils ideal to pre-cleanse, hydrate and calm dehydrated, sensitive skins. Highly nourishing pre-cleanse treatment Super Facialist Rose Hydrate Miracle Makeover Facial Oil formulated with Avocado and Carrot oils, both rich in vitamins, and hydrating Raspberry oil, known for its high Omega 3 & 6 essential fatty acids content. The potent blend assists in eliminating impurities from the skin while encouraging natural cell regeneration. Easily absorbed, it contains a soothing brown algae derived active and calming Calendula oil to meet the needs of even the most sensitive skin and leave skin feeling cleansed, recharged and more supple. RRP £11.20, available from Sephora
Jurlique Rose Love Balm
For ultimately kissable lips – then look no further than Jurlique Rose Love Balm. It's the perfect Valentines gift! Smells great and will ensure she's ready to "pucker up" all nigh. It's a great price too at £14! To purchase this and other gorgeous Jurlique items visit:  www.jurlique.co.uk 
HedoxSkin Exfoliating Enzyme Mask
The new HedoxSKIN Exfoliating Enzyme Mask exfoliates and resurfaces the skin. It's the first product in the new range of clinical skincare launched by Dr Stephen Humble. Dr Humble is a renowned Aesthetic Doctor who runs clinics in Harley Street and Twickenham and has created this range following his extensive experience in cosmeceuticals and skin assessments and identifying the need for products that deliver more results with fewer products.
The HedoxSKIN Exfoliating Enzyme Mask has a unique, natural enzyme formula that dissolves the protein bond between dead and new skin cells, to deliver outstanding and immediate results. A carefully formulated combination of potent ingredients ensures the skin is exfoliated, whilst the skin barrier is protected and the skin nourished.  Ingredients include Wheat Grass Extract, Laracare, Aloe, Moringa Oil, Hyaluronic acid, Niacinamide, Calendula, Chamomile and Vitamin E. The range of concentrated vitamins, provide powerful antioxidant, anti-inflammatory and antibacterial properties and soothe the skin.  
To Eat
Janice Wong – Chocolate Valentine's Gift Box, £27 (x9 Chocolates)
The Janice Wong Chocolate Valentine's Day Gift Boxes are also available in boxes of nine and make the perfect gift for a long-term partner, new flame or even a friend. Presented in an iconic and eye-catching pink box, there's a delectable selection of Peppermint, Ruby Blossom and Strawberry infused heart shaped chocolates. As with all Janice Wong chocolates, the hearts have been hand-painted, filled and moulded individually by hand for an exquisite and bespoke finish.
RRP: £27.00 (Box of x9 chocolates)
Stockist: Janice Wong is available to buy at Selfridges and on the brand's website www.janicewong.uk
To Drink
Silent Pool Rose Expression Gin
To celebrate Valentine's Day, quintessentially English gin brand, Silent Pool, has paired up with Sweet C's Handcrafted Chocolates to create a perfect pairing to gift to a loved one. Both produced locally in the Surrey Hills, this indulgent combination is an alternative sweet treat for gin lovers this Valentine's Day.
The chocolate box includes:
Milk Chocolate and Cornish Sea-Salted Caramels
White Chocolate and Strawberry Ganache
Milk Chocolate and Coffee Ganache
Dark Chocolate and Orange Ganache
Ellis Pink Shimmer Scottish Gin
Project #173 Candy Floss Rum
Roll up, roll up and add all the fanfare of the funfair to your serves with this delicious offering, waltzing in from the folks at Project #173! A quality core of rum collides with a cushion of fluffy candy floss for this expression, naturally flavoured and boasting a mouthcoating profile of toasted sugar and wafer biscuits. There's a 23 karat gold leaf on the bottle too. It's all the fun of candy floss and none of the sticky fingers.
Price – £19.95
Stockist – masterofmalt.com
Perfumes
Lacura's Floral Love
Spoil fragrance lovers with Lacura's selection of premium Women's Eau de Parfums. Our favourite is the Lacura Floral Love (£5.99, 100ml) – notes of Rose, Freesia and African Orange Flower are complemented by darker, woody aromas of Bergamot, Musk, Patchouli and Vanilla.
Memoize Perfume
Opening with piquant pepper, cardamom, saffron and juicy fruits, the floral heart is complimented by warm incense and creamy milk. A smooth base of sandalwood, vanilla, musk and patchouli round off the fragrance. We love this perfume and despite the high price point… it's definitely worth it. £177 www.harveynichols.com or https://www.memoizeperfume.com/product-page/vita
Personal Care Gifts
AKT The Lantern Candle SC01, RRP £49*, available at www.aktlondon.com
The mood-enhancing, natural rapeseed wax candle inspired by London's West End.  The Lantern is born from a theatre-term given to the lights on stage. Ethereal and hypnotic, The Lantern's warm glow can enhance the mood of a scene – and evoke emotions from an audience. But make no mistake, while the light sets the scene, the fragrance steals the show. 
Cue the lights and feel something extraordinary. 
Plastic free. Cruelty free. Ego free. 
230g. Approx burning time 50+ hours.
Our favourite scent is SC.01 EXT. ORANGE GROVE – thinkMidday sun beats heavily on the grove. Sweet aromas burst from the freshly peeled orange, while Neroli blossom dances, alive on the breeze. She'll be daydreaming about another negroni over ice or Aperol Spritz all day long with this candle.
Martha Brook Stationary
Martha Brook is the home of delightfully individual stationery designed to uplift, inspire and empower. All paper goods in the highly coveted range are made in England and all paper used comes from responsibly sourced forests. With products from just £8.95 and even a subscription for stationery lovers (yep, dreams have come true!) there is something for everyone in this beautiful range.
Personalised Gratitude Journal – £25.95
See the good in the little things with the brand-new limited edition personalised gratitude journal. Handmade here in the UK and packed with useful content to add a bit of positivity and happiness in just three minutes a day.
To explore the full range, which includes diaries, notebooks, memory books, photo albums, notecard and writing sets, desk accessories, a vegan leather collection,  wedding planners, life planners and much more, visit www.marthabrook.com. You can also follow the brand on Instagram, Facebook, Pinterest and Twitter.
For Hair
VEGAMOUR GRO Hair Serum,, RRP £58*, available at www.vegamour.com
This beautiful hair serum reduces signs of shedding for thicker, longer looking hair with their plant-based formula. Formulated with clinically-tested, vegan phytoactives that work to enhance overall hair wellness and deliver healthier, fuller looking locks. Ideal for thinning, lackluster hair, this serum soothes the scalp and revitalizes hair at the roots to increase the appearance of hair density. Free of toxic chemicals, carcinogens or harmful side effects, and ideal to use as a daily hair wellness ritual. Delivers real, visible results in as soon as 90 days.*
Phillips Kingsley
This duo contains Moisture Extreme Enriching Shampoo & Moisture Extreme Enriching Conditioner, the perfect combination for coarse, tightly coiled curls. Their vegan-friendly, shampoo is full of a unique combination of nourishing oils that will make hair softer, stronger, and easier to style.
https://www.philipkingsley.co.uk/moisture-extreme-shampoo-moisture-extreme-conditioner-duo.html
Taoh Hair Oil
Argan, Macadamia & Kukui oil restores the life and shine of hair; promoting scalp health to restore hair growth and vitality. It prevents split ends and calms the hair of frizz, tangles, and dullness. 
For all hair types, promotes hair restoration, increases shine, prevents split ends and controls frizz.
Bellissima 2-In-1 Beach Waves Styler.
Does your loved one love doing her hair? Want Sculpted or soft waves? Whatever you choose, the Bellissima Beach Waves Styler will have her looking effortlessly beautiful in just a few simple moves. It even has a ceramic coating to ensure that your hair looks silky smooth and natural, even the day after. It's currently on sale for £41.99 so bargain!