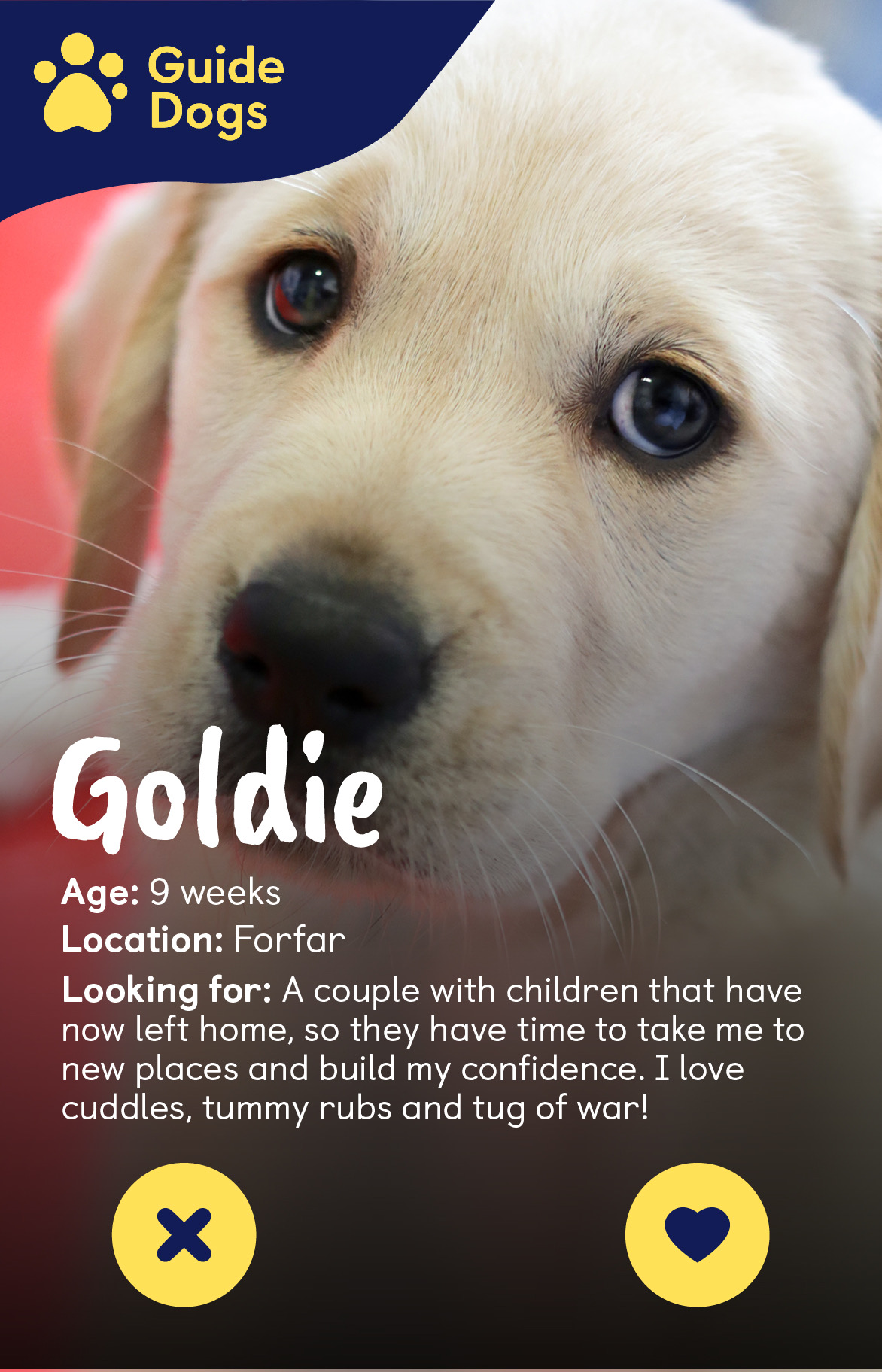 ALMOST A THIRD OF PEOPLE WITHOUT A DOG ARE MISSING OUT ON PUPPY LOVE DUE TO THE COSTS INVOLVED
Charity Guide Dogs is playing matchmaker, encouraging people to sign up and become volunteer Puppy Raisers
New research reveals that 24% of people would adopt a dog if the costs were covered and a further 10% if it could be for just a short period of time such as a year

Despite all the benefits of having a dog, 30% are deterred by the costs as the cost of living crisis continues, and 25% by the long-term commitment

Brits say that retirees and children benefit the most from dogs

Guide Dogs has commissioned research and created matchmaking profiles to highlight its Puppy Raiser programme, where dog lovers can provide a loving home to a puppy for 12-16 months, with costs covered by the charity
With the ongoing cost of living crisis, finances have been found to be the major barrier for dog ownership in the UK – with 24% of people saying they'd adopt a dog if the costs were covered.
Despite dog ownership increasing during the pandemic and people continuing to work from home, some dog lovers are still deterred by the lifetime commitment. 30% of people without a dog said they were put off by the costs. 1 in 4 (25%) were deterred by the idea of a commitment that is likely to be more than 10 years and 18% feel they don't have the relevant experience to look after a dog.
The research was conducted by charity Guide Dogs to highlight the charity's Puppy Raiser volunteering programme, where dog lovers can look after a puppy for 12-16 months. The charity only asks the volunteers to provide a loving home while guiding them through their training, socialisation and introduction to new environments and experiences – perfect for those not able to make a long-term commitment. The charity also covers the costs of the pup and provides ongoing support for the future guide dog.
To help puppies find their perfect partner, Guide Dogs has created a series of dating-app style profiles for puppies that need Puppy Raisers. The profiles show puppies that need a home, and what they're looking for in a short-term 'match' – ranging from time to care and outdoor space.
The research also polled dog owners, revealing the incredible impact dogs can have on a person's life. The most common benefit was companionship (47%), followed by an increase in physical exercise (43%). In fact, dog owners do 30% more steps per day, with 40% claiming they wouldn't be as physically active if they didn't own a dog and feel 80% fitter as a result.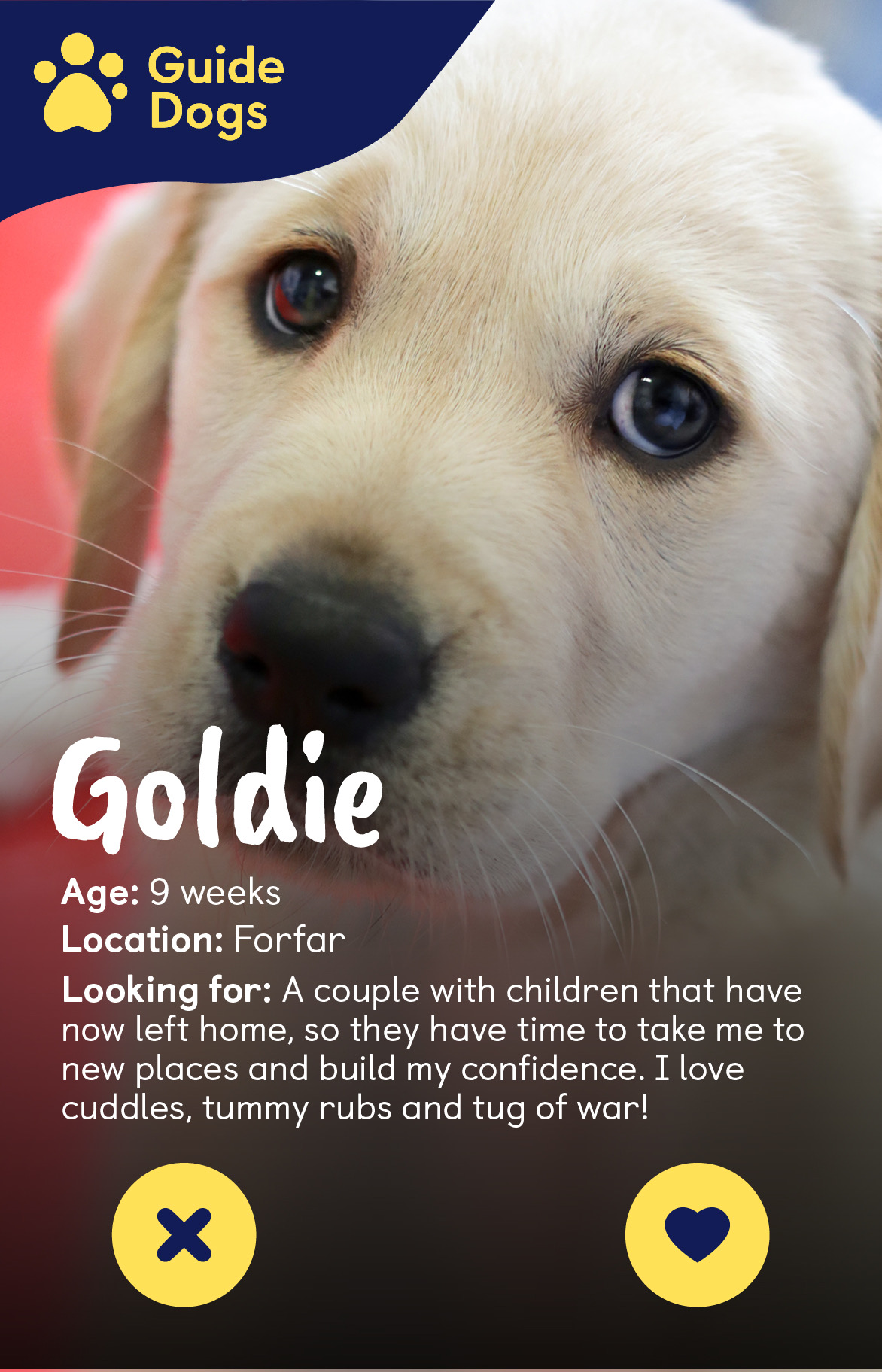 As well as improving their wellbeing, 25% of dog owners say their dog has played an active part in their social life. Having a dog encourages them to meet new people when walking the dog (32%), adds structure and routine to the day (31%) and gives them another topic of conversation when speaking to new people (28%).
When looking at who benefits most – dog owners in retirement have said that having a dog has a positive impact on both their mental (65%) and physical health (63%), and that the dog is what keeps their minds most active (52%).85% of dog owners with children say they've seen their kids benefit too*. Common perks for children include a greater sense of responsibility (37%), increased physical health (34%), increased calmness (34%) and more time away from screens (33%).
Haley Andrews, Head of Puppy Raising at Guide Dogssaid, "Our research makes it clear that there are multiple benefits of having a dog, with a positive impact on both physical and mental wellbeing. In particular, retirees and families gain the most.
"It's understandable the costs and long-term commitment are the main concerns though. We're keen for those deterred by traditional dog ownership to consider becoming a Puppy Raiser. You get all the wonderful upsides having a dog, but with Guide Dogs covering the costs and supporting along the way. All we need from you is the time commitment for a puppy's first year, so he or she can start the journey to becoming a life-changing guide dog for someone with sight loss."
For more information on what is needed to be a puppy raiser, please visit www.guidedogs.org.uk/puppyraiser.
The top 10 benefits of dog ownership found to be:
Companionship (47%)

Encourages more exercise/increases daily exercise levels (43%)

Eases loneliness (39%)

Reduces stress (39%)

Relieves depression and anxiety (37%)

Creates a sense of responsibility (34%)

Adds structure and routine to the day (32%)

Encourages me to meet new people when walking the dog (31%)

Provides purpose (31%)

Increases sense of safety and security (29%)