Alphabet Foodies Visit Armenia – Via Lusin Mayfair
First off what and who are Alphabet Foodies? Well they're made up of two writers for Onin.London  (myself and Kara Buffrey), One Hungry Asian, Anna Johnston from Hello and Amira who writes for The Independent and House of Cocoa. As a diverse bunch of foodies who love experiencing all that London has to offer, we were excited to complete a new challenge. For those that don't know, London is the only City in the world, where you can eat cuisine from nearly every country in the world. Our mission was to eat cuisine from 26 countries, ranging from A to Z (and yes we know there is no country for X… but we have a back up for that)… hence the name Alphabet Foodies.
Our first letter was A, after much deliberation in the group, our first country was Armenia.
A few fun facts about Armenia:
•
Armenia is a nation, and former Soviet Republic, in the mountainous Caucasus region straddling Asia and Europe.
•
Armenia is home to the world's oldest winery. In 2011, the oldest winery on the planet was discovered in a cave near the village of Areni.
•
The Armenian capital, Yerevan, is one of the world's oldest inhabited cities, built 29 years before Rome.
•
Eastern and Western Armenian developed during the 19th century as a result of the division between the Russian and Ottoman Empires. Armenian food in the Caucasus was basically different from the Armenian cuisine in historical Armenia. Western Armenian cuisine is very similar to Lebanese, Greek and Turkish cuisine. This is why we often find on the table all kinds of mezzes such as hummus, tabbouleh, Moutabal or Dolma. In Eastern Armenia, it's more influenced by the Russian Cuisine, where the meal usually starts with what is known as matzone (yoghurt) or flavored chicken with lots of herbs.
•
Armenia's lavash bread is UNESCO-listed. Dinner tables are rarely without huge piles of lavash, a tasty flat bread that is the cornerstone of Armenian cuisine. So important is this humble dish that it was placed on UNESCO's list of Intangible Cultural Heritage in 2014.
•
Armenians have their own distinctive alphabet and language. The unique Armenian alphabet was invented by Mesrop Mashtots in 405.
Food wise, Armenian cuisine is as ancient as the history of Armenia and has influences from eastern European and Mediterranean cuisine. So where do we go to experience this, none other than LusinMayfar. This authentic Armenian restaurant serves cuisine influenced by the vibrant cultures of Eastern Europe and the Levant. Created by Mira Foods, Lusin is the first Armenian restaurant in the Kingdom of Saudi Arabia with outposts in the high-end venue "Centria" in Riyadh, Diyafa Plaza Riyadh, Teatro Jeddah, Al Shaikh Avenue Al Khobar, and now Mayfair London.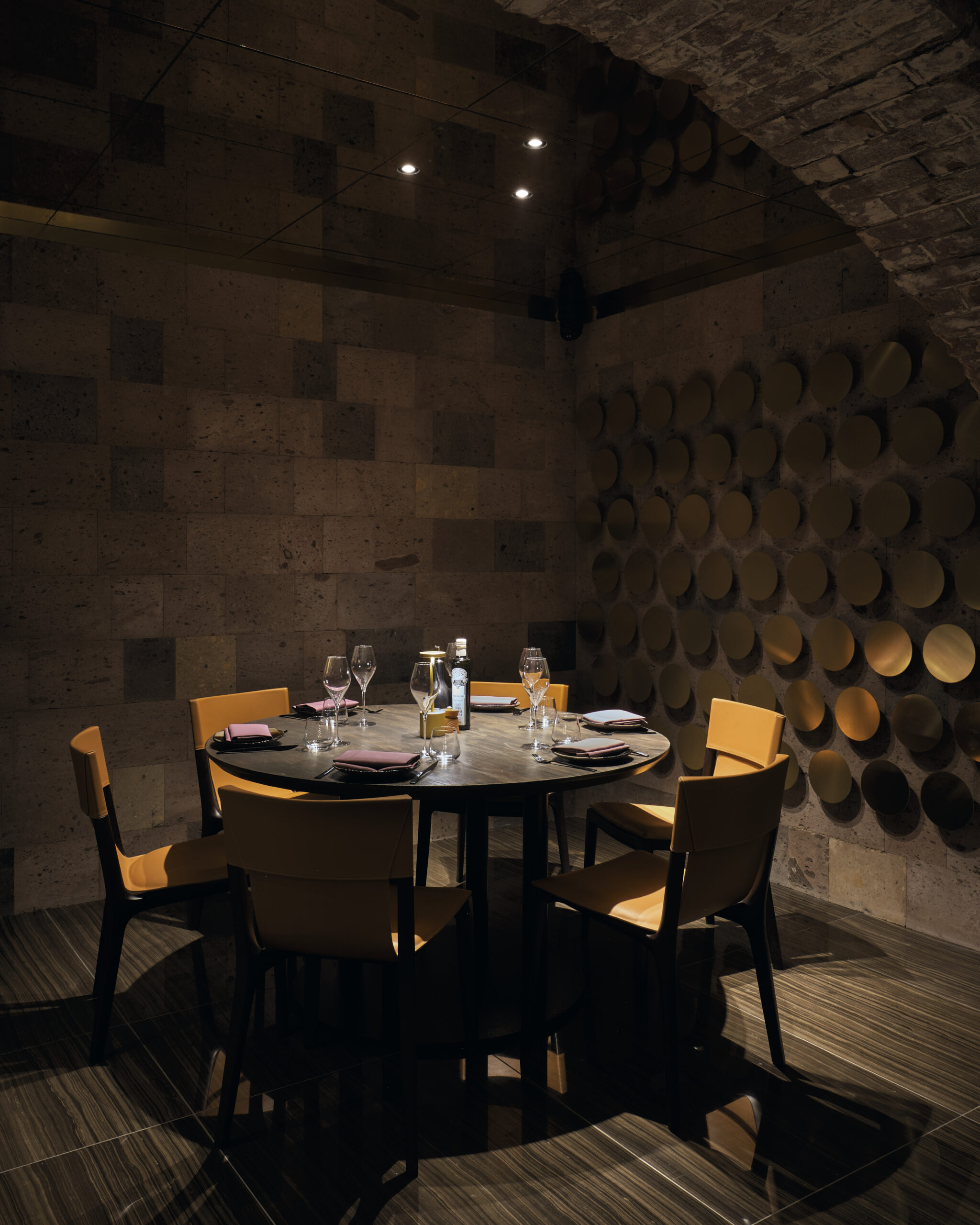 As soon as you walk into the restaurant, you will be amazed at how opulent the venue is. The interior has been designed by Architect Maram Seddiq and features an entrance with three pillars that have hand-made carvings resembling Armenian Khachkar, symbols and signs from the "Tree of Life" to the "Eternity" symbol and walls featuring Armenian Tuff Stone that is originally sourced from Armenian Mountains, in four colors: Pink, Artic Violet, Black, and Anti-Tobacco. It's pretty impressive.
Lusin's mission is to evoke a sense of beauty with this cuisine, through an inspired rich atmosphere, taking the guests on a journey celebrating old traditions and introducing new tastes with their special recipes. With dishes created by Madam Anahid Doniguian, author of the Armenian Cookbook "Yepelou Arveste" and curated by 2 Michelin-star chef Marcel Ravi… we knew we would be in for a treat.
Now we were fortunate to try practically everything on the menu so we wont bore you with all the specifics but standouts for us we're the Armenian Itch, Lobster Manti, the sea bass and the  Famous Cherry Kebab made from spiced kebab skewers, perfectly charcoaled, and then covered with the signature home-made cherry sauce. Sour Cherries are sourced directly from Armenia in June-July of every year, and cooked adding sweetness to elaborate a distinctive mixture of sweet, sour, and salty flavour.

The desserts were also absolutely incredible with our personal favourite being the Pomegranate Eclair and the comforting Um Ali – Traditional Belnd of Fakes and Brioche with Milk and Nuts.
We washed all the delicious foods down with beautiful Armenian Wine and delicious cocktails which were crafted by mixologist Giancarlo Mancino, official beverage and bar consultant for the Rosewood Hotels worldwide.
Price wise, Lusin Mayfair is on the pricier side… not surprising given the location. Though if you're looking for a nice date spot and broadening your tastes of Armenian Cuisine… you can't go wrong here.
Lusin Mayfair
16 Hay Hill, London, W1J 8NY
https://lusinrestaurant.com/mayfair/
Reservations: 07384339370
Monday-Saturday 12-4, 6-11pm
Sunday 2-9pm
SOCIALS
Instagram: @LusinMayfair
FB: https://www.facebook.com/LusinMayfair
Written by Tegan LeBon