Beauty And Fashion Guide Part 1
Ahhh! We're finally out of lockdown and with that, it's time to brush up on all the things we've been neglecting! You know what I'm talking about…. fashion and beauty. I know I'm not the only one who has spent most of the year in trackies and pjs. We have dates to get excited about now, meet up with friends and family and it's even time to start getting back in the office, so we're here to help you put your best self forward.
Nails
A few of my best friends are always getting their nails done, but if you're like me… you just don't have the time. So here's two of our top picks.
Nail HQ Hardener: £6.99
This mineral-enriched formula with Peptide Complex, Vitamin E & Calcium will help toughen and protect the nails. Formulated with Rice & Soy Protein to help with brittleness and protect against splitting. While this was designed to help people with thin and weak nails, I found it great as a base coat or just to add some shine to your nails.
To purchase – click here
Lady Showbiz
The three beautiful new editions to the Lady Showbiz Beauty collection are the luxury, gel-effect polishes inspired by 60's starlets Grace Kelly, Audrey Hepburn and Sofia Loren. The result? Three stunning shades you'll want to add to your polish collection right away! Perfect for chic picnics in the park, sipping on champagne and channelling your red-carpet ready look. These colours are timeless classics and are also the perfect date night colours. What's more these polishes are formulated with Lady Showbiz's signature nourishing, cruelty-free ingredients for a high-shine that's kind to you AND to the planet. All Lady Showbiz polishes also come with a feel-good factor as 20% of all profits are donated to charities who improve the lives of people and animals in the UK and around the world. The price is great as each Nail Polish costs £12.00 from www.LADYSHOWBIZ.SHOP
Health: Face and Body
Skin Woof
SKIN WOOF TAN ENHANCING VITAMINS 1 MONTH SUPPLY – £19.95 GBP
Introducing the latest edition to VITAL C, the best-selling collection from IMAGE Skincare. Brand new for Summer 2021, the VITAL C Hydrating Facial Mist forms an imperceptible anti-pollution shield against environmental stressors with antioxidant protection from gold sub-microparticles and vitamin C. This lightweight replenishing and skin-energising spray contains naturally derived extracts from sugarcane to quench thirsty skin. Be prepared to become addicted to misting your face with the ultra-fine particles, skin is left velvety soft, dewy and illuminated – Hello Summer Glow! An essential add-on to every routine, it primes the skin before makeup, locks in hydration and gives tired skin an instant pick-me-up. The product retails at £38.00 and is available from IMAGEskincare.co.uk as well as Professionals, Clinics & Spas Nationwide.
Alteya Organic's Organic Bulgarian Rose Water: RRP: £17.70 
Use this aromatic flower water to soften and hydrate your skin and hair and indulge in the gentle rose aroma. Steam distilled and bottled in the heart of the Valley of Roses in Bulgaria, Alteya's USDA certified organic Bulgarian Rose Water is the world's most exquisite 100% pure, natural, organic flower water. The beautiful fragrance, special qualities and plants' synergy of the organic rose water are well known all over the world. By using a unique distillation technique, which embodies century-old traditions and modern technology, the special grade rose water completely preserves the biodynamic energy of the rose plant. To purchase, click here
Body
We've been spending a lot of time inside this and with May being one of the wettest ones in all the years I've lived here, we are forever grateful for Fake Tans. So look no further than the Self Tan Mousse  £14.99. It hydrates your skin while you tan with their vitamin infused Self-Tan Mousse. Our transparent water-to-foam formula is the easiest way to achieve an all over, flawless bronze. The lightweight foam glides onto skin- for a tan that's both fast-drying & mess-free. The SELF TAN DROPS MEDIUM DROP to be mixed with your skincare, makeup, or body care, the drops are easy to apply and are 100% customisable. This flexible formulation is perfect for both newbies and experienced tanners. There are so many ways to glow from just one bottle. The more tan drops you add, the darker your tan. Getting that vacay bronze has never been easier! To purchase: click here.
Polished London Rejuvenating Tooth Serum – £16.99 
Polished London is leading the way in oral care and teeth whitening, offering a wide range of vegan and PETA-approved cruelty-free products for your daily routine. With clinically proven formulas that promote healthy teeth and gums, as well as an irresistibly white smile, their innovation doesn't stop there. Polished London Rejuvenating Tooth Serum is a highly concentrated formulation containing scientifically-proven ingredients that safely remineralise and strengthen the teeth. A serum is an essential part of your daily skincare routine – so why wouldn't the same apply to your teeth? Polished London Tooth Rejuvenating Serum replenishes the teeth with vital vitamins and minerals to protect against cavities and sensitivity, whilst combating bacteria in the mouth. We've used their Teeth Whitening Products before so we know their good!
Beauty Tools
Oscar Charles Luxe Professional Makeup Artist Brush Set Rose Gold/Black – £59.95
Regular pric£59.95 GBPSale pric
This complete beauty set with 15 luxe professional makeup brushes and an Oscar Charles flawless beauty blender and a brush cleaner; beautifully presented in a stylish case for storage and transport is a must have. The Professional-grade brushes with hypoallergenic, cruelty-free fibres that are gentle on sensitive skin; includes Oscar Charles 100% quality satisfaction guarantee. They are Luxuriously soft, silky smooth, high-density fibres designed and crafted by industry experts and includes everything you need for perfect results every time.  I am now an Oscar Charles convert. They make blending and buffing your makeup super easy and had me looking flawless. To purchase click here.
So Eco Bamboo Facial Cleansing Kit – £12.00
So Eco is the face of responsible beauty. So Eco combats the problems of excessive & plastic packaging that has inundated the media in recent years. The environmental impact on plastics is huge and So Eco incorporates eco-focussed principles that ensure a lower impact on the environment through responsibly sourced product and packaging solutions. So Eco has been accredited by PETA for being Cruelty-Free & Vegan Friendly and Sublime Magazine has awarded the brand their prestigious 'Good Brand' award for 2018. We've loved their products before but we're even more in love with this pack of x2 So Eco Makeup Remover Pads and x2 Makeup Remover Cloths in a washable bag. They gently and efficiently remove makeup just by adding water. Dual-sided and reusable, the So Eco face pads are designed with a microfibre 100 times finer than human hair to ensure a thorough clean. Suitable for all skin types, each reusable Makeup Remover cloth can replace a total of 1500 single use pads. After each use wash with soap and hang to dry. Once a week wash in your washing machine. We do love a product that's good for the environment. To purchase: Click here.
Brushworks Precision Eyebrow Razor (Pack of 3) – £5.99 and Brushworks Micro Needle Derma Roller – £11.99
My eyebrows have been like they're own creatures during all these lockdowns. Had I known I could perfect my eyebrows with the Brushworks Eyebrow Razors. I would have purchased these years ago. This pain-free hair removal tool helps define the brow line without the need for tweezing or waxing, as well as gently exfoliating the top layer of dead skin cells, allowing for enhanced absorption of moisturisers and serums whilst helping makeup sit flawlessly on the face.This multi-use tool also removes the shortest of hairs from your upper lip, chin, bikini line, or arms and legs. Suitable for on the go or at home, the Brushworks Eyebrow Razors are ideal for both men and women. We were also excited to take our skincare to the next level with the Brushworks Needle Roller. This implement is covered with micro-needles, effective and painless needles which penetrate the surface of the skin, stimulating the production of collagen and elastin for a rejuvenated complexion. Incorporating Micro needling into your skincare regime can enhance your skincare results by increasing the absorption of serums by 300%, preventing breakouts, blackheads and providing many anti-ageing benefits, resulting in healthy, supple looking skin. To purchase both products: click here
Lips
Deliah Nude Lip Kit – £36 (worth £66 ) and Deliah Diva Red Collection – £28
Now ask any of my friends and they know I usually always have at least 12 lipsticks at the bottom of my handbag. You never know whether the occasion is going to call for the perfect red, nude, pink or any other colour of the rainbow. So we loved the range from the ETA Certified, paraben-free and vegan beauty brand, 
Delilah.
Delilah
is proud to be regularly worn by the likes of Holly Willoughby, Emma Willis and Katherine Ryan. The nude collection contains a
 carefully edited, wearable trio of lip products to take the guesswork out of choosing the right shades for dreamy nude lips. These wonderful three companions with disrobed tones celebrate the beauty of going "au natural" but keeping the richness of colour. 
THIS PERFECTLY MATCHED WARDROBE INCLUDES: 
Long Wear Lip Line | Shade Buff: 
This incredible long wearing dusky, pink nude liner is super smooth and highly pigmented, lines and defines effortlessly with an easy to use tapered tip and an extra built in sharpener. 
Colour Intense Cream Lipstick | Shade Muse: 
A timeless and dreamy, dusky pink nude that delivers a full pigment lip colour, with a smooth semi matte finish and contains Vitamin E for an ultra soft and hydrating feel and 
Colour Gloss Ultimate Shine Lipgloss | Shade Minx: 
This gorgeous dusky pink gloss is enriched with Vitamin E and botanical extracts lavishing the lips in smooth, comfortable colour, with a high shine (but not sticky) this is everything you are looking for in the ultimate lipgloss. 
The Diva Red Collection partners their beautiful bold reds including One Cream Lipstick and one Long wear liquid Lipstick. Turn up your brightest smile for that extra vavavoom! I've been wearing this one every time I've left the house and have gotten plenty of compliments. To purchase click here 
Vesta London Beauty 'Nude Lip Gloss Edition' – £13
For those looking for a little more light touch, the Nude Lip Glosses Edition from Vesta London Beauty is the perfect decisions. They are brand new and carefully made bespoke formula with ingredients such as Shea Butter & Cocoa Butter to help keep your lips moisturised and protected whilst letting your lips do all the talking. One of the main aims for the brand is to bridge the gap between luxury and affordability whilst remaining consistent and on trend. They're really lovely and great for when you want a more nature look. To purchase: Click
here
Eyes
Eye Candy Signature Collection – Skye – £9.99 and Invogue Lash – Girl's Night – £3.99
Eye Candy's Signature Skye Lashes showcase dense, cross-layered lashes at the roots, fanning out to reveal a feathery style at the tips. These high-quality lashes have been designed to open up your eyes, giving them their own set of wings!Each box contains one pair of Eye Candy Signature lashes – their lash adhesive is sold separately. You can also turn up the volume of your eye looks with the Invogue lashes in the style Girl's Night! Boasting luxuriously soft, synthetic fibres that add intense volume, these lashes will make you stand out for all the right reasons. Easy to apply, these reusable lashes can be worn with or without mascara.
The Eyelash Emporium: Act Natural (£8.95), Money Shot Studio (£8.95), Get The Angle (£8.95), and for adhesive use Eyelash Emporium Double Act Studio Strip Lash 2in1 Non-Latex Adhesive (£8.95).
Eyelash Emporium are an award-winning lash powerhouse that was born backstage at the prestigious Pinewood studios and they've been perfecting faultless big-screen lashes ever since. Now, they've brought the high-definition movie star glam to the streets with their exceptionally crafted Studio Strip lash collection. Even their most subtle Act Natural Studio Strip lashes command attention, but to really steal the scene we recommend the Make A Scene Studio Strip Lashes with their unique spiky-style; Money Shot Studio Strip Lashes for an Instagram worthy pic every time, and to make an entrance: the multi-layered and ultra-dramatic Extra AF Lashes. Whichever luxe look you choose, apply your lashes in seconds with the Eyelash Emporium Double Act Studio Strip Lash 2in1 Non-Latex Adhesive for maximum holding power all day, in all temperatures. The full Eyelash Emporium Pro collection is available at www.eyelashemporium.com.
Pura Anada Makeup Compact Palettes – £29.95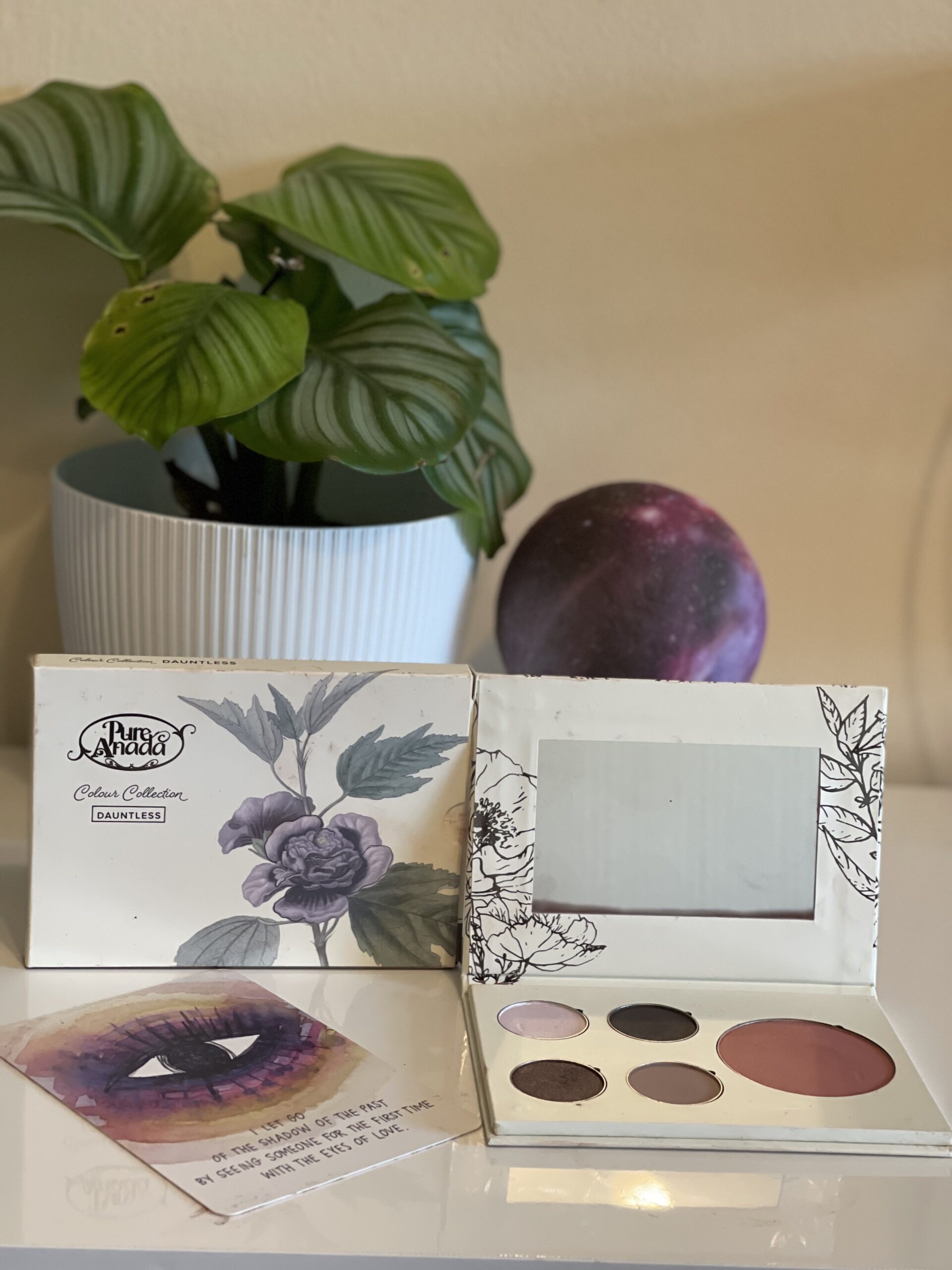 Add some award-winning colour to your beauty kit with PureAnada's all-natural mineral makeup Compact Palettes.
Each of the four palettes features a carefully curated collection of a Pressed Blush and four Eye Colours in Pure Anada's most popular shades. Both the Pressed Blush and Eye Colour scooped awards in the prestigious Beauty Bible Awards 2020 – This is great recognition for an independent natural brand. They are also cost-effective as the the Pressed Blush & Eye Colours included in the Compact Collection are available individually as refills so if you run out of one of the colours, you can restock by purchasing the refill in that colour and just pop it into your compact.  Alternatively, you can take your pick from the other Pure Anada mineral colours to change your look as and when you wish. Pure Anada is handcrafted in the Canadian prairies from fresh, wholesome ingredients where they incorporate the goodness of nature into each of their products.  Using ingredients derived from nature, luxurious plant oils, nourishing butters and ethically mined minerals are combined to create a comprehensive range of nurturing bodycare, skincare, haircare and colour cosmetics with clean, natural formulations which are free from common allergens and not tested on animals. The two compacts we would recommend include the The Dauntless Palette (a daring collection of shades for a bold and dramatic look. Pinkish plum blush is accompanied by four eye colours including deep, royal grape, dashing black ash, hazy lilac grey, and frosted, pale lavender)and the Dreamy Compact Palette (a romantic and deep, dusty rose look. The creamy gold highlight is complemented by four eye colours including matte taupe grey, glistening rose pink, matte plum, and glittering deep rose).Pure Anada is available in the UK exclusively from Live in the Light – the online natural and organic lifestyle store www.liveinthelight.co.uk
Scents/ Highlighters/Bronzers
So…? YOU Summer Breeze – £4.99, Aoura London Free Spirit Body Mist – £9.99 and Glow by So…? Illuminating Highlighting Palette
So…? YOU Summer Breeze is an easy going fruity floral fragrance which evokes memories of sun-kissed skin and an all-girls holiday. So…? YOU Summer Breeze body mist has a creamy coconut and passionfruit top note that opens into exotic floral notes, and then finishes with a golden amber, musk base. This is available from www.sofragrance.com and www.superdrug.com. Aoura London Free Spirit body Mist captures your mind and heart with its floral, fruity notes of mandarin, peach and pear. Feel free with this fragrance as it leads to a heart of rose, white flowers and closes with a warm, musky woody base. It also holds notes of cedar and sandalwood. Purchase this from www.boots.com. Glow by So…? Illuminating Highlighting Palette allows you to highlight your brow bone with this blinding palette, a highly pigmented multi-use palette to create a dewy luminous sheen on the skin. Get ready to level up your ultimate glow with three beautiful buttery shades that suits all skin tones. The Palette Contains: Prosecco Pearl – a shimmery rosy pink, Glow Getter – a shimmery gold champagne and Bronze Babe – a shimmery warm bronze. This is available from www.sofragrance.com
Iconic Bronze Bronzers –  £10 and Highlighters – £8.50
The hotly anticipated new Iconic Bronze make-up products have arrived and they are already a hit. Be bronzed & beautiful with the Miami Matte and Ibiza Shimmer Bronzers which will give you a sunkissed glow in seconds. Finish your look with the Highlight & glow. We love the Golden Galaxy and Champagne Supernova Highlighters, which are ultra lightweight highlighting powders designed to create a show stopping glow that definitely catches the light. The fine formula provides buildable coverage with a pearlescent glow that looks killer with a tan. These new highlighters and bronzers can be used on their own or together to create a masterful make-up look with ease. Both are now available at iconicbronze.ie
Dresses
Now you've created your flawless look, we recommended getting an outfit that will make you feel like a million bucks. We loved the dresses from Isawitfirst.Holidays are back on this summer, so it really is the perfect time to prep your wardrobes for when your favourite hot destinations get added to the green list or you visit those gorgeous spots in the UK. It's time to start having some fun in the sun with items currently on offer at reduced prices, including dresses, sandals, bikinis, hats and knit cardigans for those summer sunset walks along the beach. Shop your summer wardrobe here. These are two of our favourites here and here
We also haven't forgotten about the guys! Here's a sneak peak but we'll have more in Part 2.
CBD Beard Oil,– £21 – stocked on  mellow, the UK's highly curated CBD wellness marketplace. A beard oil infused with the purest hemp extract to promote growth and nourish. Other ingredients include Jojoba (Simmondsia Chinensis) oil, Cedarwood Atlas (Cedrus Atlantica) Oil, CBD (Cannabidiol)
EDE: burnout roll on therapist – £15.00 and morning brew roll on therapist – £15.00
Inspired by the busyness of our lives. Whether that's feelings of overwhelm or underwhelm, the burnout formula helps relieve and balance the emotions to help you wind down. Set the mood. The immediacy of our world can make everything feel important. We need to make space to allow ourselves to unwind and shut down to avoid that feeling of 'burnout'. Use the burnout blend when you need to create the mental space to quieten the mind and allow rest. While the Morning Brew is a zesty, vibrant boost that will put a twist on your mornings or anytime you're feeling a lull in energy. Use morning brew as a mind and body energy booster. The morning brew blend encourages concentration and productivity, so be prepared to feel energised and focused for whatever you have to tackle in your day. To purchase click here:
Compiled and written by Tegan LeBon
Photos by Tegan LeBon
Dress photos by ISAWITFIRST