Black Powder Gin Cranberry Gin And Salted Caramel Gin Liqueur Review
I recently discovered Black Powder Gin at a recent Gin and Cheese night (review here) and was blown away by how delicious there Cranberry Gin And Salted Caramel Gin Liqueurs were. Luckily I got to meet the distillers behind this family run business from Lancashire and they let me take a bottle of each home to truly experience their gins.
While, Black Powder Gin do make a traditional London Dry and Navy Strength, their passion appears to be in developing fruit gins and gin liqueurs. Their philisophy comes from a lengthy history at the Preese Hall estate where as an operational farm they pride themselvss on working with the land and alongside nature. Their gins are made from select fruits and botanicals, harvested from their estate or carefully sourced from local suppliers to ensure consistency and the highest possible quality.
Starting with the Cranberry Gin, Black Powder Gin states this is a 'gin that has a beautifully balanced sweetness and astringency of ripe cranberry 'superfruit'. Delicious berry notes burst through the gin to create an ideal balance of natural fruit juice, with subtle astringent notes". For the perfect serve, Black Powder Gin recommend serving over ice with a star anise & Indian Tonic.
I tried this gin, three ways… neat, with a slimline tonic and with Sekforde's Gin Botanical Mixer. Neat over ice is utterly delightful. Probably quite dangerous though, as despite the 37.5% ABV, it's very easy to forget your drinking a spirit. The gin is smooth and sweet with that tangy kick of cranberries. I thoroughly enjoyed it and was so tempted to have another tipple of it without adding tonic water… though I stopped myself because I never would have gotten this review written had I continued enjoying it over ice. I also found this a lot nicer than Sloe Gin and was tempted to see how well it would go added to prosecco.
I unfortunately didn't have Indian Tonic at home, so I had to use Fever Tree's refreshing light tonic water. First sip… was summer in a cup. The tanginess of the cranberries gives the drink a little bit of a zing which is very pleasant. I also didn't have any star anise, so improvised with some grapes which added to the sweetness of the gin, that the tonic water took away.
Now my third glass, I chose to use Sekforde's Gin Botanical Mixer. While it was very drinkable, the mixer wasn't suited for the Cranberry Gin. The botanicals in the mixer slightly overpowered the sweetness and tangy flavours of the cranberry. This would be more suited to those who aren't a fan of tonic water and want to mix up their summer drinks with a low sugar option.
Black Powder Cranberry can be purchased for £33 pounds for a 70cl bottle or £13.99 for a 20cl Stacking Gin bottle online on their website or for a full list of stockists click here:
Black Powder Gins have an extremely large selection of fruit gins, along with their cranberries. These are perfect for those who don't like juniper heavy gins.
Citrus Japonica Gin
Cucumber & Rose Gin
Gooseberry Gin
Greengage & Victoria Plum Gin
Pink Elderflower Gin
Pink Grapefruit Gin
Quince Gin
Raspberry Gin
Redcurrant & Pomegranate Gin
Rhubarb & Ginger Gin
Rhubarb Gin
Sloe Gin
Valencia Orange Gin
Wild Elderflower Gin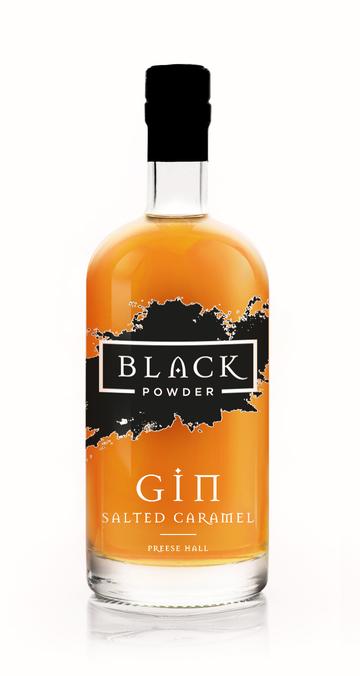 Now for the creme de le creme, the Salted Caramel Gin Liqueur! Also priced at £33.00 for a 70cl bottle, this is a dream come true. At a higher ABV than most liqueurs at 30%, this liqueur is simple indulgence. A creamy fusion of sea salt, caramel & Black Powder Gin's London Dry Gin, it is utterly divine. Black Powder Gin recommend you drink the Salted Caramel Gin Liqueur neat, over ice or in cocktails. Myself personally, I'd drink it after dinner with dessert or heck skip dessert and have this neat instead.

The Salted Caramel Gin Liqueur has proven to be so popular that it's currently sold out!
Written by Tegan LeBon
Images courtesy of Black Powder Gin Website.