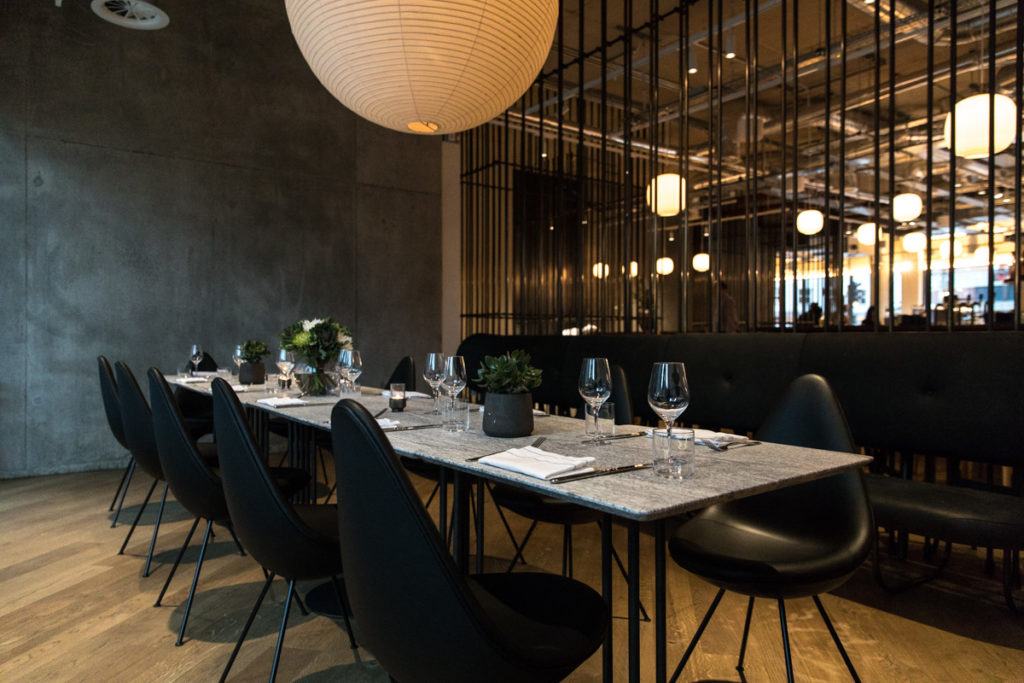 Being a massive fans of Palatino, the restaurant at Fora's flagship site in Clerkenwell, we were excited to experience their latest collaboration with the London foodie scene. Their newest building in Borough is now home to super stylish Scandinavian restaurant and bar, Borealis, run by the team behind renowned restaurant 1 Lombard.
The space itself is pretty spectacular. Industrial over-hanging's, sleek dark walls, large oblong lights running in lines around the room, it oozes skandi cool through and through. A big believer that a fantastic bar is the heart of a good restaurant, the huge oval one purposely taking over the centre of the room instantly instilled a sense of trust within me.
It was an early lunch sitting on a Monday, so we had our pick of tables. We chose one in the semi-private dining room. What looked like a huge paper moon hang from the centre of the room over our heads, which sounds bizarre, but is actually quite magnificent. Elegant black tables with chairs to match, fulfilling all the stereotypes, these guys really know how to do furniture.
The first part of the menu was a bit of a question mark, a vast selection of Smorrebrod. We'd both heard this word before but didn't know what it was, fish maybe? Our waitress chuckled and explained that these were open sandwiches, the skandi way of making these. We opted to share one out of sheer curiosity, alongside our starter.
I began with violet potato salad, with pickled cucumber, burnt sweetcorn and buttermilk dressing. The potatoes were violet, which sounds obvious given the name, but made me pretty excited never the less! Simple things ey! Powdery potatoes with a buttermilk dressing, it was indulgent for sure, but something about the freshness meant it felt somewhat nourishing. The smorrebrod was a good shout; rye bread with a super ripe, lemony avocado sliced on top, there was once again a clear emphasis on freshness here.
My guest had the pumpkin soup and by the looks of how quickly she ate it, I could tell it was a winning dish! With our belly's warmed up we moved onto our mains.
I went for the vegi main, the runner beans, with a butternut squash side salad and sourdough bread to share. Runner beans isn't something that sounds that exciting, but served the Borealis way, with peas, lemon, heritage tomatoes, Sormlands adel blue cheese and hazelnuts, this was a creamy exotic feast. Even the butternut salad had a creative twist, expertly mixed in with kale, hazelnut and lingonberries, this was a version of clean eating I enjoyed.
My guest had the roast & pulled herb fed chicken, which came with new potatoes, radish and a tarragon and buttermilk dressing. Another delicious dish, the chicken was tender and full of flavour and the dressing complemented the chicken and vegetables nicely.
Our dinner was ending and we congratulated ourselves on our healthy eating, but I'd already had a glimpse of something completely indulgent which I couldn't resist.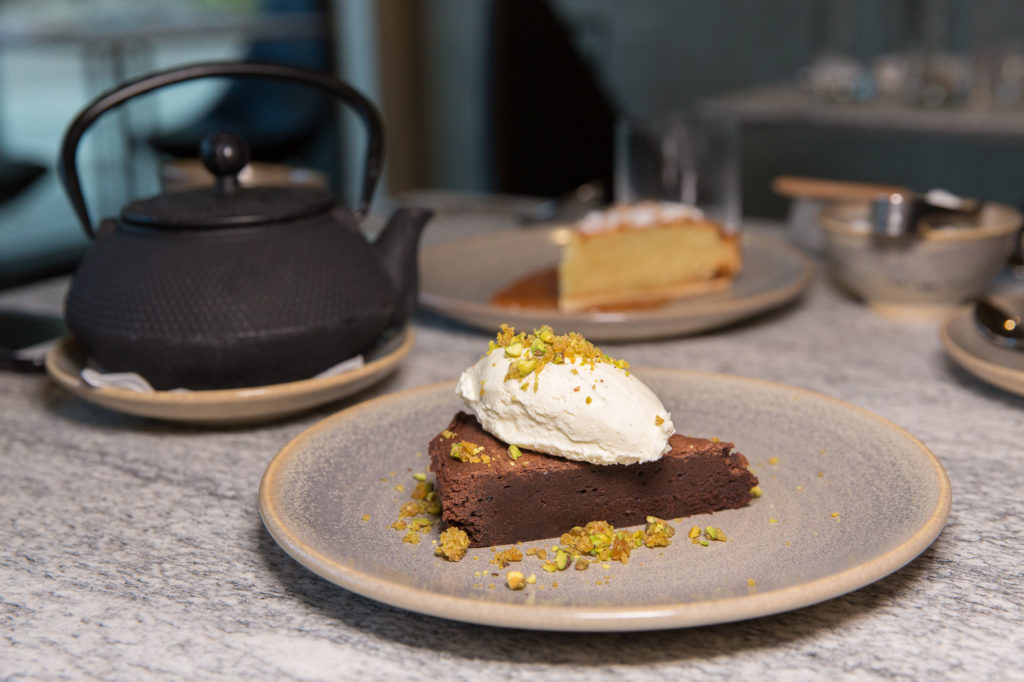 Kladdkaka with whipped cream and pistachio praline. A dense but gooey chocolate cake with the creamiest of cream, it felt like my healthy start had gone completely out the window. And it was totally worth it. A chocolate lovers dream, it was so deliciously rich, with the cream and praline adding a new dimension of extravagance.
What's gearing up to be one of the top restaurants in Borough, Borealis offers contemporary Scandinavian food of the best quality. With a menu offering a mix of indulgent dishes and somewhat 'cleaner' options, the team offers a varied menu for all times of the day.
Address: 180 Borough High St, London SE1 1LB
Website: www.borealislondon.co.uk
Written by Jordan Crowley
Photography by Nyla Sammons