CELEBRATE WORLD OYSTER DAY WITH NOILLY PRAT®, THE ORIGINAL FRENCH VERMOUTH AT VARIOUS LONDON LOCATIONSENJOY THE ULTIMATE PAIRING WITH NOILLY PRAT COCKTAILS AND SUMPTUOUS OYSTERS ON WORLD OYSTER DAY, FRIDAY 5TH AUGUST 2022 
In celebration of World Oyster Day on the 5th August, NOILLY PRAT®, the original French vermouth crafted by the sea, will be partnering with Wright Brothers Battersea, the Melusine, the Cadogan Arms, the George and Sussex Bar & Restaurant, Soho to enjoy the ultimate oyster pairing this summer.
Jump aboard the Coaling Jetty at the invitation of the Wright Brothers Battersea for a choice of exquisite platters. Made to share between two, they are offering a dozen delicious Jersey oysters, a tasty selection of Spanish Charcuterie, including salchichon, lomo and serrano hams, and chorizo, topped off with a choice of 2 Noilly Prat cocktails; the Ferrari, The Anne Rosine or the Algonquin, all for £42 (or £32 without the Spanish meats), available from 1st to 25th August. Choose from their stylish range of cocktails, all featuring Noilly Prat, starting with the Ferrari, perfectly balanced with Amaretto's trademarked sweetness and Angostura Bitters. Alternatively, why not try the Algonquin, dashed with pineapple and lime juice; or finish with the Anne Rosine, a delectable cocktail anchored by Grenadine syrup and mixed with vodka and cranberry juice. Cocktails start at £10.
Head over to the Sussex in Soho to try a half-dozen oysters accompanied by a Noilly Prat cocktail of your choice for £20. Try a Noilly Martini, either dry or dirty with added Oxley gin or an effervescent Le Sud Spritz. This perfect pairing will be available from 2nd through to the 7th August. As if this wasn't enough to whet your appetite, Noilly Prat will also have a limited edition menu of a half-dozen oysters and a Noilly Prat and Oxley gin Martini running at both the Cadogan Arms in Chelsea and the George at Fitzrovia from 5th to 7th August for only £30.
For those looking for an experience near to water, why not head to St Katharine Docks, and soak up the atmosphere whilst enjoying the most idyllic setting at The Melusine, where you can sample their English or French inspired oyster and cocktail offering. Enjoy 2 Maldon oysters and a cocktail made from Noilly Prat, Oxley Gin, maraschino liqueur, cherry bitters and a lemon twist for £15 per person, or 2 Cocollos oysters alongside a perfectly paired cocktail including Noilly Prat, Calvados, Dubonnet, orange bitters and dried orange for £20 per person. These menus are available between the 3rd to the 10th August.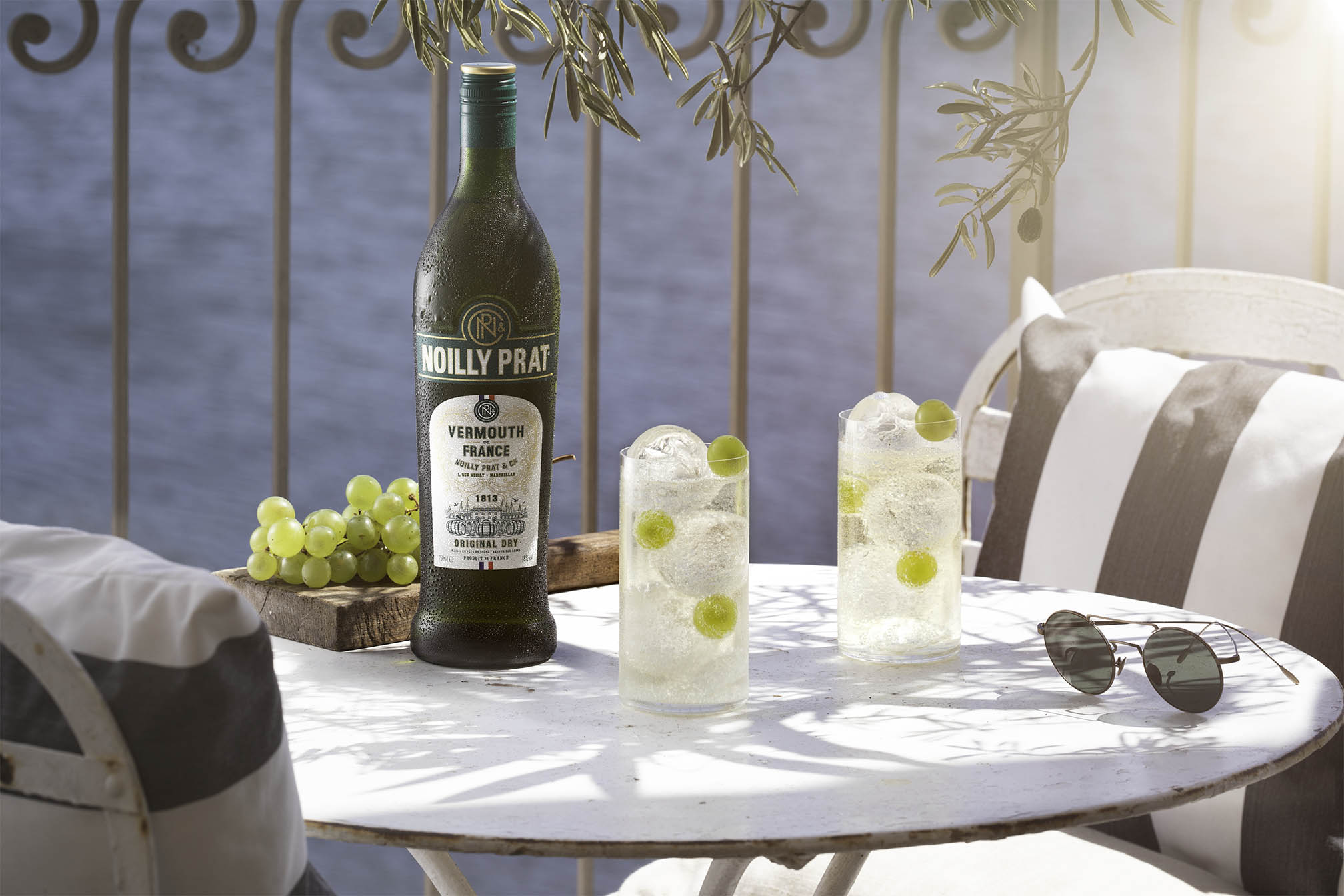 Maison Noilly Prat's proximity to the sea means Noilly Prat was always destined to be paired with seafood, with its well-rounded taste being admired by top chefs across the globe. A freshly shucked Jersey oyster paired with a Noilly Prat Original Dry L'Apéritif, served over ice with a twist of lemon, is also the simplest way to transport yourself to the South of France. For those who will be shucking at home, discover the L'Apéritif and Le Sud cocktails as perfect cocktail pairings.
NOILLY PRAT ORIGINAL DRY L'APÉRITIF
The simplicity of Noilly Prat's L'Apéritif serve makes it the ideal pairing for iconic French foods such as oysters, which complements the flavour profile.
Ingredients
1. 75 ml Noilly Prat Original Dry
2. 1 Twist of lemon
3. Ice ball
Method
1. Pour Noilly Prat Original Dry over the ice sphere and stir once.
2. Squeeze the lemon peel over the glass to release its essential oils.
3. Garnish with the twist of lemon.
Inspired by the vermouth service on draught created by Dante in New York (voted the second-best bar in the world*) – the Le Sud cocktail expertly combines Noilly Prat Original Dry with sparkling water and frozen grapes for a long, low ABV serve inspired by the French heritage and location of Noilly Prat.
NOILLY PRAT LE SUD
Ingredients
1. 75ml Noilly Prat Original Dry
2. Perrier® chilled
3. Frozen white grapes
4. Small spheres of ice
Method
1. Stack the ice spheres in the glass until the last one overhangs the rim of the glass.
2. Pour Noilly Prat Original Dry over the ice and fill with chilled Perrier®.
3. Garnish with the frozen grapes.
NOILLY PRAT ORIGINAL DRY AND OYSTERS
Noilly Prat Original Dry makes the perfect pairing with oysters. Simply pour your chilled Noilly Prat Original Dry over the oyster, and voila, you and your guests are ready to enjoy it!
Ingredients
1. 6 Oysters
2. Noilly Prat Original Dry
Method
1. Prepare and shuck your fresh oysters.
2. Pour chilled Noilly Prat Original Dry over the oyster.
3. Enjoy by sipping from the shell or consuming in one.
#NoillyPrat Instagram: @MaisonNoillyPrat Facebook: @NoillyPrat1813 www.noillyprat.com