Can you taste in full colour? Experience the vibrant flavours of new Glenfiddich Orchard Experiment transformed into a multi-sensorial artand cocktail experience 
Since its inception in 2017, The Glenfiddich Experimental Series has continuously pushed the boundaries of single malt whisky making. Now, to launch the latest in the series – Orchard Experiment – Glenfiddich is pushing the boundaries of whisky tasting, in partnership with synaesthetic artist Jake-Andrew Nason and Silverleaf, a new destination cocktail bar at Pan Pacific London.
For four weeks only (11 August – 4 September), guests can experience this one-of-a-kind artistic experiment, featuring vibrant physical artwork, digital projections, soundscapes and tactile effects, alongside a bespoke menu of innovative Glenfiddich Orchard Experiment cocktails, curated by Chris Tanner, General Manager at Silverleaf.
Jake-Andrew Nason is a gestural abstract expressionist artist who experiences synaesthesia, a condition which, for him, means that when two or more of his senses are triggered, he immediately
experiences these as visuals or colours. In this maverick artistic experiment, Jake-Andrew has used this remarkable ability to translate the vibrant flavours of new Glenfiddich Orchard Experiment into art – creating a multi-sensorial experience for guests at Silverleaf and visitors to Glenfiddich.com to be immersed within. Marrying traditional painting techniques with contemporary concepts and movements, evoking the complex flavour notes and layers found within the whisky and whisky cocktails, drinks-lovers are invited to experience The Taste in Colour Experiment for themselves, to interrogate and elevate their own individual perceptions of taste.
Set within ALBA, the exclusive, private tasting room of one of London's most exciting new establishments, Silverleaf, a bar known for pioneering mixology through a forward-thinking menu rooted around flavour and colour profiles, The Taste in Colour Experiment offers a malt whisky and cocktail immersion within an altered sensory environment, a place where taste, touch, sound, vision and smell are all experienced in new ways. Taste, in full colour.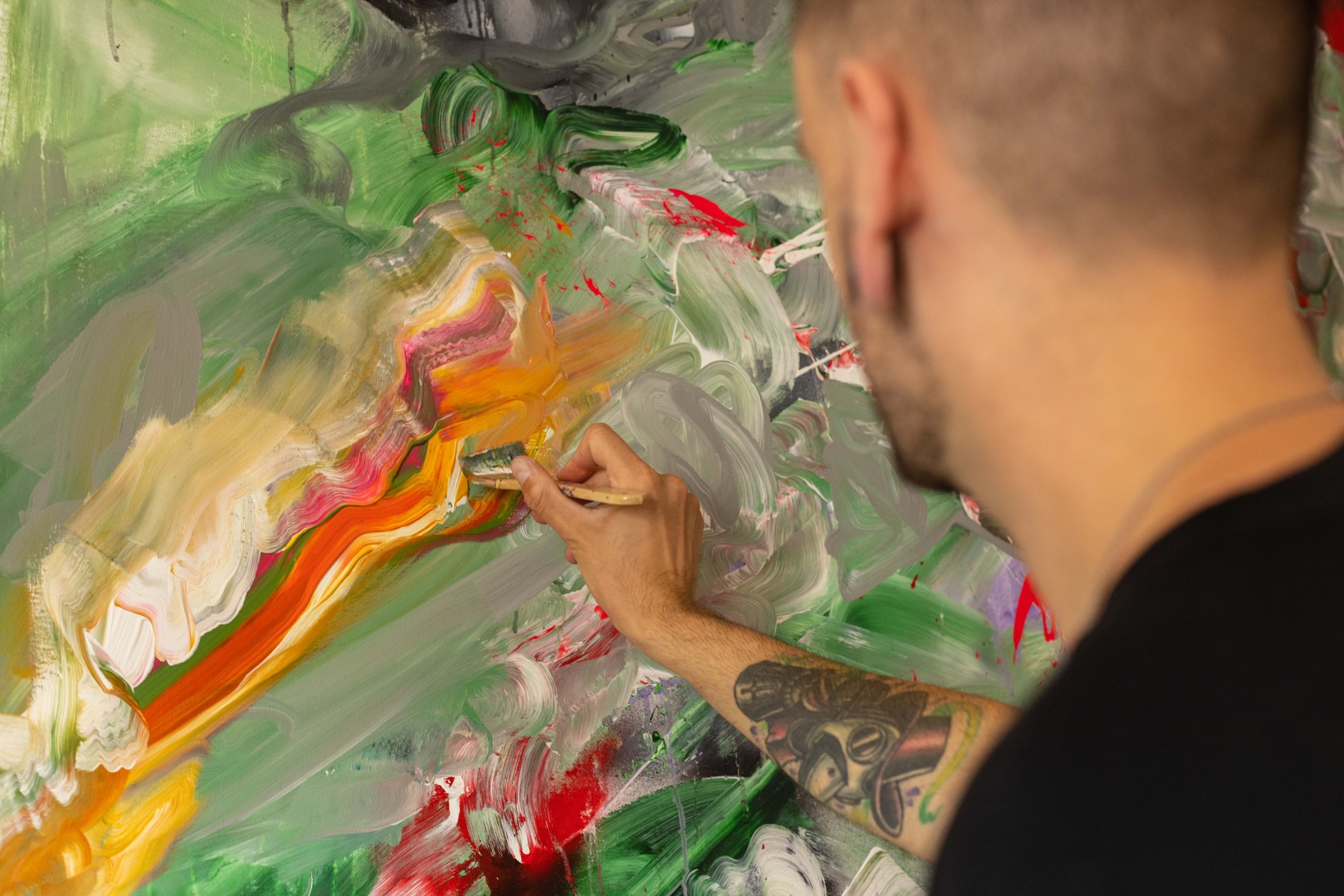 "I was truly inspired when Glenfiddich challenged me to interpret the taste of Orchard Experiment as an immersive art form, not least because so much about the development of this remarkable liquid mirrors my own creative process. Understanding the layers and the depth of the palette lend itself perfectly to my style of artistic experimentation – creating an audio-visual crescendo that rises and builds as the lighter notes give way to the deeper flavours underneath, which is something my synaesthesia enables me to articulate" said Jake-Andrew Nason.
Mark Thomson, Glenfiddich Ambassador to Scotland, said: "Orchard Experiment is the latest addition to the Glenfiddich Experimental Series, a collection of pioneering single malts that push the boundaries of taste, and we wanted to find a way to bring this to life in a unique experience for consumers that truly immersed them in the vibrant flavour of this whisky. Watching Jake- Andrew translate his own experience of tasting Orchard Experiment into art has been a privilege and we can't wait for guests to experience the spectacular results for themselves, as well as question their own perceptions of taste, in this exquisite setting."
Drinkers will also have the opportunity to book curated experiences, specially created to enable guests to get even closer to new Glenfiddich Orchard Experiment and this unique artistic collaboration. These include an art & tasting workshop that challenges consumers to create art based on their own interpretation of taste, guided by Jake-Andrew Nason, and a tasting masterclass with Silverleaf mixologists that combines flavour and art to create personalised cocktails.
Glenfiddich x Jake-Andrew Nason present: The Taste in Colour Experiment takes place at Silverleaf, Pan Pacific London, from 11 August – 4 September 2022.
To make a reservation or to book a curated experience please visit Design My Night, tickets start from £35.
Glenfiddich Orchard Experiment is available to purchase from high street retailers and online now, RRP £43.