Cloudy Bay Review
Cloudy Bay, a New Zealand wine company, has taken over the ground floor bar at Selfridges to transport guests to Marlborough, New Zealand.

Cloudy Bay wines was founded in 1985 by David Hobbes and Kevin Judd and is one of New Zealand's most well known wineries. There are seven Cloudy Bay wines available: 
Cloudy Bay Sauvignon Blanc 2020
Cloudy Bay Pinot Noir 2019
Cloudy Bay Chardonnay 2019
Cloudy Bay Te Koko 2016
Cloudy Bay Te Wahi 2017 
Cloudy Bay Pelorus Brut 
Cloudy Bay Pelorous Rose 
To start, we had the rose. This reminded us of summer with strawberries, cherries, cranberries and apple flavours. It's dry, crisp and not to sweet. We then moved to  the Sauvignon. This was bursting with fruits like lime, grapefruit, lemongrass and hints of passionfruit. A vibrant and zesty wine we'd definitely recommend. For red wine lovers, the Pinot Noir has flavours of black and autumnal fruits such as plum, Loganberry and cherries. It is also easy drinking with a good balance and finish. 
Glasses of Cloudy Bay wines start from £14 with bottles going up to £85. There are various wine packages available so you can try 2 or 3 wines.
We also enjoyed two Cloudy Bay cocktails (£14 each). The Cloudy Bay features Cloudy Bay Sauvignon Blanc and italicus, an Italian liqueur made with rose petals. The Elderflower Spritz feature Cloudy Bay Pelorus, Belvedere lemon and basil with elderflower.  Both were light, and bursting with citrus flavours. Besides the Cloudy Bay wine range, the bar also offers a range of champagnes, and soft drinks.
There is a small selection of menu items such as almonds (£4), olives (£5) or a vegan summer salad (£12.50). We felt classy as we sampled some Beluga caviar served with blinis, creme fraiche and lemon £50.  The world famous Black label jamoěn ibeěrico de Monatanera is served by itself for £30 or with a glass of Te Wahi Pinot Noir for £49. This easy drinking red wine is full of red fruit notes and spice tones making it the perfect accompaniment. The grapes are harvested from two sites to create a structured, long finish with hints of violets and cinnamon. The name Te Wahi comes from the Maori phrase for "the place" and is said to embody the beauty of New Zealand's Central Otago.
Cloudy Bay haven's pop up bar brings an oasis of calm to one of London's busiest stores. We entered through an opening in a tent, and we'd seated at the snug- a sofa with a round table. Earthy tones and photos of the New Zealand landscape greet us. From the wooden bar, to lanterns and plants, the Cloudy Bay haven bar is designed to bring nature to busy Londoners. Given the ongoing coronavirus pandemic, there are social distancing measures in place.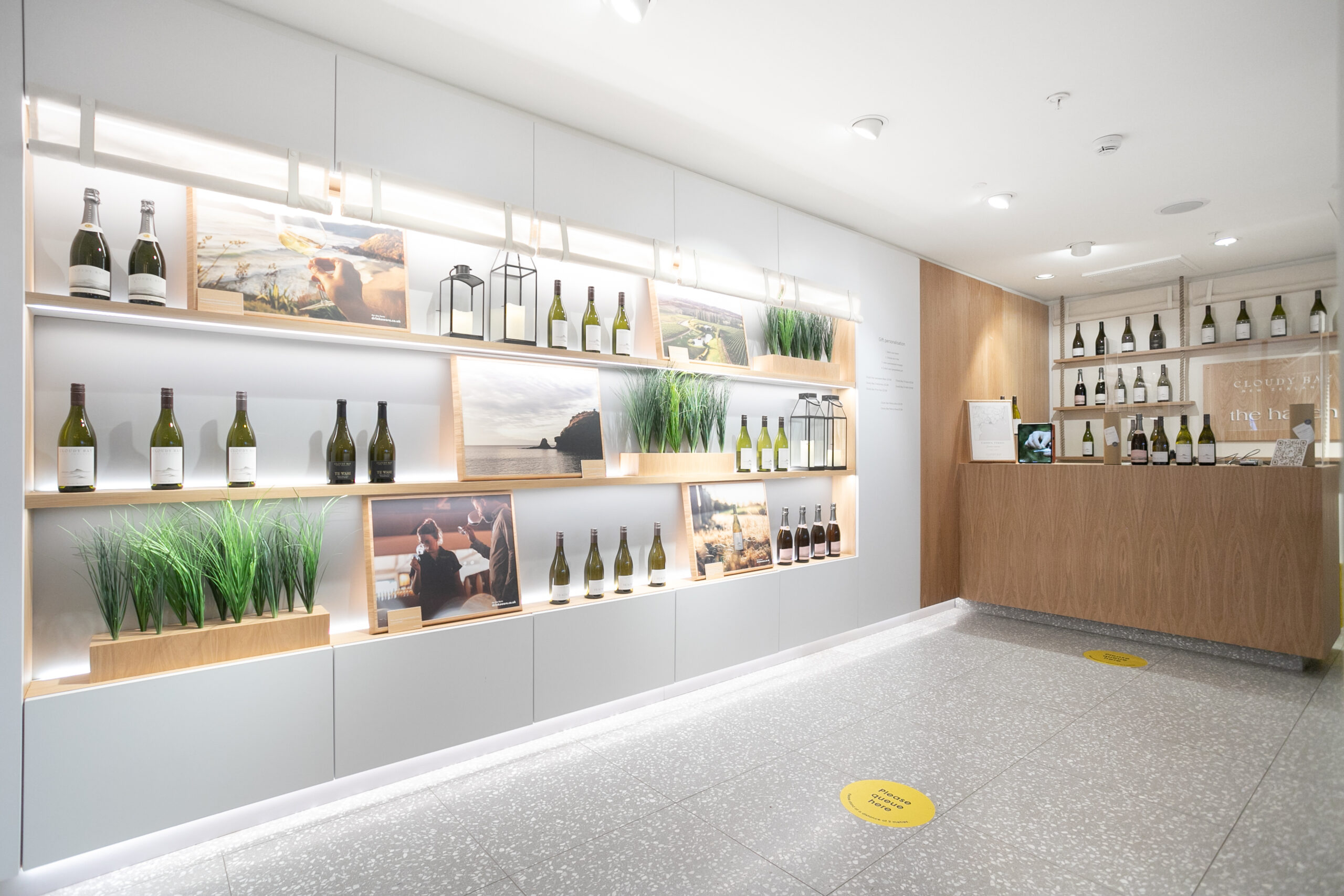 In addition to the bar, Cloudy Bay invites guests to think about their own haven and create a personalised map which can be purchased with a bottle of Cloudy Bay.
A note in the Cloudy Bay menu says a haven is where we find a home, kindness, company and comfort. If you're looking for a little peace and quiet for yourself or with a friend or partner, then Cloudy Bay haven's bar at Selfridges should be on your list. 
The Cloudy Bay haven bar will be at Selfridges until the start of October. It's open Monday – Sunday 11:30 to story closing which is 9pm everyday except Sundays when the store closes at 6pm. 
Address: Selfridges & Co
https://www.selfridges.com/GB/en/features/info/stores/london/store-services/restaurants-bars/cloudy-bay-haven/
Facebook: https://m.facebook.com/selfridges
Instagram: https://instagram.com/theofficialselfridge 
Twitter: @selfridges 
Website: https://www.cloudybay.co.nz
Instagram: https://instagram.com/cloudybay
Facebook: https://m.facebook.com/cloudybay
Written by Caitlin Neal