Co-Living Is The New Way Of Renting with Folk At THE PALM HOUSE
We've just discovered the new way of renting and I wish it was around when I first moved to the UK! This really is the perfect place for people new to London who are looking to be apart of a community and still have their own space.
Folk (www.folkcoliving.com) is new co-living brand on a mission to disrupt the rental market and they've just launched The Palm House in Harrow. Using extensive in-market research, Folk's co-living spaces have been created to erase the pain points of traditional renting and provide a better resident experience. The Palm House has been thoughtfully designed around Folk's key pillars of community and connection, providing shared spaces that encourage social interaction and the formation of new friendships and relationships. The brand will give its residents the opportunity to enjoy new experiences every day through a varied programme of events, ranging from morning yoga to evening shenanigans. 
We were given the opportunity to spend the night and live like a resident to see what the fuss was all about and to be honest… if my lease was up… I'd be moving in tomorrow.
Upon arrival, we were greeted by staff who really are part of the family. They know residents by name, help co-ordinate events and ensure that residents' every need is met. We loved Nicco (our main host for the night) as we sat down with him to enjoy a cuppa in Mule, the on-sight bar, cafe and restaurant and learnt what the team at Folk had planned for us.
Since the onset of Covid-19, demand has grown hugely for co-living spaces in cities and they have become a increasingly attractive and cost-effective way for people to live, work and socialise in one building. We learnt all this and more as Paul Naylor (General Manager) gave us the tour to show all what Folk at The Palm House had to offer.
Folk at The Palm House offers four sizes of Studio apartments starting from £1,198 p/m with all utilities, council tax, events, access to shared spaces and services. The site is located in Harrow, which provides rapid train connections into London Euston in as little as 12 minutes. Built across eight floors, The Palm House has 222 beautifully-designed private studios and a collection of impressive shared spaces.  All bills come in one simple package, paid via a single monthly payment. Folk has a 24/7 on-site team to provide support to residents, including a dedicated Community Manager to help people settle in and connect with others. The Palm House offers a variety of shared spaces, all thoughtfully designed, including a MasterChef-style community kitchen, screening room, gym, playroom and two huge roof terraces with views of London.
We were able to enjoy these shared spaces with a Yoga Class in they gym as part of the Mindful and Well-being Mondays and in a Vegan cooking class led by Nicco. The cooking class is a great idea with residents being encouraged to cook and eat together as a community. It really was a lot of fun getting to know the residents, all aged in what we're guessing is late 20's to late 30's. The food was all provided by the team behind Folk at The Palm House and is part of their regular line up of events. They even do gin tastings, movie nights and have plans for many more cool community building activities in the future.
The next morning after a light breakfast we settled down to work in The Palm House's 4,000 square foot co-working space available for use by both residents and the local Harrow community. Light, airy and filled with greenery, the space offers 70 desks with super-fast WiFi, break out spaces and quiet meeting rooms. With many people now working from home more regularly, Folk's dedicated co-working space gives residents a different environment to work in that's not their bedroom. A convenient change of scenery, the space enables residents to draw a line between their private studio and where they work, something many people in flatshares aren't able to do.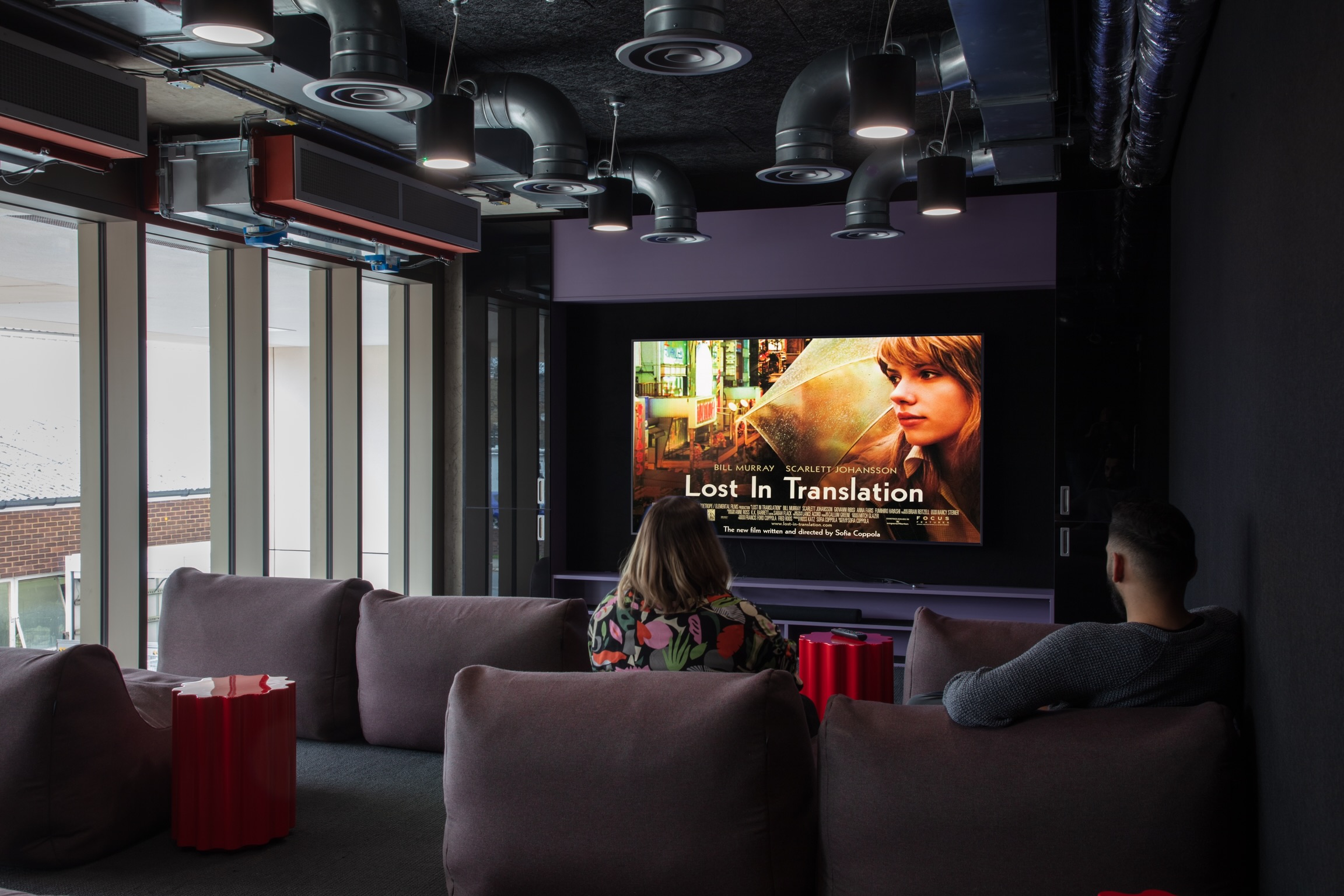 As someone who doesn't have a regular office, this was a great way to spend the morning and definitely made me feel more motivated to work. I mean if you're anything like me, there's some days where you spend the whole day in bed typing away… this was definitely a more attractive (and better for your back) way to work.
Paul Naylor, General Manager at The Palm House says, "We're really excited to launch Folk's first co-living space in Harrow, just a 12-minute train ride from Euston. The Palm House takes all the best bits of co-living and combines them with state-of-the-art design and innovative technology, to make for a more sociable and hassle-free rental experience.The Folk brand has been created by a team with years of experience and knowledge of residential property and co-living. We believe that this incredible way of renting really makes sense for post-pandemic life: bringing a great balance of communal living and working; private comfort and outdoor space."
The Palm House is powered on 100% renewable energy and Folk donates 1% of the net operating profit of the building back to local charities and community organisations. Alongside its donations, Folk will provide local groups with access to the co-working and events spaces at The Palm House and will actively encourage residents to get involved in volunteering opportunities in the local community. We love this idea as there's plenty of volunteering opportunities in Harrow and there's regular recruitment drives set up in the town centre so residents should check these out. 
There's plans to open up more Folk Co-living apartments in Earlsfield and Battersea and after visiting the Harrow one, we can see why. I could see myself living at The Palm House for sure… so who knows maybe we'll be neighbours soon.
Apartments are renting fast so don't hesitate to get in touch as you really don't want to miss out.
Instagram: https://www.instagram.com/folkcoliving/
Facebook: https://www.facebook.com/FolkColiving/
The Palm House pricing and studio information
The Palm House is uniquely flexible in how long or short residents stay

: the minimum rental agreement is for three months and the maximum is 12 months, but residents can renew at the end of this 12-month period.

A 'Standard' studio costs from £1,248 p/m – a private studio apartment with a comfy double bed, fully equipped kitchen, breakfast bar and en-suite bathroom. 

A 'Roomy' studio costs from £1,440 p/m – a more spacious option. All the benefits of the standard, but with extra room for storage and a handy desk.

The 'Bigger' studio is priced from £1,548 p/m – this studio has even more storage and a relaxing reading corner, so more space to unwind. 

The 'Biggest' studio is priced from £1,648 p/m – the largest studio offers a huge bathroom, more wardrobe space and a dining area fit for two

All rates are all inclusive of utilities, council tax, WiFi, events programme and access to all the spaces.

Studios and shared spaces are roomy enough for couples with an additional cost of £100 per month for living with a partner.

Each studio apartment features underfloor heating, underbed storage and plenty of cupboard space. There's also an ensuite bathroom and a kitchen area in each private studio with an induction hob and combi micro-oven, plus a dining area or desk.
Tegan LeBon