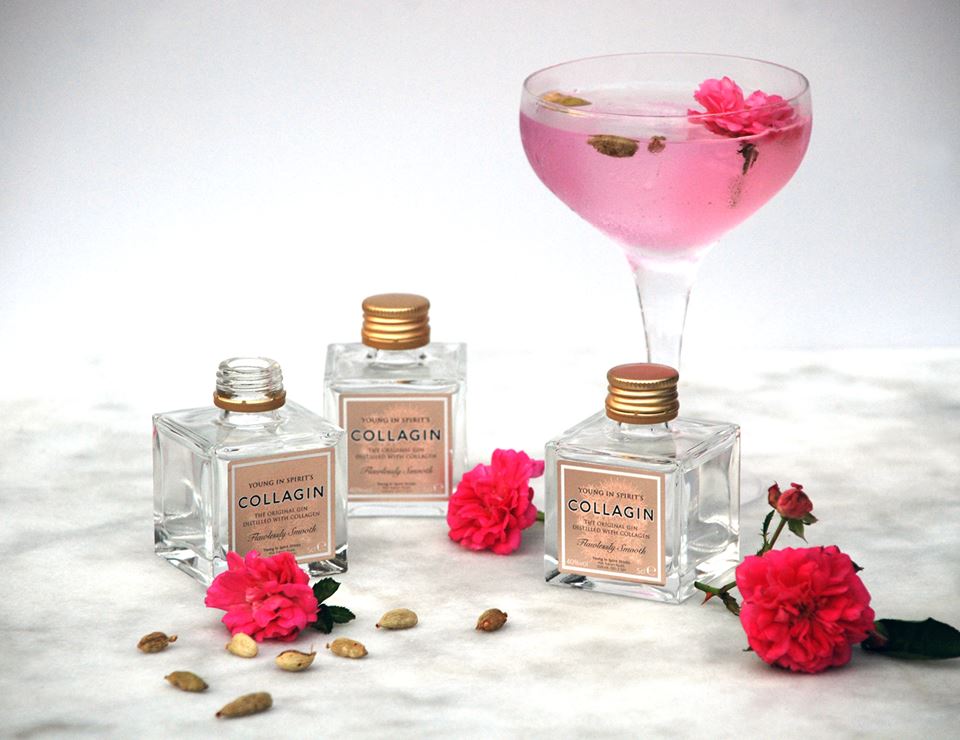 We were first introduced to Collagin when Young In Spirit (the world's first alcoholic drinks company which combines spirits with pure collagen) invited us to a gin and cheese pairing night. The night was fabulous and I was able to try a Collagin 'Skin and Tonic'. Collagin was created by Oxford, UK based 'Gintrepreneurs' Camilla Brown and Liz Beswick. The pair have carefully selected their suppliers to ensure everything remains as local as possible, with the gin being distilled in the Midlands and bottled in Lancashire.
There is 11 botanicals in Collagin, including Juniper, angelica root, orris root, liquorice, pink grapefruit, star anise and collagen. Straight the gin is quite warm with a spicy aftertaste, but incredibly smooth. While this gin doesn't claim to be anti-aging, it does have this beauty lover thinking it's killing two birds with one stone! Collagen is good for you and drinking it is said to improve the effects on the skin… so mixing it with gin is a no brainer… right? We'll maybe have to drink a few more of these to see any positive effects on our skin but we can say it was a great pleasure trying it out.
The Collagin & Tonic perfect service is 50ml Collagin and 150ml Tonic Water, garnished with fresh, pink grapefruit, or for a creamier finish, throw in a vanilla pod. We didn't have pink grapefruit or vanilla pods, but frozen grapes worked a treat. This gin and tonic was extremely drinkable and refreshing. Perfect for this heatwave, London has been suffering from. Make sure you try it with Jarlsberg Cheese. You'll be in heaven!
Collagin is not suitable for vegetarians but if that doesn't bother you, a 500ml bottle can be purchased from Notonthehighstreet for £35.00. It's a great gift for the beauty lover in your life who loves a gin and tonic.

Website: www.collagin.co.uk