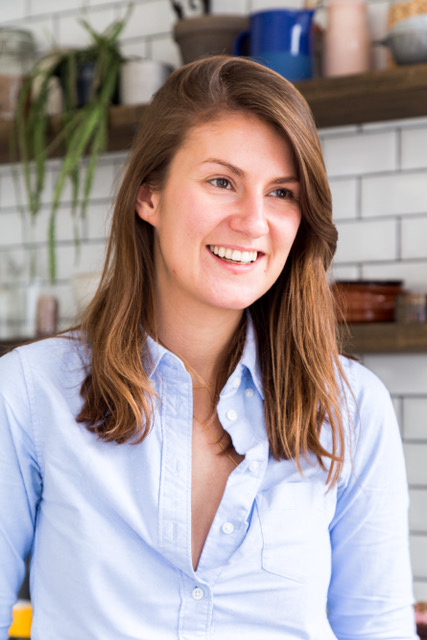 LONDON CREATIVE: Lilly Gjertsen
This week we caught up with chef Lilly Gjertsen and the new adventure she is embarking on with The Amateur Table club series.
1. WHAT POINT IN YOUR LIFE DID YOU REALISE YOU WANTED TO BE A CHEF? TALK US THROUGH YOUR JOURNEY?
A big group of us went on a trip to the Lake District for New Year once. Everyone was put in charge of something and I ended up in charge of the dinner for New Year's eve. I've never got into something so much, I literally planned every course around different, local ingredients and even printed out little menu cards for everyone – so funny looking back now. It was one of the best evenings I can remember and really made me realise how food brings people together to create unforgettable memories – I was pretty set on pursuing a career in the food industry after that.
2. AFTER GRADUATING FROM LEITHS YOU STARTED UP THE AMATEUR TABLE, WE CAME TO THE LAUNCH AND HAD A GREAT TIME! TELL OUR READERS WHAT THE AMATEUR TABLE IS?
Ha thank you, it was a great evening wasn't it. The Amateur Table is about getting people excited about cooking and enabling fresh talent in the food industry.
I truly believe that passion, hard work and talent create unforgettable chefs, not just the number of hours you've spent in the industry – and I want people to be part of that experience. We've started running a series of supper clubs dedicated to celebrating the abilities of talented culinary students and graduates, giving them the opportunity to showcase their skills and express their creativity. On the first Saturday of every month, a talented amateur chef is handed the reins of a professional kitchen and given complete responsibility to develop their own menu and deliver it at the highest standard.
The aim of the series is to give talented amateur chefs a stepping stone into the food industry and help them do what they want; start businesses, work in professional kitchens, open street food stalls, but most importantly enjoy what they do. We're just here to give them a little helping hand. We've seen some incredible things from amateurs chefs so far, and I'm so excited about what else is to come.
3. IF YOU COULD BE HEAD CHEF IN ANY RESTAURANT, WHICH ONE WOULD IT BE?
Oh that's a tricky one, can I have two answers?
I'd have to say one of Rick Stein's restaurants in Cornwall would be amazing. I absolutely love cooking with fish and locally sourced, seasonal ingredients – they do it so well there. There's something so British and magical about the Padstow harbour too – I remember going to the cookery school there, we had a big lunch overlooking the harbour and could see all of the fresh fish coming in, it was one of those moments, where you really appreciate life.
The other would have to be abroad – I'd love to work in another culture and pick up their real, authentic cooking techniques. One of my favourite places for food in the world is Hội An in Vietnam – it's a very busy tourist town that has a lot of Chinese and Japanese influences running through it because of the spice trade back in the 16th and 17th century, so the food has an incredible blend of different Asian flavours. There's a tiny restaurant there called Samurai, which is set in a tiny room which must fit around 6 covers at full capacity and looks pretty run down. As soon as you taste the food you know they are so good at what they do, and that's why it's absolutely packed out every night without fail. They cook using about a gazillion varieties of Asian mushrooms, and turn them into amazing broths and dishes – I feel like they could teach me so many new things.
4. WHAT'S THE BEST PIECE OF ADVICE YOU'VE BEEN GIVEN?
Work hard, stay humble and be kind – it's something my parents always taught me which has really stuck.
5. WHEN YOU AREN'T COOKING, WHAT RESTAURANTS DO YOU LIKE EATING IN?
I love restaurants that have a combination of great food, and a down to earth atmosphere.
My favourite restaurant in London is probably one called Rabbit, run by three brothers who all came from a farming background. I love that they use sustainably sourced, British ingredients from their family farm in Sussex, and create dishes that are so innovative and taste out of this world. I still remember the first time I had their honeycomb dessert – I ended up buying the cookery book and making a huge batch when I got home, I ate it for weeks on end.
6. DESCRIBE TO US WHAT YOUR PERFECT SUNDAY WOULD BE LIKE IN LONDON?
My perfect Sunday would have to involve the Natural History Museum, I must have been about 1000 times. I always go with my brother who is a Geologist – we are complete polar opposites, so naturally end up clashing on what exhibitions to look around. He drags me around the rock exhibit, which I still can't seem to engage with no matter how hard I try, and then I'll make him see the dinosaurs, it never fails to amaze me.
Afterwards, I'd go for a long walk by the river in Battersea Park and have a big Sunday lunch. The Latchmere pub makes the meanest roast around, their Yorkshire puddings are literally the size of my head and so delicious. I have to be careful with how many times I take mum there though, she's fallen in love with their espresso martinis and never ends up sleeping well afterwards!