Find Those Mindful Moments.
2020 hasn't been the easiest year for sure and so here at Onin.London we thought we'd help bring you some of the best products to help you find inner peace.
The Hourglass is perfect to help you reduce tension and stress in just one minute. Simply practice slow deep calm breathing for 1 minute when things start to get on top of you. A quick easy way to reduce stress and help calm anxiety. The stunning hourglass creates beautiful magnetic stalagmite formations right in front of your eyes.
The Kikkerland HourGlass costs £16.99 from IWOOT.
Unwinding at the end of the day is often easier said than done. Nobody can blame you for needing a bit of help to clear all that stress out of your head. And what better device to help you than this charming, calming pebble.
Turn it on to hear your choice of six calming nature sounds. What are you in the mood for? Maybe the multi-layered rustles of the rainforest, river, or some gentle ocean waves. You'll be asleep in no-time, with are a rechargeable battery each charge will last 8 hours, enough to cover you at night.
The White Noise Sound Pebble costs £29.99 from Firebox
Created to promote relaxation and detoxification, Holistic London bath salts are full of minerals such as zinc, magnesium and iron which eliminate toxins. They are crafted with a blend of essential oils to soothe the mind. 100% natural, vegan and cruelty free these salts are great for body and mind. They are designed to help you feel revitalised while taking stress a few notches down, cleansing body and mind by harnessing the power of hot water. Epsom and pink Himalayan salts work together to help to remove toxins and impurities from the body, while the blend of essential oils helps to soothe senses and have a positive effect on mood and anxiety.
The Holistic London Relax & Revitalize bath salts cost £12.80 from ThisIsHolisticLondon.com
Ion8 Leakproof Friends of the Earth Turtle Bottle keeps drinks hot for 24 hours and ice cold for 12 hours. With 25% of profits going to Friends of the Earth campaign to end plastic pollution you are helping the ocean as well as keeping hydrated.
The Ion8 Leakproof Friends of the Earth Turtle Bottle costs £24.99 from Leakproof.co.uk.
You know we already love this brand and this gorgeous bottle makes life just way more easier!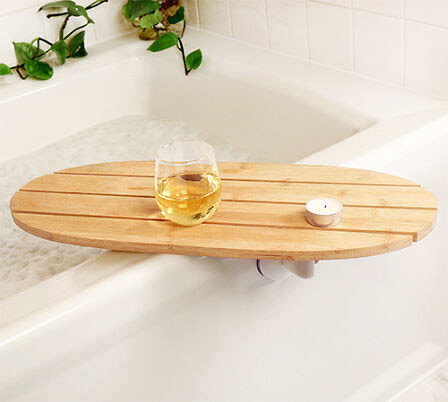 The Sidekick bath tray has been designed to keep your essentials close to hand whilst taking a soak. Pop on a candle, a glass of wine or snacks. The tray simply suction mounts to the side of the tub and can swivel round so it is not in the way when you're getting in and out. Crafted from bamboo it turns gives any bathroom a spa like feel.
The Sidekick bath tray costs £32 from A Place For Everything.
It looks absolutely gorgeous in my bathroom and perfect for that sneaky glass of wine while soaking in the tub.
Using a humidifier helps clear your airways from allergies and hay fever, This smart portable humidifier simply plugs into any USB port, just get a glass of water and drop and it will float on top, instantly giving moisture around your workspace.
The Floatie Humidifier costs £9.99 from IWOOT
Reading can reduce stress by 68% and it's always great to pick up an great book and get away from screen time. This peg styled book light it stylish and beautiful and simply clips onto your book and illuminates your page.
The Clothespin Book Light costs £10 from Urban Outfitters
Bergamot has been used for centuries in aromatherapy as of its therapeutic stress busting scents. This candle is made from only natural ingredients, meaning you can breathe non-toxic aromas.
The Bergamot and Wild Flowers candle costs £15 from ThisIsHolisticLondon.com
Sometimes all we need is a little time to refocus and regroup. These wristbands have a positive message on the reverse so when the day seems to be running away you just flip it over for some positive support. With plenty of messages to choose from the is a message that suits everyone.
The Refocus Wristbands cost £8 from Refocusbands.co.uk
Since I started wearing mine, my friends have asked where I got it from and now you know…
This is the best water filter around, removing twice as many solids and containments from tap water than any other water filter. It comes with a neat TDS (Total Dissolved Solids Reader) so you can test your water before and after. Water quality in cities is often around 300, with Zerowater it makes the water pure and all zeros on the reader.
The Zerowater 12 Cup costs £39.99 from Zerowater.co.uk
This was perfect for our household as London water definitely needs to be filtered and now my housemate and I have our own water jugs. She's an in the fridge girl where as I like my water room temperature.
What's your favourite product? let us know!