January 2020, I finally visited Fishworks in Covent Garden. The restaurant itself is one my friend had been trying to get me there for months and upon walking in… it was no surprise why. The restaurant is beautiful and it's dedicated to serving one of our favourites food… seafood!
Arriving we were instantly spoilt by our waitress, Eleonora. We started with a glass of champagne and explained champagne goes really well with oysters! Who knew?
While we could have started with a half dozen oysters, as we were opting to have the amazing looking seafood platter, we chose to dive straight into our mains.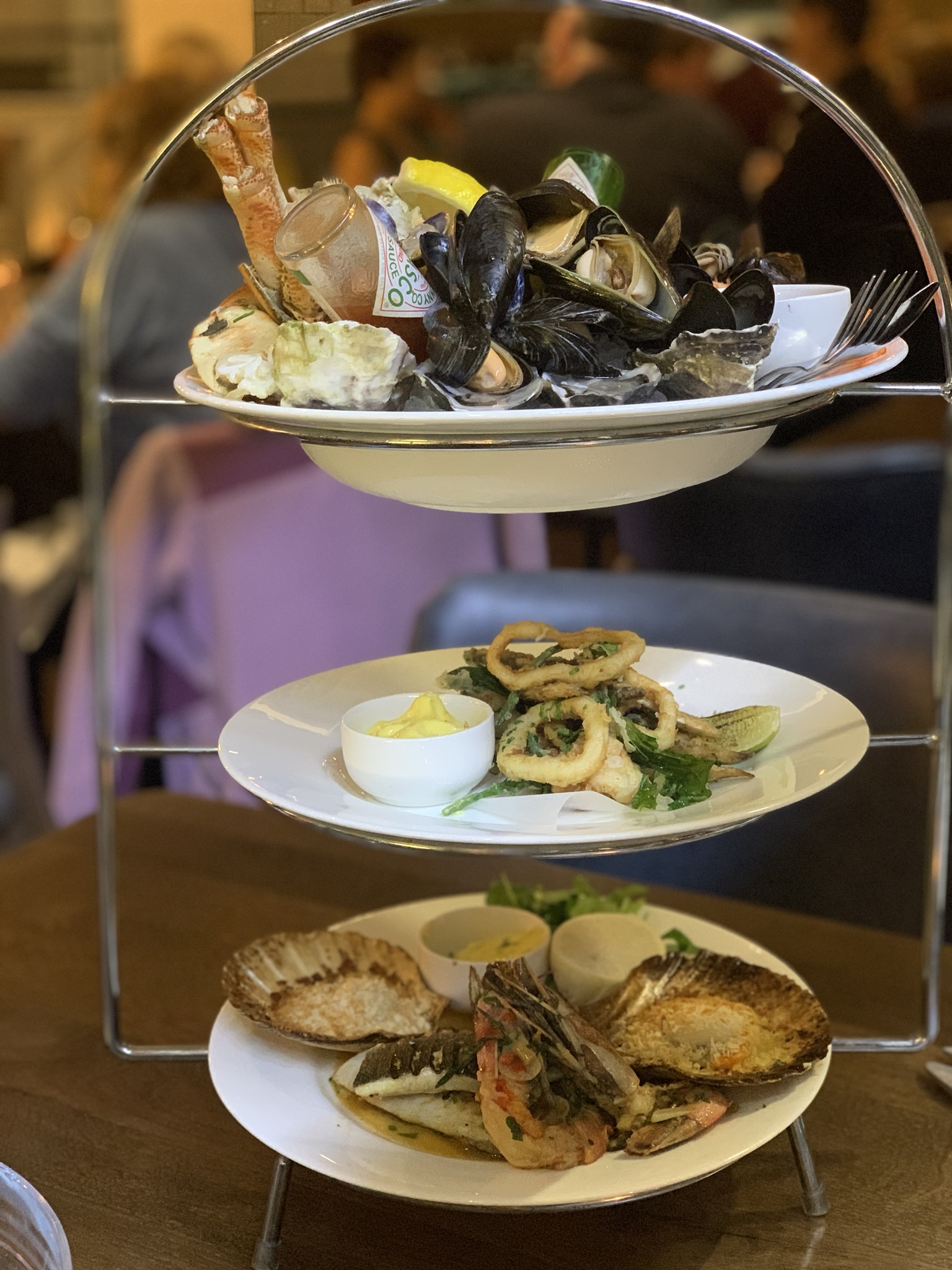 As you can see it was an amazing choice! We started with scallops, sea bass and grilled prawns as these were the warm seafood options. They were absolutely delicious and had both of us doing the happy dance.
We then chose to go with Eleonora'a suggestion and try our oysters with champagne. They really do go well together so now I'm one of those fancy people who drinks champagne and eats oysters.
On the second tier, the calamari was definitely one of our favourite seafood items on the platter along side the fried Monk Fish.
Finally it was time to really enjoy the half a snow crab that was on the top tier. It was delicious and I thank my friend for letting me thoroughly enjoy the crab leg – my favourite part of a crab. She did have regrets to be honest when she saw how much I enjoyed it.
Our main meal was enjoyed with one of the gorgeous Italian wines that Fishworks have to offer. Staff are happy to help guests make a suggestion to ensure your wine perfectly compliments your meal. They even suggested a delicious dessert wine to go with our desserts that we were almost too full to eat.

I choose the passion fruit and peach Eton Mess. This was a revelation! Absolutely perfect.
We had a great time at Fishworks and I can't wait to go again.
Written by Tegan LeBon
photos by Jumeirah
food photos by Tegan LeBon
website: https://www.fishworks.co.uk
Restaurant Opening Times:
Mon-Sat: 12pm – last orders 10:30pm
Sun: 12pm – last orders 10pm
​Location: