What: 'Tongue in Cheek' Italian themed pizzeria, cocktail bar, and karaoke
Where: 37 Battersea Bridge Rd, Battersea, London SW11 3BA
When: Dinner until late weekdays, brunch until late Saturday, brunch and afternoon Sundays
Do you like pizza, cocktails, and silly games? Thought you might! In this quirky spoof of a family-run pizzeria, Mamma Bunga and her many doting sons and daughters deliver bulging bags of all three.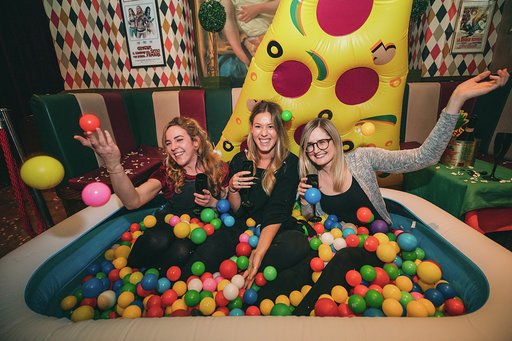 Bunga Bunga makes an immediate visual impression- every surface is loaded up with Italianate kitsch, often with some sort of visual gag. It's the kind of knowing camp you don't get that often in a restaurant this side of the pond and gives you a good idea of high-energy fun that the evening is gearing up for.
Cocktails were excellent and prepared rapidly and in colossal volumes by deft bar staff. There were a range of Italian-inspired cocktails (spritzes, negronis), but often tweaked for a British palette to be sweeter and reduce the bitter aperitif flavours. Prosecco appeared almost instantaneously upon asking.
Dinner started with olives (good ones), plates of cured meats (including prosciutto and salami), and mini arancini (the fried risotto and mozzarella ones- if you haven't had them you really should). Thin crust Pizzas then arrived by the metre with extreme speed and regularity. The wait staff here work extraordinarily hard, but seamlessly and with good humour.
Our stomachs suitably lined, the games can begin. If you haven't played drag bingo before you really should, and this is a good one. Mamma Bunga (resplendent in leopard print and huge sunglasses) Bingo with madcap alternative calls and songs triggered by different numbers. Number 5 triggers a sing-along from celebrated late 90's boy band, 5ive. Occasionally, a siren will go off and the wait staff will jump on the bar for a quick dance number and many a confetti cannon. Prizes like fantastical sharing cocktails in the shape of the leaning tower of Pisa, busts of Burlesconi and Michaelangelo's David, or small cars, are brought out with sparklers by a small band. It's very random and silly, which is a good recipe for fun when you're celebrating in a big group.
Later, we move on to karaoke. A stand out moment was a stunning rendition of 'If I Could Turn Back Time' by some undiscovered legend who had been plucked from the audience and ushered backstage, emerging as Cher, complete with sunglasses and wig.
We reach midnight and the energy in the room hasn't dropped at all. The staff clear the tables away, the music ramps up, and the pizzeria becomes a night-club playing pop bangers from the past 30 years. My date and I bop a bit until loaded up with gin and starch, we pour ourselves into a taxi.
Instagram: @BungaBungaLDN
Twitter: @BungaBungaLDN
Facebook: https://www.facebook.com/bungabungalondon/
Review by Roman Ackley