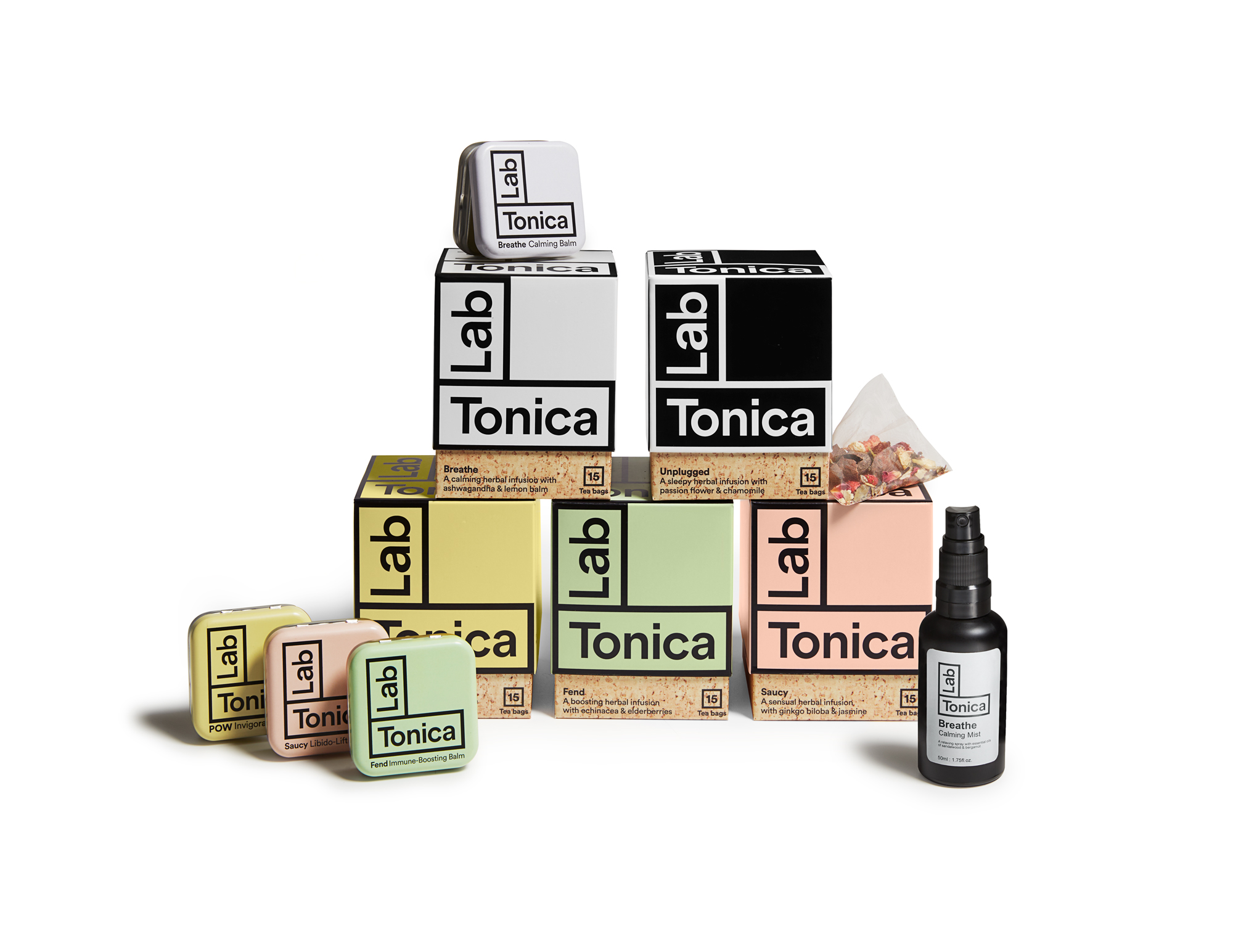 Give The Gift Of Lab Tonica This Christmas
This Christmas, raise the spirits of loved ones with contemporary wellness brand Lab Tonica, a range of luxury teas, aromatherapy balms and pillow-mists that make for the perfect gift for any loved one.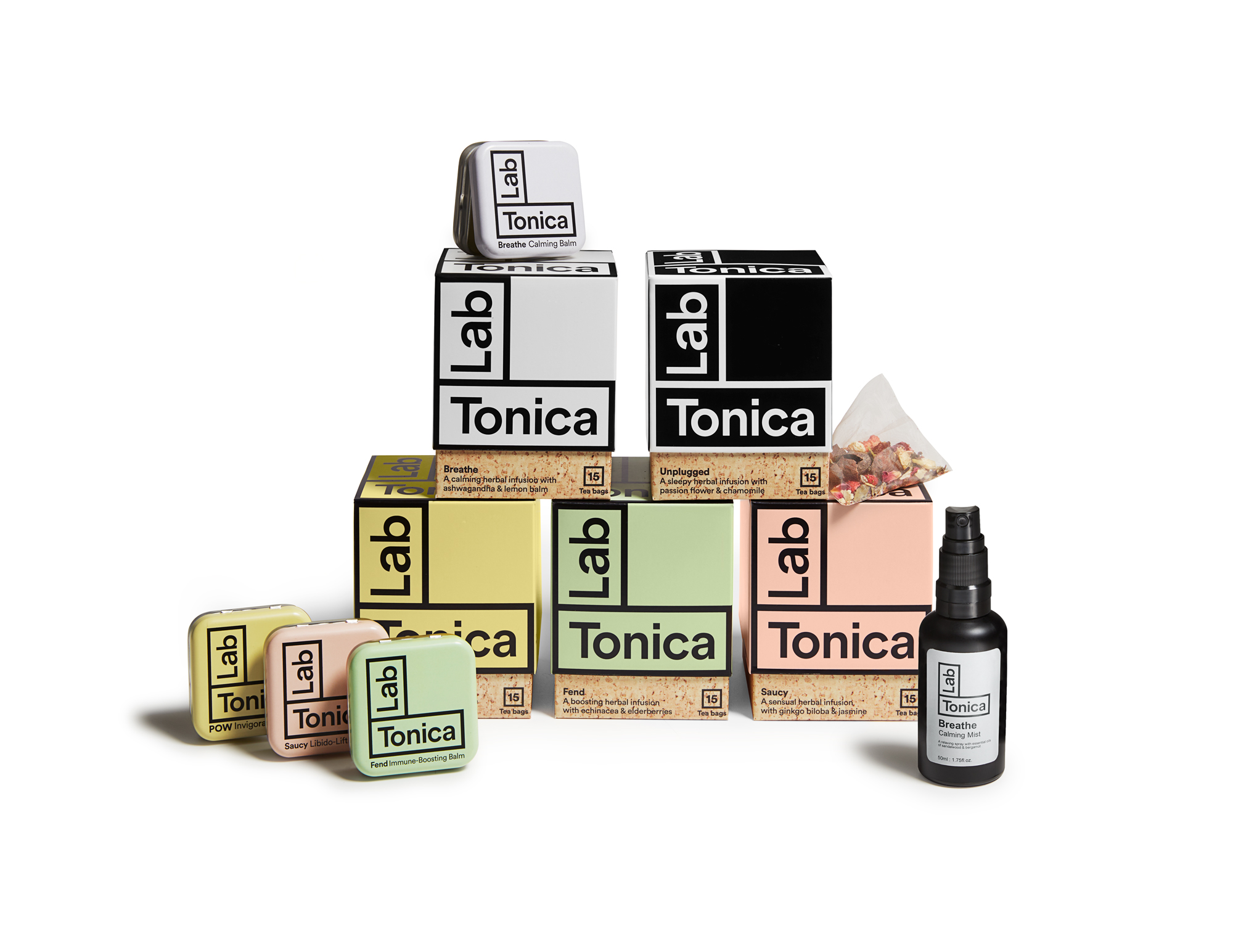 Lab Tonica's core range is made up of five carefully curated collections – Unplugged, Breathe, POW, Fend and Saucy – which aim to challenge dusty stereotypes of herbalism and shake up the wellness industry.
With the stresses and anxieties of the past 18 months taking their toll, our physical and mental wellbeing have no doubt been compromised. This Christmas, give a gift to promote everyday wellness with contemporary wellness brand, Lab Tonica.
Lab Tonica's collection of luxurious teas, balms and sprays doesn't end there. This Christmas, whether you want to gift friends and family better sleep or more energy, turn to Lab Tonica to provide the solution.
It's no surprise that reported rates of insomnia have soared during the pandemic. This Christmas, give the ultimate gift of sleep with Lab Tonica's deeply soothing Unplugged collection, on hand to help you relax and switch off after a hectic year. With the Unplugged tea featuring premium cuts of chamomile, passion flower and rose, and a soothing sleep balm made up of a unique blend of dreamy essential oils, you're sure to be in for a gentle night's rest. For added relaxation, combine with the Unplugged pillow mist, a blend of high-grade essential oils including frankincense, lavender and bergamot; simply breathe in and drift off.
This December, take some time to relax, unwind and breathe. A grounding collection of botanical products to help you relax and take a moment to yourself, the Breathe tea combines premium cuts of lemon balm, ashwagandha, gotu kola, linden blossom, peppermint and fennel for the ultimate relaxation aid. Use in combination with the indulgent Breathe balm, a unique blend of calming essential oils such as sandalwood, sweet-orange and chamomile with moisturising organic coconut. Add the calming Breathe pillow mist to feel the ultimate ommmmmmm.
Prolonged stress and sleeplessness has taken its toll on our energy levels. Give the gift of energy with Lab Tonica's POW collection, which uses energising botanical products to wake you up naturally – no caffeine needed. With invigorating ginger, zesty lemongrass and stimulating chilli, the POW tea has all you need to energise the body and waken the mind. Pair with the POW balm gently massaged into pressure points, which uses essential oils including patchouli, lime, blackpepper and eucalyptus, to help recharge your batteries this December.
Immunity has become increasingly important to us all over the past 18 months. Boost your immune defences with the Lab Tonica Fend tea, which combines elderberries, echinacea, hibiscus and lemon balm to create a fortifying fusion of healing herbs. The Fend balm is the perfect addition, using high grade essential oils including eucalyptus and thyme to bolster the immune system and help clear blocked airways.
This Christmas, whether its for a partner or friend, give the gift of better sex with Lab Tonica's Saucy collection, made up of a libidio-lifting tea and a luxurious aphrodisac balm. Made with all natural jasmine blossom, rose petals, ginkgo biloba, cocoa, and strawberries, take a sip of the Saucy tea to stir up sensual desires. Pair with the stimulating Saucy balm with essential oils of sandalwood, rose, jasmine and clary sage blended with organic coconut and vitamin E- massaged over the body for the ultimate sensual experience.
The collections include herbal teas £9, aromatherapy balms £15 and pillow mists £15. Gift sets from £22.  Available for purchase at labtonica.co.uk. Follow @labtonica on Instagram.
PRODUCT DETAILS & INGREDIENTS
Unplugged  (The Sleep Collection)
Unplugged Tea: Passion Flower, Lavender, Chamomile, Linden blossom, Hawthorn, Rose,
Unplugged Balm: essential oils of Lavender, Vetiver, Frankincense and Bergamot. Fractionated organic coconut oil, organic beeswax and vitamin E.
Unplugged Pillow Mist: essential oils of Lavender, Vetiver, Frankincense and Bergamot. Springwater & Witch-hazel.
Breathe  (The Calm Collection)
Breathe Tea: Linden Blossom, Gotu Kola, Ashwagandha, Hawthorn, Peppermint & Fennel.
Breathe Balm: essential oils of Chamomile, Sandalwood, Bergamot & Sweet Orange.  Fractionated organic coconut oil, organic beeswax and vitamin E.
POW  (The Energy Collection)
POW Tea: Ginger, Yerba Mate, Lemongrass, Lemon, Rosemary, Beetroot & Chilli
POW Balm: essential oils of Patchouli, Lemon, Rosemary, Blackpepper, Lime & Eucalyptus. Fractionated organic coconut oil, organic beeswax and vitamin E.
Fend (The Immunity Collection)
Fend Tea : Elderberries, Hibiscus, Elderflower, Rosehip, Freeze-dried Raspberry, Echinacea Root, Lemon Balm, Nettle, Calendula Petals.
Fend Balm: essential oils including; Frankincense, White Camphor, Eucalyptus, Thyme, Lime. Fractionated organic coconut oil, organic beeswax and vitamin E.
Saucy – (The Libido Collection)
Saucy Tea: Hibiscus, Rosehips, Cocoa Shells, Rose Petals, Freeze-dried Strawberry, Damiana Leaf, Ginkgo Biloba Leaf , Jasmine Blossom