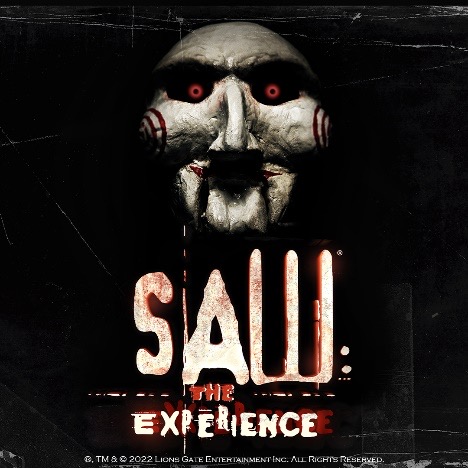 Looking at what to do this Halloween… look no further.
Pumpkins have taken over Bluebird Chelsea this Halloween with a Jack O'Lantern inspired terrace donned with flowers, hay bales, and scarecrows, and a Jack O'Lantern themed cocktail menu in partnership with El Jimador tequila for the holiday.
On the menu for the spooky season, El Jimador are stirring up a potion with their Cactus Collins, Spicetacular, To Cool To Spook and Coconut Margarita tequila fuelled cocktails. Available until early November, Bluebird Chelsea is a must stop on your trick or treat route.
W London are introducing a dark and fascinating twist to Halloween this year with their future glitch themed Halloween party on 29th October with their Dark Matter cocktail in a partnership with Belvedere Vodka. For one night only W London invite you to escape reality and look into the future.
The Dark Matter cocktail is a unique blend of Belvedere vodka, Supasawa, Marnzana Verde, Martini Dry and Orgeat, to create a spooky blend. Step into their futuristic and dystopian bar high above the streets of Soho and enjoy their limited edition cocktail from 8pm.
For something a little different this Halloween, Los Mochis, the home of Baja-Nihon in the heart of Notting Hill, is set to celebrate their Mexican heritage from the 25th October to the 6th November, where guests can expect spectacular installations as well as a host of food and cocktail specials. 
Also nodding to Halloween with their festivities with specials including Count Taco-La (honey glazed pumpkin, cabbage, pineapple jalapeno salsa, sweet potato crisps) and Corpse Brownie (chocolate brownie coffin over a bed of raspberry coulis, white chocolate skull with dark chocolate shavings), as well as cocktail specials such as the Los Muertos Margarita (reposado tequila, spiced red wine cordial, lime and orange juice). All specials will be available between the 29th of October and 3rd November.
Park Chinois welcomes an elegant affair this Halloween with the Vintage Circus rolling into Berkeley Street from Friday evening to Sunday evening (28th to 30th October). 
In full Halloween splendour, Salon de Chine, Park Chinois' upstairs restaurant and club will be dressed and welcoming special guests for the occasion with roaming characters and our jazzed-up house band playing a Halloween set.
Whilst downstairs in Club Chinois, a bespoke cabaret show to mirror this year's Vintage Circus theme. Guests wishing to celebrate during the day are invited to enjoy a special Shanghai Brunch on Saturday, with electrifying live performances. Sunday hours are extended to allow for a one-off show time with Cabaret performances three nights in a row. The Club will be open on Friday, Saturday, and Sunday from 6pm to 2am. 
Costume dress up is optional and encouraged, with a complimentary make-up artist throughout the weekend from 6 to 7pm ready to spook up your look.

Proud Embankment presents WEST SIDE HORROR STORY
A  limited run – 3 nights only – the classic twist gets a spooky reboot
 27th – 29th October
Featuring the world's leading burlesque icons, breath-taking acrobats and jaw-dropping fire performers, this is the ultimate story of passion and rivalry… but not as you know it. Watch two glittery gangs battle it out for their final place on the West End stage; including favourite songs from West Side Story blended with modern hits!
Tickets to see West Side Cabaret Story are now on sale can be booked online at www.proudcabaret.com, or by calling the Proud sales team on: 020 7482 3867
COVENT GARDEN 
As Halloween arrives on the estate, Covent Garden's much loved Pumpkin Market will have a new home on the West Piazza from 29th – 31st October. Bigger than ever before, the market will offer over two hundred pumpkins, squashes and gourds in various shapes and sizes to purchase, alongside a stunning autumnal floral display designed and created by the Covent Garden Horticultural team to get shoppers excited about the spooky celebration. From 25th – 31st October, visitors can also treat themselves to food offerings on the East Piazza from international street food suppliers including Mexican, Indian and French offerings, plus cocktails too. They can also visit Mrs Riot for a Bailey's pop up including a spooky Halloween cocktail menu and 'eye-popping' pizzas, as well as Ave Mario, Frenchie, Chez Antoinette, RedFarm, Whittard and Blondies for Pumpkin recipes and Halloween inspired dishes.
SAW: THE EXPERIENCE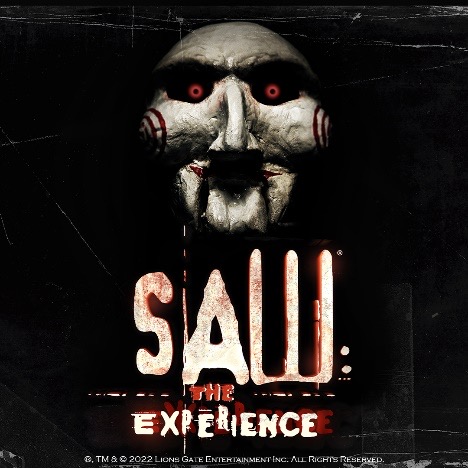 TOBIN BELL returns as JIGSAW, the iconic Master Of Games
Tobin Bell, the iconic star of theSAW franchise, returns to voice John Kramer, A.K.A the infamous Jigsaw, in the new immersive, narrative-driven, escape room experience

The Traproom provides a themed bar experience to reward players brave enough to complete Jigsaw's trials

New trailer reveals Pig Mask, another character from the legendary horror franchise
A brand-new look at the nightmare that awaits in SAW: The Experience can be viewed HERE. Opening on October 27 at 1 America Square, London, EC3N 2LS, just a few minutes' walk from Tower Hill station.
DNA VR'S VIRTUAL REALITY HORROR ARCADE
Experience an immersive, terrifying HALLOWEEN
This Halloween London's first and largest virtual reality arcade, DNA VR, is challenging its guests to "Survive The Night" with an array of horrifying and gruesome immersive virtual reality experiences
The critically-acclaimed DNA VR is the ultimate Halloweenfright for a day out in the city or party venue, with venues inBattersea, Camden and Hammersmith, with countlessvirtual experiences and escape rooms to choose from. Perfect for family day trips, evenings out with friends; corporate parties, and even date nights, the venue has been enjoyed by a host of famous faces including Olivia and Alex Bowen, Idris Elba, KSI and Hollywood royalty, Chris Hemsworth (and his kids!).
PARTY WITH GHOSTS & GHOULS THIS HALLOWEENAT THE LITTLE DOOR & CO. 
A SCARILY GOOD TIME AWAITS!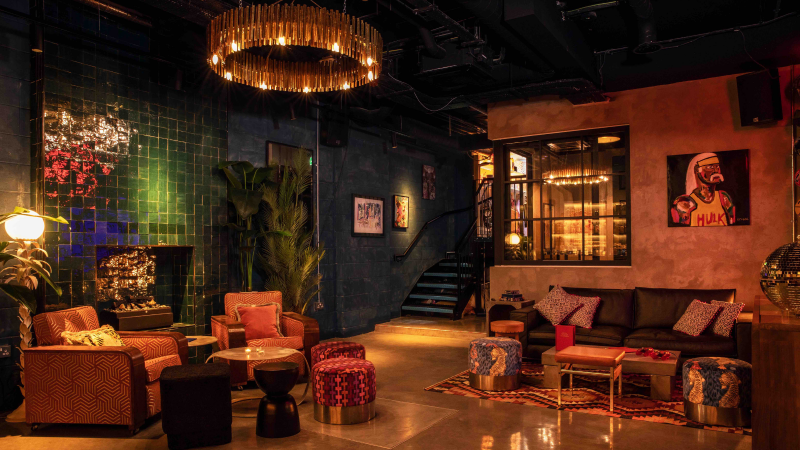 As our anticipation builds for the blood-curdling day, all four venues from The Little Door & Co are making Halloween a weekend to remember with a series of special themed parties to celebrate in style from Wednesday 26th – Saturday 29th October. 
Undergoing a spooky makeover, the house party inspired bars in Soho, Fulham, Notting Hill and Clapham will be adorned with creepy delights, frighteningly good cocktails, devilish DJ's and plenty of spooky surprises to ensure a night(mare) to remember. 
Ghoulish gals and ghastly boys are invited to let their inner demons out and dance the night away with resident DJ's spinning sing-along anthems and Halloween party classics that are guaranteed to get you dancing on the table. 
Expect a thrilling night at all four locations with each taking on a different theme for the weekend. Dance to musical hits of the past at Clapham's The Little Orange Door for Ghosts of the 90's or take things stateside with a Haunted Hollywood themed party taking place at The Little Blue Door in Fulham. It's all about Stranger Things at Notting Hill's The Little Yellow Door and make sure to watch your back while partying late into the night at Soho's The Little Scarlet Door as there's rumoured to be a Murder on the (lightup) Dancefloor.
Events will be taking place across the Halloween weekend at all venues:
*The Little Scarlet Door and The Little Orange Door events will be ticketed at £10 via Design My Night and £15 on the night. The Little Blue Door and The Little Yellow Door will be guest list only. 
Don your finest blood-laced and cobweb-covered attire and come party with Little Door & Co. this Halloween.
Mr Bao
From 26th October – 6th November, Mr Bao will be serving a Softshell Chilli Crab Bao at the price of £6. Inspired by a famous dish from Singapore, where they cook a whole crab and dress it in a chilli sauce; the special will see a crispy fried soft shell crab dressed with the Singaporean chilli sauce served in a bao with mayonnaise and garnished with crispy thai basil leaves.
Website | @mrbaouk | 293 Rye Lane, Peckham
KERB at Seven Dials Market
Running from 24th -31st October and free to attend, the week will see KERB's acclaimed street food vendors creating bespoke and child-friendly dishes to celebrate the spookiest time of the year, with the market space covered in bewitching decorations that are sure to get both kids and adults into the Halloween spirit. The traders will be offering one-off, spooky items suitable for children and inspired by the season, resulting in a collaborative menu sure to please and excite young eaters and adults alike.  Available for the entire week, special Halloween-inspired food items will include buttered pumpkin wheelcakes from Wheelcake Island, spooky finger challah buns from Shuk; crispy 'bat' wings with blood mayo and lime from Bong Bongs and mummified pollitos from El Pollote.  
Website | @sevendialsmarket | 35 Earlham St, London WC2H 9LD
Crust Bros
To get customers into the Halloween spirit, Crust Bros have created a delicious autumnal special which will see a sweet yet savoury pumpkin base, topped with creamy fior di latte cheese, sweet caramelised onion, spicy nduja and rich Parmesan all on a signature leopard printed base.
Ben & Jerry's
This Halloween, Ben & Jerry's are putting the treat back into trick with its brand new Bloody Thirsty Milkshake and Spooky Waffle Cones, available at London's Soho Scoop Shop! 
Ben & Jerry'sWhat's on offer: 
Blood Thirsty Milkshake:

 Vanilla milkshake topped with raspberry and hot fudge chocolate sauce – enough to have taste buds trembling with excitement! – £5.50 in-store only 
Spoooky Waffle Cones: Amp up any ice cream flavour of your choice with the jet-black waffle cones (coloured by natural source: bamboo charcoal) dipped in white chocolate, with an option for added spooky sprinkles for those who like an extra bite! – £1 to £1.50, in-store only
Where: Ben & Jerry's Soho Scoop Shop – 74 Wardour Street, London, W1F 0TE
When:

 NOW until Monday 31st Oct 2022

Retail info:
£5.50 – Bloody Thirsty Milkshake 

£1 –

Jet black cone, £1.50 – chocolate dipped cone, £1.50 – chocolate dipped and Hallowed sprinkled cone
The Cut & Cork
Cut & Cork London will take place on Saturday 29th October, 16:00 – 19:00, at Barber Barber Spitalfields Market, 51 Brushfield St, London E1 6AA
Expect complimentary makeovers based on the most popular looks from a survey from the professional barbers at Barber Barber, and hairstylists and makeup artists from Roseanna Velin's agency, to help you get Halloween-party ready. As well as the spooky spruce ups, guests will be able to enjoy a complimentary tumbler of 19 Crimes' hauntingly good Uprising Red Wine, partially aged for 30 days in rum barrels for jammy flavours and a smoky finish.
Zuaya's, Day of the Dead brings back to life the energy and flavours of Latin America with a Mexican Ghost Punch.  A concoction of Mezcal Reposado and Rum Añejo gives it a smoky, rich depth and a cinnamon kick. The best Peruvian techniques are used to infuse milk with spices and lime zest to create an intense rich Delica Pumpkin Rice Rippling Pudding you'll want to devour.
A cloud has descended upon the Italian Rivera at Como Garden to enjoy its signature Halloween cocktail, the Italian Dracula.  Dark rum molasses with a touch of nutmeg and cinnamon is served suitably in a blood orange infused pumpkin.  Como Garden's Crispy Cream Curdling Profiteroles are filled with drool-worthy Sicilian green pistachio cream spilling out of the choux pastry. 
Redeem your Spanish soul at El Norte and enjoy a Bloody Iberia, a cinnamon infused Gin Mare together with fresh Valencian citrus juice and triple sec liqueur bubbling out of punctured orange serve. To feed your sweet palate, El Norte has taken a traditional 10thcentury recipe for Bueñuelos de Viento and turned it on its head.  Stuffing until they burst with a rich cream of Delica pumpkin and cardamom then coated with raspberry sugar.