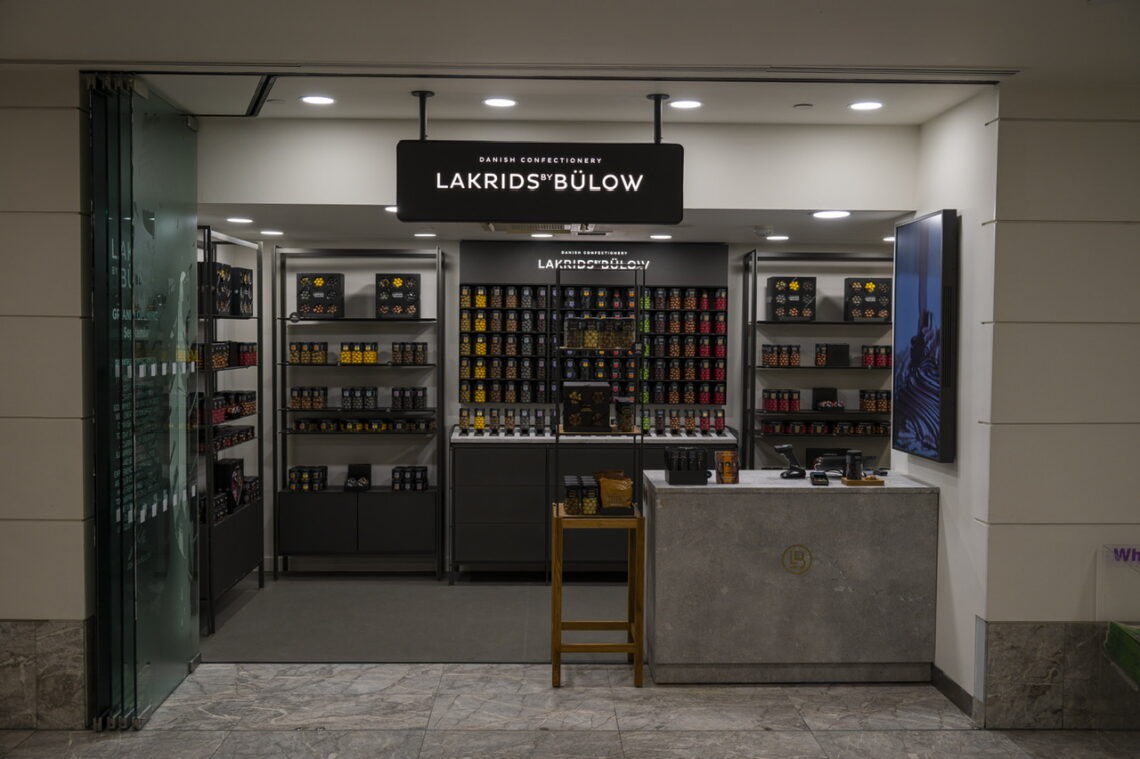 IS THE UK OFFICIALLY GOING LIQUORICE MAD?
LAKRIDS BY BÜLOW proves Brits are converting into liquorice lovers as the Danish confectionery brand launches two new London stores
after soaring UK demand.
Often deemed a polarising flavour, some may view liquorice as a nostalgic treat, others find it not to their taste. Danish confectionery brand, LAKRIDS BY BÜLOW holds a burning desire to make the world love liquorice, and since landing on UK shores in 2021, has proven successful in converting British haters into lovers. With two new store launches landing in London for September 2023, joining listings in Selfridges, Harvey Nichols and John Lewis, is it safe to say the UK has officially gone crazy for liquorice?
Building on the fast track success and cult appeal of its chocolate coated liquorice range, LAKRIDS BY BÜLOW is successfully championing the UK market, reigniting the UK's love of liquorice! Celebrity fans backing the trend even include Nigella Lawson, whilst radio host Chris Evans classes 'the unbelievable chocolates' as 'the princes' version of liquorice'.

Following the brand's pop-up store in London's St. Pancras Station earlier this year and a new listing across John Lewis stores nationwide, LAKRIDS BY BÜLOW now spreads its liquorice love even further across London, with two new permanent store launches in September, located in Canary Wharf and Monmouth Street, just off Seven Dials.

Celebrating the revival of the distinctive taste, LAKRIDS BY BÜLOW continuously pushes the limits of what you can do with liquorice. Founder Johan Bülow believed the ingredient to be underappreciated around the world, which led him to study the craftsmanship of liquorice and devise his own gourmet creations. LAKRIDS BY BÜLOW now aspires to raise curiosity of the Danish trend around the world through its sensorial taste experiences with liquorice at the core, and the UK is the next stop.

Before spreading across the world, the original birthplace of liquorice was the UK, dating back to the 1600's in Pontefract, Yorkshire. Now in 2023, LAKRIDS BY BÜLOW redefines the ingredient with a contemporary twist, with a mission for the UK to rediscover the timeless treat in its most sophisticated form. The LAKRIDS BY BÜLOW collection features gourmet pure liquorice in a range of flavours including sweet, salty and spicy plus its best selling chocolate coated liquorice, as featured in the WINTER collection, perfect for festive gifting moments to family and friends.
As popularity for the chocolate coated liquorice continues to climb, LAKRIDS BY BÜLOW sets sail for the UK with the launch of two new stores. Liquorice fans can purchase the full range and limited edition LAKRIDS LOVERS flavours from 1st September 2023, at the new store opening in Cabot Place, Canary Wharf Shopping Centre. The LAKRIDS BY BÜLOW Monmouth Street store located in Seven Dials will follow suit, opening its doors on 28th September.
https://lakridsbybulow.co.uk/all-products/ https://www.instagram.com/lakridsbybulow/