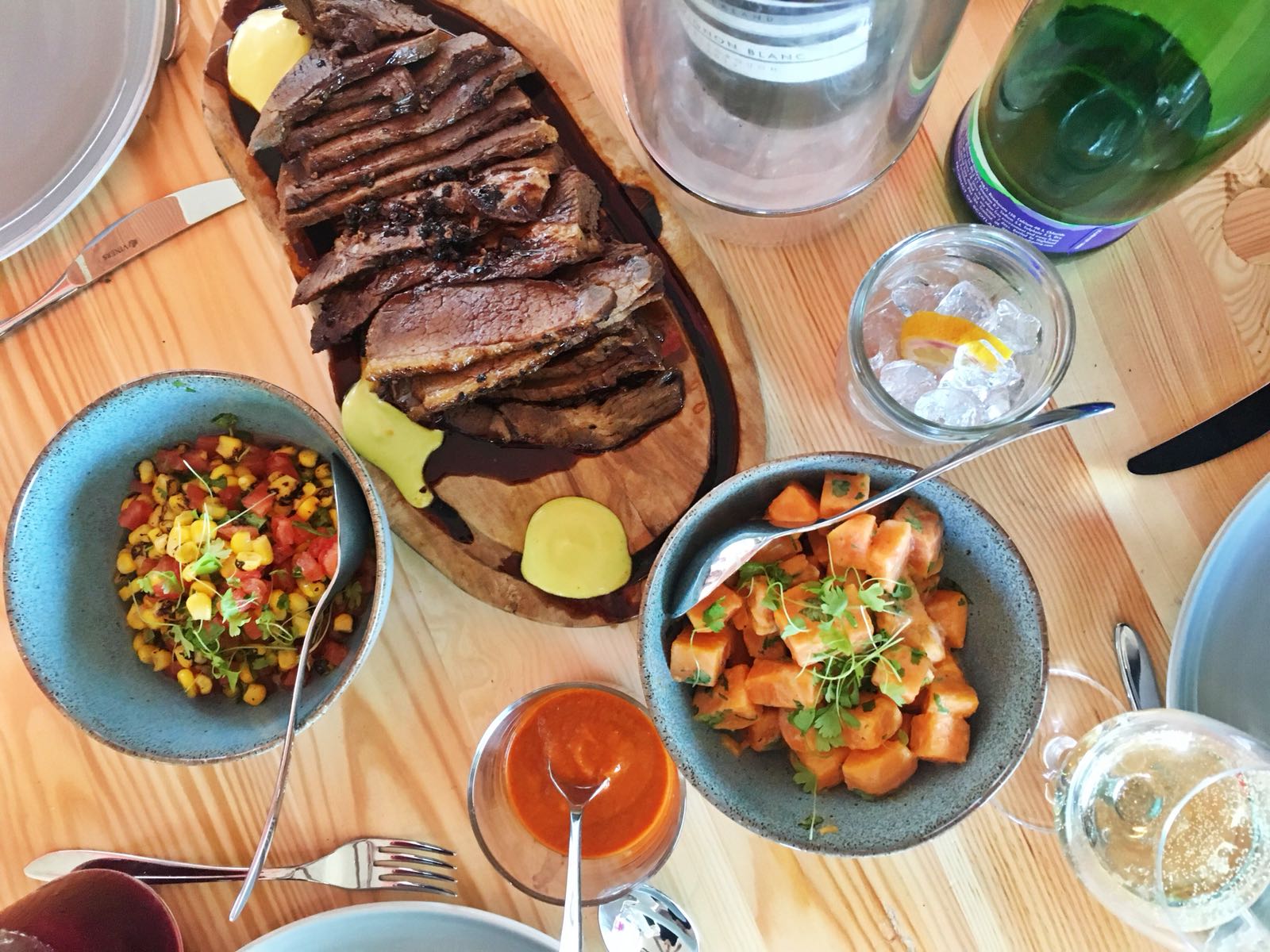 Jam Shed Supper Club Review
The Jam Shed Supper Club launched on the 24 July 2018 and we be running every Tuesday to Saturday night for a 6pm and 8.30pm sitting until the 8th September 2018. The gorgeous South Bank Centre overlooking the Thames hosts Masterchef contestants Steve Kielty, Nawamin Pinpathomrat, David Crichton, Alexandra Jorge, George Kallias, and Emma Spitzer who will take turns creating a range of sharing dishes and small plates incorporating Jam Shed Wine. The wine will also be used to create delicious Jam Shed Wine cocktails.
We visited on the 25th of July where Steve Kielty took the helm for the first two weeks. Steve Kielty was runner up in the MasterChef 2017. Musician Steve is a charismatic chef who happily chattered to guests on the night and had our bellies singing happy songs.

The menu consisted of a range of sharing plates: Crubeans & Pickles, Cured Sea Trout, Horesradish, smoked beets & watercress, carrot salad, parsley, ketchip & carrot pesto, bbq grelots, salted ricotta, peers & roasted lemon and sourdough bread with jam shed butter. It's hard to pick which one was our favourite starter as each dish was fresh and just bursting with flavour. Top tip though, don't lose the bread straight away – you'll need it for the mains.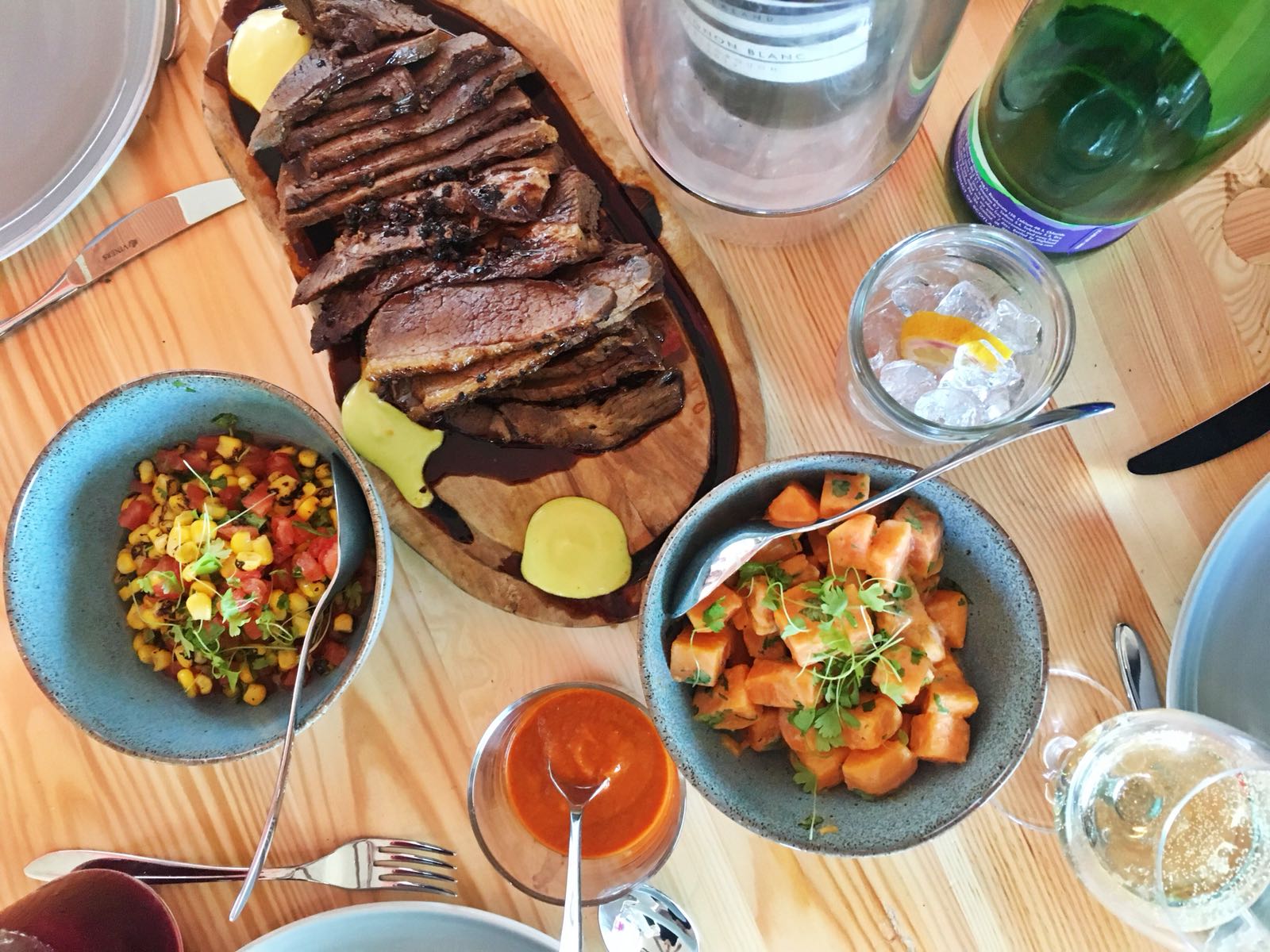 The BBQ Sticky Jam Shed Glazed Dry-Aged Herefordshire Brisket was absolutely fabulous. If I'd kept some bread, it would have moped up the gorgeous marinade left over from the Brisket. If only Steve would be willing to share the recipe as this would be one I'd be ready to make in an instant. Our mains came with Corn Relish, sweet potato salad, hot sauce and coriander ketchup. It was certainly food reminiscent of a family BBQ at home and there were no complaints at our table for sure.
Dessert really ended the meal on an even high note. A take on the classic Raspberry Fool with Scottish raspberries, yogurt, elder-flower, raspberry sherbet and orange blossom. It was the perfect dessert for someone like me who enjoys something light but sweet – If I hadn't been so full from eating so much of the beef brisket… I would have stolen my friends.
Cocktails were Elderflower Jam, Jam-Gria, Jamberry and the Jam Shed Sour. Of course we had to try them all but it was the Elderflower Jam and the Jam Shed Sour which were deemed our favourites of the night. The wines were pretty smash hot which is why we couldn't resist sharing another bottle while enjoying the outdoor area of the South Bank Centre. It really was no wonder we didn't want to leave as we were also entertained by the musical stylings of Celine Love. Check out her facebook and find out where she's playing next as she is an amazing artist www.facebook.com/CelineLoveMusic.
The remaining line up of MasterChef's are as follows.
7 Aug – 11 Aug: Nawamin Pinpathomrat
14 Aug – 18 Aug: David Crichton
21 Aug – 25 Aug: Alex Jorge and George Kallias
28 Aug – 1 Sep: Emma Spitzer
4 Sep – 8 Sep: Alex Jorge and George Kallias
The Supper Club Events also support the Springboard Charity, which brings disadvantaged and underprivileged people into sustainable employment within hospitality, leisure and tourism. The trainees will work in the kitchen and front of house to learn essential skills. So not only you can expect a night of great food, drinks and company – you're supporting a great cause.
It's a great night out and the perfect event to take your family too. So what are you waiting for? Book your tickets now. Tickets for the event cost £45 and can be purchased from www.southbankcentre.co.uk/whatson/125328-jam-shed-supper-club-2018. Jam Shed Shiraz is available from Tesco and Ocado for £8 for those wanting to continue their Jam Shed experience at home.
Website: www.southbanklondon.com/southbank-centre
Address:
South Bank Centre
Belvedere Road
London SE1 8XX