National Whisky Day: We try 10 whiskeys – here's what they taste like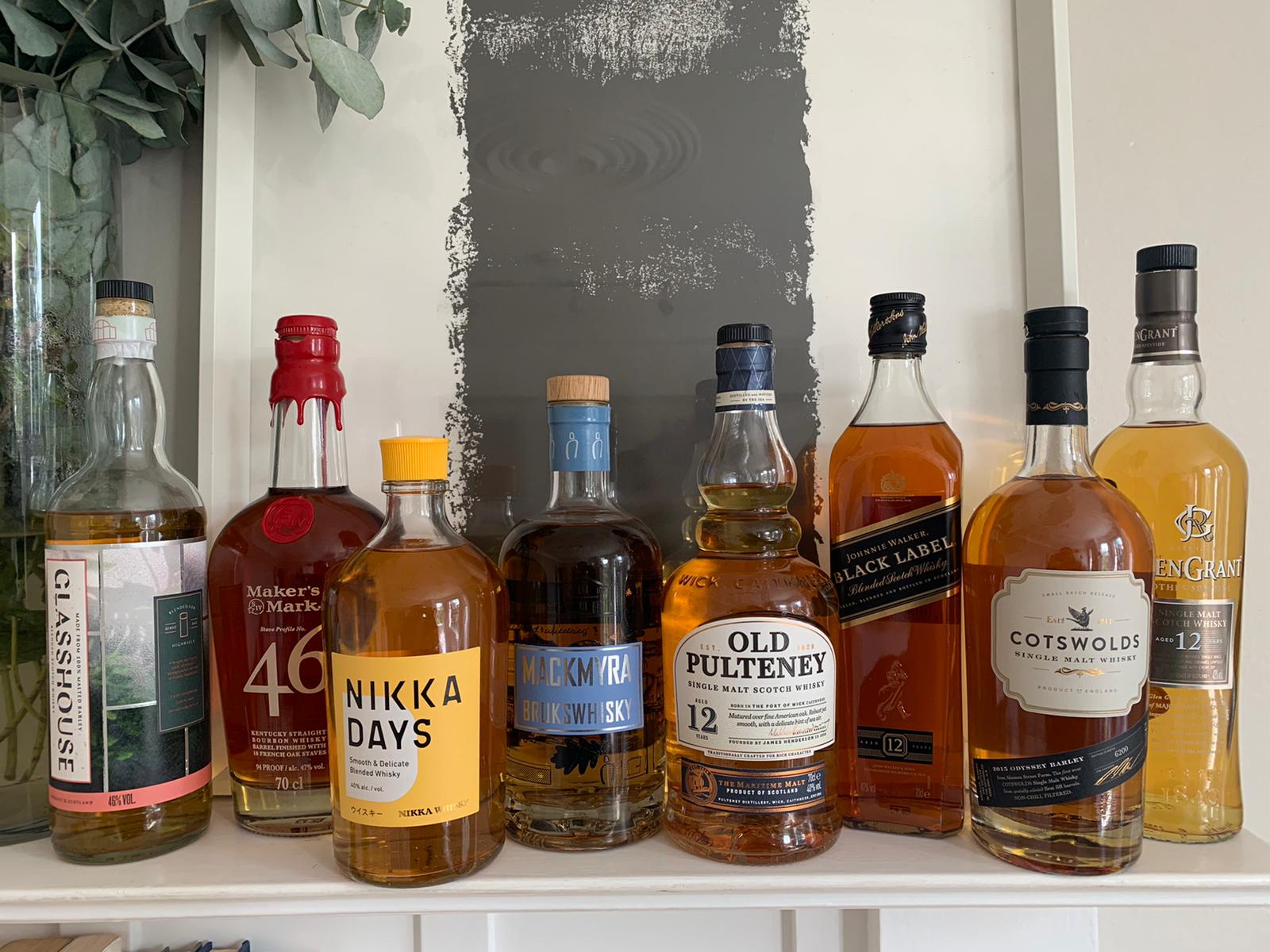 Whisky has long been given a false identity as being the drink of old men or that of city workers burning the midnight oil in some fancy office a la Mad Men.
Don't let this misconception put you off – there's a whisky out there for every palate.
It's National Whisky Day and to celebrate the occasion, we sample 10 brands; from single malt to blended Scotch, and even a few bourbons.
"A blended scotch is perfect for those who are just beginning their whisky journey, as they have a diverse range of flavours within the blend to explore and get familiar with," Ali Reynolds, brand ambassador at Johnnie Walker, tells ON IN London.
"Then single malts from the Speyside region are also great whiskies to try as they have lighter, floral flavours like baked apples and pears.  More experienced whisky drinkers or those who prefer a darker, smoky taste, may prefer whiskies that come from the west coast of Scotland, which have wonderful leathery notes, with rich, dark, cherry and oak flavours.
"When tasting whisky, always have a glass of water on the side, either to sip between drams or add to enhance the flavours. If you want to go even further, you can smell coffee beans between tasting different whiskies, as this helps to reset the palette."
For our whisky sampling, we travel across the globe with flavours from Japan, Sweden, the US and the UK.
Let's start with the homeland of whisky: Scotland.
Glasshouse, £29
If you're hesitant about whisky and not sure where to start, Glasshouse is the perfect beginner's choice. Made from 100% malted barley in Scotland, it has a smooth finish with a light spicy kick that remains in the throat if you drink it straight. This blended Scotch has actually been designed for cocktail-making. Add soda to keep things simple or whip up a whisky sour. It likely won't be a hit with traditional Scotch drinkers, but it's a solid tipple for newbies. We're impressed.
Score: 7/10
Where to get it: Glasshouse
Maker's Mark 46, £41.75
This bourbon whisky is the 'fancier' brother of the original Maker's Mark (which is itself an excellent spirit), but has a smoky oak scent and flavour. It's also just a tad sweeter than the original and has more of a spice, a result of having been finished in a limewood cellar for nine weeks. As a whole, we recommend drinking Maker's on the rocks or neat – pairing it with a soft drink will only spoil the taste. As far as bourbon whiskeys go, it's a delicious tipple, but we prefer the original.
Score: 7.5/10
Where to get it: Master of Malt
https://www.masterofmalt.com/whiskies/makers-mark/makers-mark-46-whiskey/
Benromach 15yo
We had high hopes for this Speyside single malt, and we were not disappointed. Where to begin – as you sip the tipple, it will develop in flavour – going from a light chocolate note and then developing into a smokiness that will remain in your mouth longer after you've swallowed the sip. The Benromach 15yo has been matured in former sherry and bourbon casks. Save it for a special occasion and if you can avoid it, don't share. You'll want it for yourself.
Score: 9.5/10
Where to get it: The Whisky Exchange
https://www.thewhiskyexchange.com/p/29719/benromach-15-year-old
Michter's, £55
Back to the bourbon again. Michter's is a small batch made in Louisville, Kentucky (95% of the world's bourbon is made in Kentucky) with notes of caramel and vanilla. Stick your nose in the glass before you take a sip, it smells delicious. If you're dipping your toe into bourbon, this is the one to go with – it has a polished flavour, with a fruity aftertaste.
Score: 8/10
Where to get it: Waitrose
https://www.waitrose.com/ecom/products/michter's-small-batch-bourbon/687647-654215-654216
Cotswolds, £44.95
It's the first-ever whisky to be distilled in the Cotswolds, made from 100% floor-malted barley grown in the local area. The flavour is very complex; it starts with oranges, then moves onto fruits, melted together into a light smokey punch, likely a result of the single malt having been filled in ex-Bourbon barrels and then reconditioned red wine casks. Put simply? We hope for more gems like this from the Cotswolds.
Score: 8/10
Where to get it: Cotswolds Distillery
https://www.cotswoldsdistillery.com/
Nikka Days, £37.90
The first thing you'll notice about Nikka Days is that it doesn't have the strong scent of a traditional whisky. From the Yoichi and Miyagikyo distilleries in Japan (a country that has been making the spirit since around 1870, and is damn good at it), this blended whisky was made with grain whiskies and peated malts. The best word to describe the taste? Smooth, though it's a touch too sweet for our palates.
Score: 7/10
Where to get it: Amazon
https://www.amazon.co.uk/Nikka-Days-Blended-Whisky-70/dp/B07L7FC3K6
Mackmyra, £43.50
Over in Sweden, you'll find Mackmyra Brukswhisky and it oddly represents the Swedes quite well: it's 'lagom' (a Swedish phrase for 'just enough') – a well-balanced, easy-to-sip whisky with a minty undertone. It'll be a hit at parties because even non-whisky drinkers will enjoy it – it's very tasty. Having said that, it lacks that certain oomph that you want from a whisky. It's, well, lagom.
Score: 7.5/10
Where to get it: Mackmyra's website
https://mackmyra.co.uk/collections/core-range/products/brukswhisky
Old Pulteney,  £32
We'll be honest, it has a very strong scent and we weren't entirely sure what to expect. But don't let the overpowering aroma fool you, this is a superb whisky. A 12-year-old single malt, it has been stored in ex-bourbon oak casks and has notes of honey and cream, but also, oddly, of smoked bacon and dark caramel. Pour a glass, sit in the sunshine and enjoy it. Old Puteney took time to perfect, so don't rush when drinking it.
Score: 8/10
Where to get it: Tesco
https://www.tesco.com/groceries/en-GB/products/253842318
Johnnie Walker Black Label, £30.49
Ah, a classic and a classic for a reason. If you want a non-offensive, smooth whisky that works for pretty much any occasion, go with Johnnie. It contains whisky from more than 29 distilleries – all aged for a minimum of 12 years – and while some whisky connoisseurs might turn their nose up at it, ignore the naysayers. Black Label has a subtle and inviting flavour with a smoky aftertaste, and we'd welcome a glass.
Score: 8/10
Where to get it: Malts.com
https://shop.malts.com/collections/johnnie-walker

Glen Grant, £44.25
Oh, it's good. It's very good. The 12-year-old Glengrant has a dark, coffee-esque undertone with hints of fruit and caramel. It has a traditional flavour that whisky lovers will enjoy but it's also a good introduction to single malt Scotch for newbies who want to up their game. Sip it smooth or on the rocks – never, ever with a soft drink.
Score: 9/10
Where to get it: The Whisky Exchange
https://www.thewhiskyexchange.com/b/40/glen-grant-single-malt-scotch-whisky
Written by Almara Abgarian