Nirvana Brewery Non/Low-Alcohol Craft Beer Range Review
Non-alcoholic beers have a stigma of being tasteless and lacking that key "beer" taste. Onin London previously attended and reviewed the Mindful Drinking Festival, which showcased a range of brewers looking to change the non-alcoholic drink reputation. One of these brewers is Nirvana Brewery, which are the UK's first dedicated low/non-alcoholic brewery based in Leyton, East London.
Nirvana are dedicated to providing punchy craft beers with little to no alcohol percentage. They have a range from pale ales and stouts, through to your sour kombucha style beer. Nirvana are dedicated craft beer fans and they have nailed a quality and flavoursome range.
The first beer of the range I tried was the Kosmic Stout (ABV 0%). This was a delicious stout that had all the flavours I enjoy in your traditional stout. I got hints of chocolate and somewhat coffee flavour in there. I enjoyed every sip and will be returning to this beer in the future.
Secondly is the Tantra Pale Ale (ABV 0%). Giving of hints of caramel malt and finishing with a hoppy bitterness. I enjoyed the first few mouthfuls, but as it warmed up a little it had a bit of a burnt toast flavour unfortunately. Hopefully this was just an anomaly as the beginnings of this beer had me reaching for more.
Thirdly is the Karma Pale Ale (ABV 0.5%). A much lighter and more refreshing pale ale with the floral and citrus elements blending together well before a nice bitter finish. I enjoyed this crisp flavour and I think it would be best enjoyed ice cold on a nice warm afternoon.
Next was the Sutra IPA (ABV 0.5%). Now I am not normally an IPA fan myself, but out of the ales this beer stood out to me. Being a gin fan now, I think I enjoyed the floral, pine and spicy flavours of this craft beer. Definitely another beer added to my list of go-to low-alcoholic beers.
Zen & Berries (ABV 0.5%) was the next one I tried. It is a sour beer with a fruity style. Mixing blueberries with ginger plus a touch of saffron with soured barley and hops. I am not a fan of sour beers, so I did take a little while to finish this one. I imagine fans of sour beers would love this as the flavours are there, but I just could not get past the sourness.
Lastly was the Ananda Buchabeer (ABV 0.5%). This Kombucha style beer is punchy and very sour. Kombucha has become very popular lately with all their antioxidants and organic acids which are good for gut health. Unfortunately, once again this was a little too sour for me. I tried some Kombucha at the Mindful Drinking Festival and didn't enjoy it too much either. But if you enjoyed some Kombucha at the festival then grab one of these to try for yourself. As this Buchabeer tasted better than the kombuchas I tried at the Mindful Drinking Festival.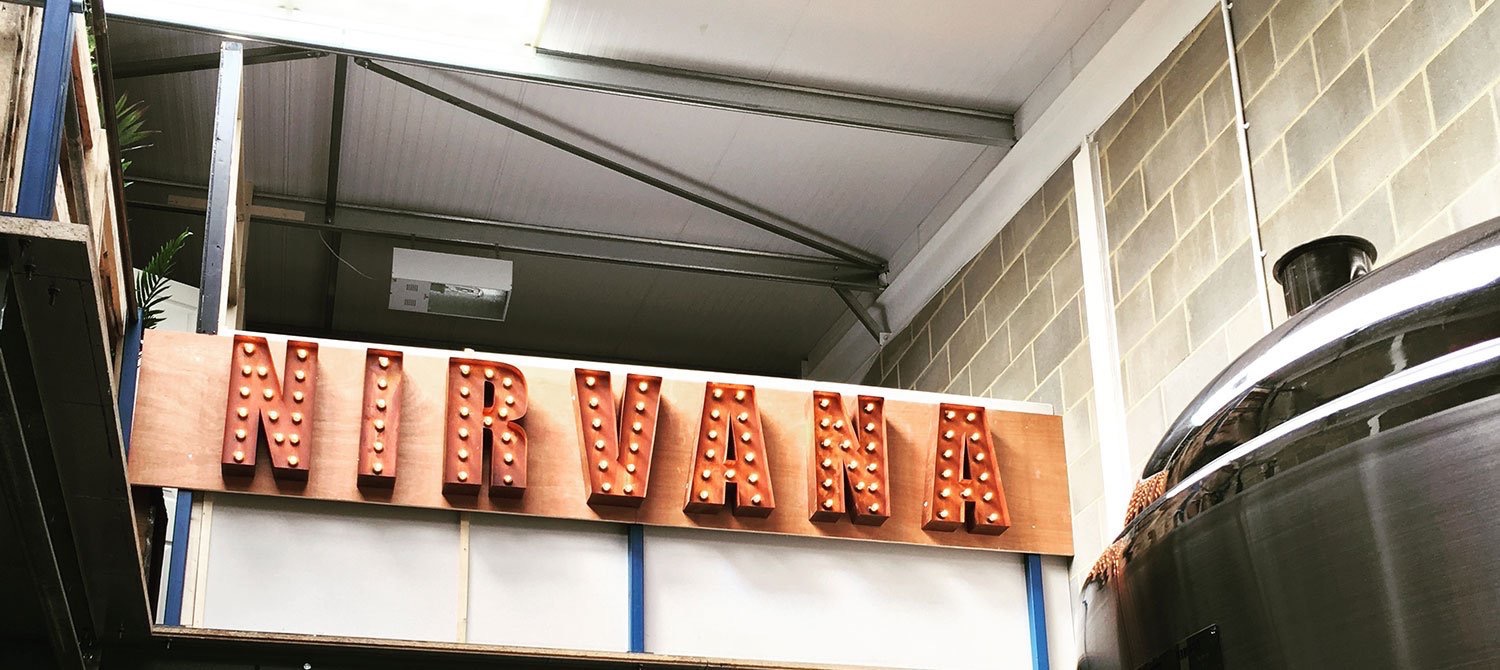 Nirvana brewery have done a fantastic job at providing a range of organic and flavoursome craft beers that anyone can enjoy. There is a style for everyone and the more popular low/non-alcohol beers become I am sure Nirvana Brewery will be at the forefront with the rest.
Nirvana Brewery's range can be found and purchased on their website www.nirvanabrewery.com/beer.
Website: www.nirvanabrewery.com
Address: Nirvana Brewery, Unit T6 Leyton Industrial Village, Argall Ave, London,E10 7QP.
Twitter: @NirvanaBeerCo
Facebook:www.facebook.com/NirvanaBeerCo
Instagram: @nirvanabeerco
Written by Daniel Brodie