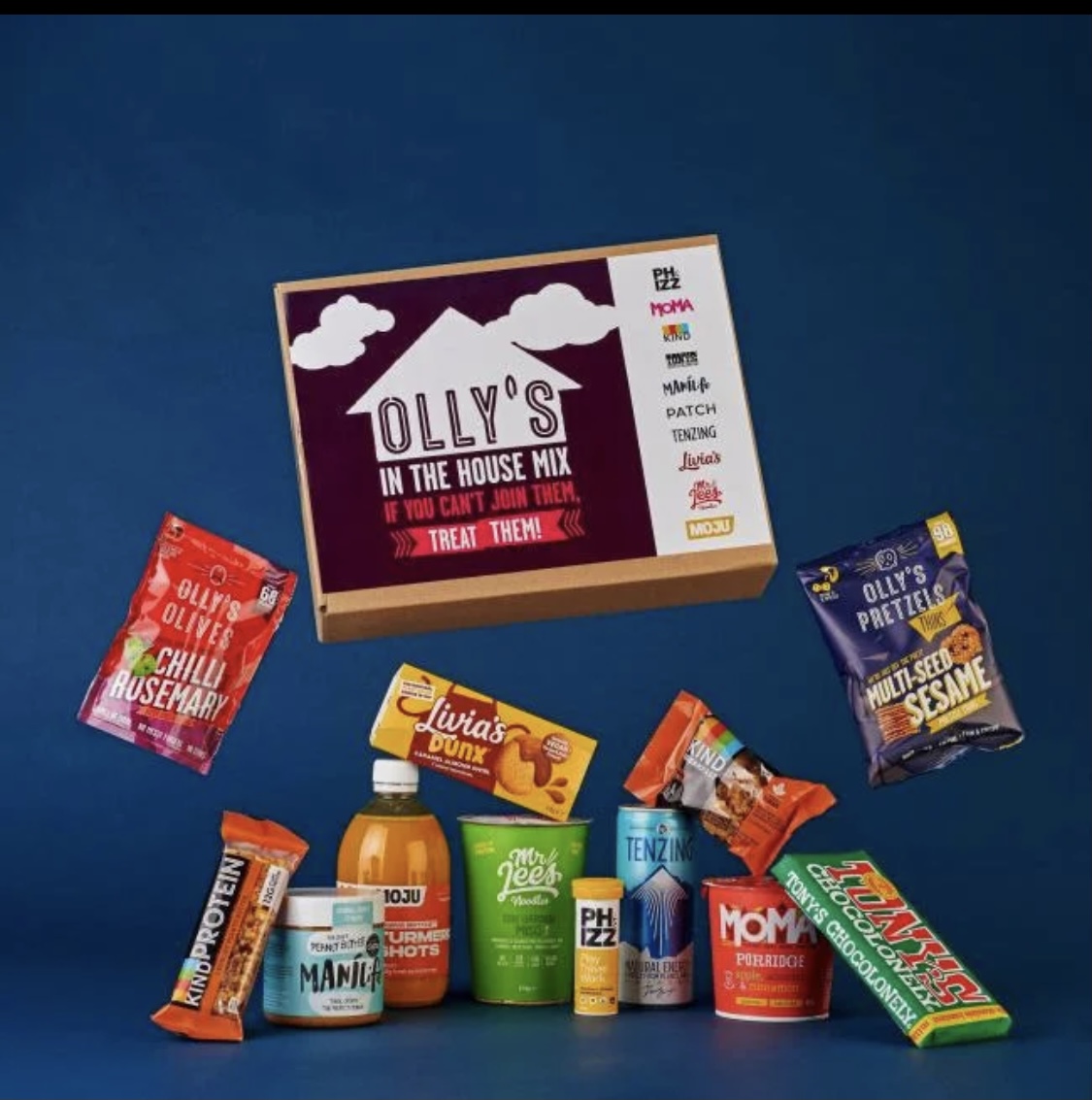 OLLY'S LAUNCHES FREE 'IN THE HOUSE MIX' CARE PACKAGE FOR STUDENTS AND LOVED ONES TO SPREAD SOME JOY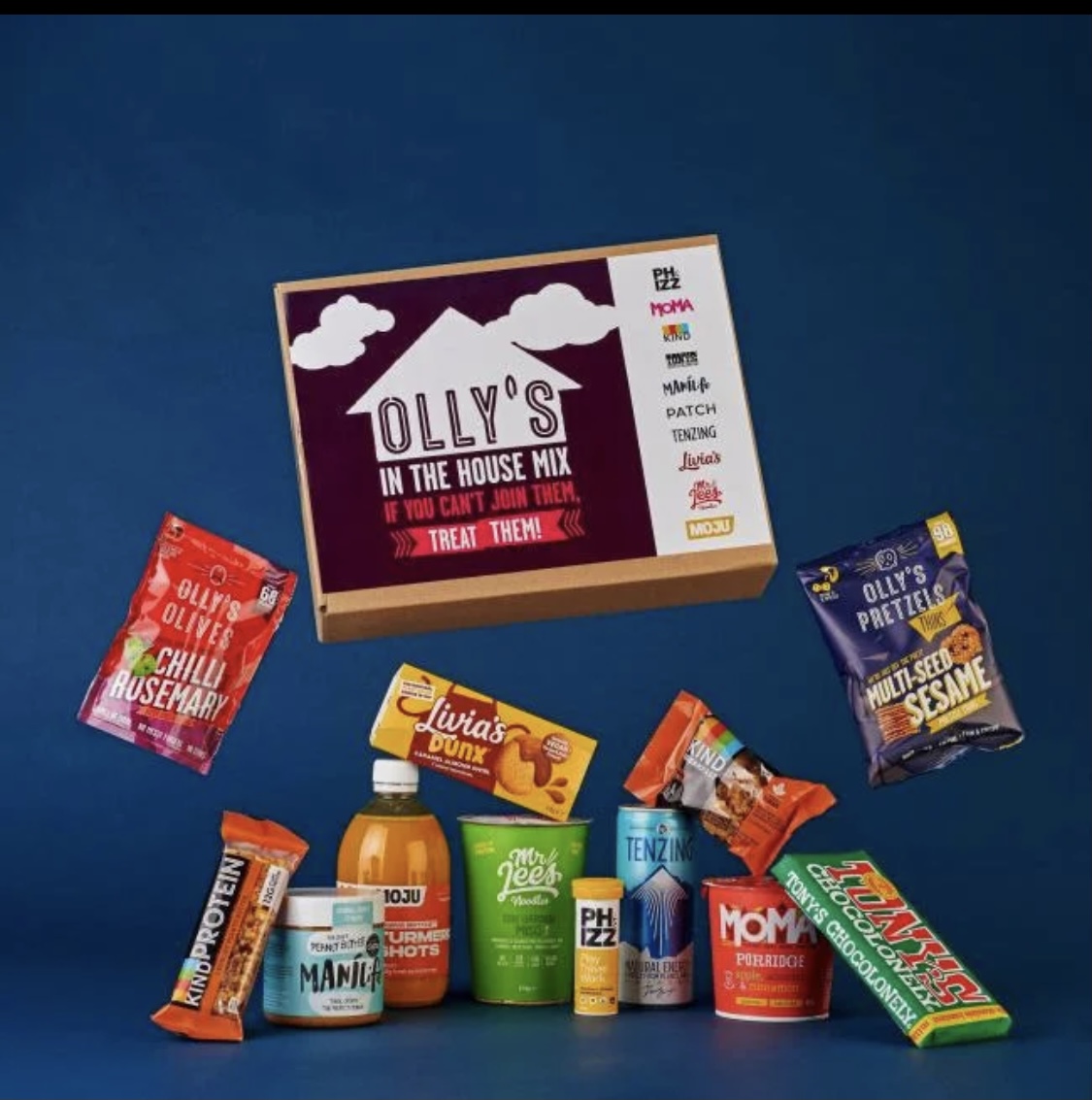 London-based start-up food brand Olly's (www.ollys-ollys.com) is launching a new initiative focussed on sharing delicious (and nutritious!) treats with loved ones, and that's purpose-built for a lockdown lifestyle. Olly's has brought together some of the most exciting start-up brands to offer 500 free boxes of a bespoke 'In The House Mix'. These gift boxes will be available online, first come first served, from 6:30pm on the 2nd November.
The past few weeks have seen a barrage of new COVID restrictions introduced around the country – from "circuit-breakers" to "students stuck in halls" to "double-whammies" to "no house mixes". For many the biggest pain point of the current climate, is still the lack of ability to see loved ones. With this in mind, the team at Olly's, known for their range of healthy snacks, have decided to devise an initiative that could withstand the heaviest social restrictions, and provide people with a unique chance to surprise and treat loved ones to some nutritious and delicious positivity.
Containing a selection of treats sure to have anyone smiling through the tiers, Olly's new 'In The House Mix' features all of Olly's signature snacks, as well KIND's famous breakfast bars, an all-natural energy drink from Tenzing and MOMA's mouth-watering porridge pot, as well as many more. The full contents of Olly's 'In The House Mix' are:
–       Olly's Pretzels–      Olly's Nuts–       Olly's Olives
–      
Tony's Chocolonely Bar
–      
KIND Breakfast Bar
–      
Manilife Peanut Butter Pot
–      
Tenzing Drink Can
–      
Mr Lee's Noodle Pot
–      
MOMA Porridge Pot
–      
Phizz Hydration Tablet
–      
Patch Plants Coupon
Students in Manchester, Lincoln, Newcastle, Nottingham and Sheffield are all facing a tier 3 lockdown, and with many other parts of the UK slipping into a similar scenario, Olly's hope to lift the spirits of those facing a winter very different from the one they were promised. And with their new lockdown snack selection, anyone looking to brighten the dark November days of a loved one will be taking note. 
Founder Olly Hiscocks says, "I don't think we need to say much more than that 2020 has been tough, and with the latest restrictions already here for some and looming for others, we wanted to do something to put a smile back on your faces
There are many of us that don't have the opportunity to see, say hi and hug a loved one. We wanted this box to go some way for people to be able to surprise and treat their loved ones. With a lot of noise being made around the lacklustre treatment of students at the moment, we initially curated this box especially for them, but we know there are loads of people who are having a tough time at the moment and we hope this gift box would be a beam of light in what has a tendency to be darker times at the moment.
We've got 10 awesome brands who have contributed to the box and their generosity is a testament to the world of startups in the UK at the moment. The box and all its contents are completely free, all one has to do is pay postage to send it to a loved one.
Great Britain – we've got your back.""
Olly's Household Mix will be available on www.ollys-ollys.com from Monday Nov 2nd, and there are 500 available.
The box and its contents are completely FREE, with a postage fee of £3.50.
Olly's (originally Olly's Olives) was founded by brothers Olly and Sam Hiscocks, born out of a desire to rejuvenate the olive category with more quality, flavour and character. From testing the concept at Farmer's Markets, to their olive pouches being sold all across the UK and Internationally (bars, hotels, supermarkets, trains, planes, online) – they've been honoured to be able to give such a glorious superfood, a new lease of life.
With COVID / lockdown narrowing a lot of revenue streams, Olly and Sam were compelled to evolve their product offering and launched both Olly's Nuts and Olly's Pretzel Thins over the last 6 months. With the launch and love of these products, Olly's Olives became Olly's and the business is now focussed on having an unrivalled passion and quality when it comes to creating healthy snacking products and moments that don't compromise your tastebuds or the planet.
They also work with their charity partner Nest (who was chosen by Olly and Sam's younger sister, Ella) to support female startups in underprivileged parts of the world. 
Follow Olly's on social media:
Twitter: https://twitter.com/ollysollys
Facebook: https://www.facebook.com/ollysollysollys/
Instagram: https://www.instagram.com/ollys.ollys