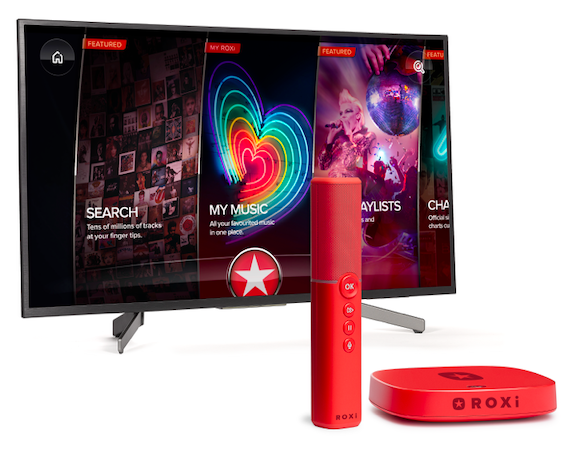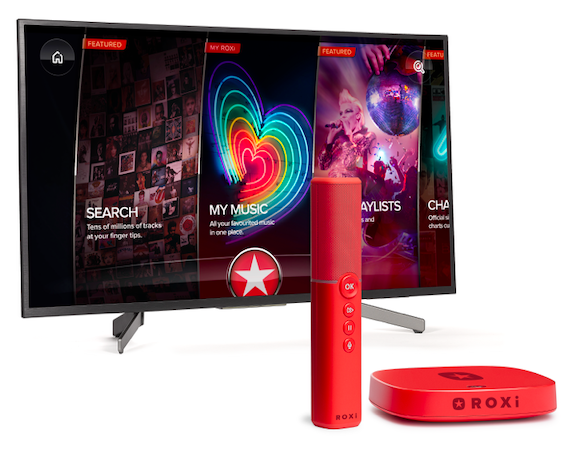 After hearing about ROXi on Instagram and from a friend, I knew it was something that was missing in my household… especially during this current isolation period. Where anything to spice up the days of working from home is a welcome relief.
What is ROXi? Roxi is a game changer in the way you can enjoy music in your home by putting it all in one tiny entertainment system. ROXiprovides Unlimited Music with ad-free streaming access to over 35 million songs, more than 60,000 karaoke and singalong tracks in Sing with The Stars (where you singalong to the original tune with the artist), Name The Song music trivia games, access to over 10,000 Worldwide Radio stations, a therapeutic Sound Machine for yoga and meditation and art shows from Getty Images or even your own Facebook albums that play on your TV while you listen to music. ROXi comes with a Wii style point-and-click controller with built-in microphone for karaoke and Smart Voice Technology for voice controls. ROXi also has parental controls to protect younger ROXi users from music with explicit lyrics making it perfect the whole family – whatever the age.
Straight out of the box, ROXi was incredibly easy to set up and I was super impressed that it came with a HDMI Cable. I mean most well known game consoles don't even come with an included HDMI Cable, so I was happy that I didn't have to go on Amazon or Ebay and purchase a new one. The controls are super simple so even the most technologically challenged can use ROXi with no trouble at all.
Available from buyroxi.com for just £99.95 (or 5 monthly payments of £19.99), ROXI comes with a one year of premium music access included and therefore is being marketed as the most easy, fun and affordable home music entertainment device on the market. Value wise per year, I'd have to agree as a yearly subscription to the premium music service costs £52.00 a year. That's only £1.00 a year!
ROXi is proving a massive hit with families with well over 90% of ROXi customers recommending it for use in the home. ROXi is also the only British company successfully taking on the likes of Spotify, Apple, Amazon and Google with a completely different approach to music streaming and entertainment.
My house mate and I did find the rechargeable remotes battery does drain quickly, especially in Karaoke Mode. The neighbours probably found that to be a blessing though but it didn't dampen our spirits and we kept singing along anyway.
I was suitably impressed with my Roxi and it will be used for when we have parties and things return to normal… in the meantime it is definitely keeping my housemate and I entertained.
To purchase ROXI, visit www.buyroxi.com
Written by Tegan LeBon